Fire kills 3 in Oakland transitional living building
Dazed Oakland residents who escaped an early-morning fire that killed three people reported being awakened by neighbors' screams and the popping of windows grown too hot.
Residents said they didn't see or feel any sprinklers as they ran out, and no one reported hearing fire alarms in the three-story building that housed people recovering from addiction, prison and life on the streets.
"There were no sprinklers or fire extinguishers," said Curtis Robinson, 52, who had to leave his wheelchair behind in his first-floor room in the scramble to escape.
"Fire is a great motivator," he said.
Monday's fire killed two residents and hospitalized others, Oakland Fire Battalion Chief Erik Logan said. He said 15 people were rescued, but not everyone was accounted for Monday evening.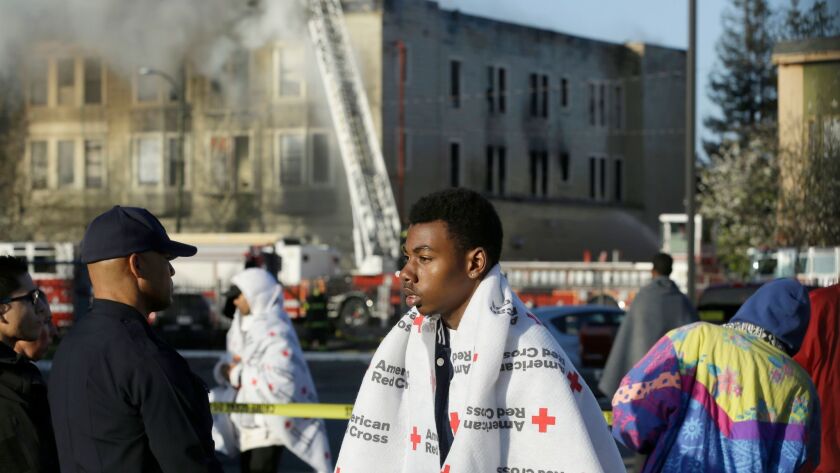 Oakland became the site of the deadliest structure fire in the U.S. in more than a decade when three dozen partygoers perished at a warehouse fire in December. The building that burned Monday is about 5 miles northwest of the warehouse nicknamed the Ghost Ship.
Days after the warehouse fire, the owner of the building that burned Monday sent an eviction notice to Urojas Community Center, which occupies the first two floors of the building, said James Cook, an attorney for the center.
The center assists about 60 people with transitional housing and services, Cook said. He had complained to the city about clogged toilets and disgusting bathrooms, exposed wires and water an inch deep on the ground floor, he said.
"It's like Ghost Ship, but worse," Cook said.
Residents on Monday echoed concerns about deplorable living conditions, including nearly impassable hallways filled with trash, tattered furniture and other debris.
Keith Kim, who is identified in public records as the building's landlord, did not immediately return a phone call seeking comment.
"At the least the rats are gone, and I grabbed my purse," said 62-year-old Angela Taylor, laughing bitterly as she stared at the smoldering building. "It's the purse, but it's better than nothing. A lady needs her purse."
She paid $550 a month for a room on the first floor, Taylor said.
Several residents said they discounted the initial commotion over the fire because the building and neighborhood are noisy. Loud arguments occur frequently and some residents stayed up late, drinking and partying.
Kirsten Evans, 52, said she is paying $1,100 a month for a small studio apartment without a kitchen in the building. She said she moved in three years ago after she was evicted from an apartment she lived in for 20 years because her landlord wanted to raise her rent dramatically.
She said she woke up briefly Monday to take her medication and heard yelling and screaming. She crawled back into bed and pulled the covers over her head because loud disputes in the early mornings are frequent.
"I thought it was a fight," she said.
Then, she said, she heard the windows popping, shattering from the heat. A skylight in the hallway overhead shattered, and the glass fell outside her door.
Her window opened to the interior of the building, and she said it was glowing orange and red. That's when she dressed and fled.
Evans said that she trampled over broken glass and that wires and light fixtures were sparking red and white.
"I didn't hear a fire alarm," she said.
---
UPDATES:
6:40 p.m.: This article was updated to reflect the increased number of dead and missing.
This article was originally published at 2:50 p.m.
---
The perils of parenting through a pandemic
What's going on with school? What do kids need? Get 8 to 3, a newsletter dedicated to the questions that keep California families up at night.
You may occasionally receive promotional content from the Los Angeles Times.