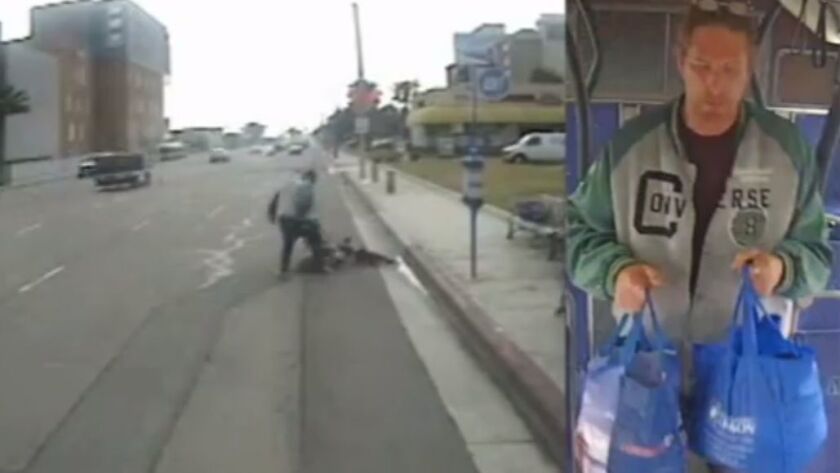 Authorities are seeking the public's help in identifying a man suspected of beating a 65-year-old and leaving him unconscious in the street in Buena Park in a brutal attack that was captured on video.
The situation began with an argument between the two men that escalated into violence when one shoved the other to the ground near a bus stop at Beach Boulevard and Orangethorpe Avenue shortly after 8 a.m. Wednesday, police said.
The attacker kicked and stomped the 65-year-old repeatedly in the head, leaving him with serious injuries, and then stole the man's bike, police said. He rode off eastbound on Orangethorpe Avenue.
A portion of the attack was captured on a dash cam affixed to a bus that was approaching the area. Police said witness statements and video footage show the attack was "clearly one-sided."
The victim, whom authorities have not identified, was taken to a hospital where he remains in critical but stable condition. He has not regained consciousness, police said.
The attacker is described as being between 25 and 35 years old, about 5 feet 10 inches tall with a large build and light hair that he wore in a bun. He has facial hair and wears glasses. He was wearing a green and gray sports jacket with "Converse" emblazoned on the front and "8" on the back at the time of the attack.
Anyone with information is being asked to contact the Buena Park Police Department at (714) 562-3901. Anonymous tips can be directed to Orange County Crime Stoppers at (855) 847-6227.
Twitter: @Hannahnfry
---