Bruce Jenner crash: Police to review phone records for signs of texting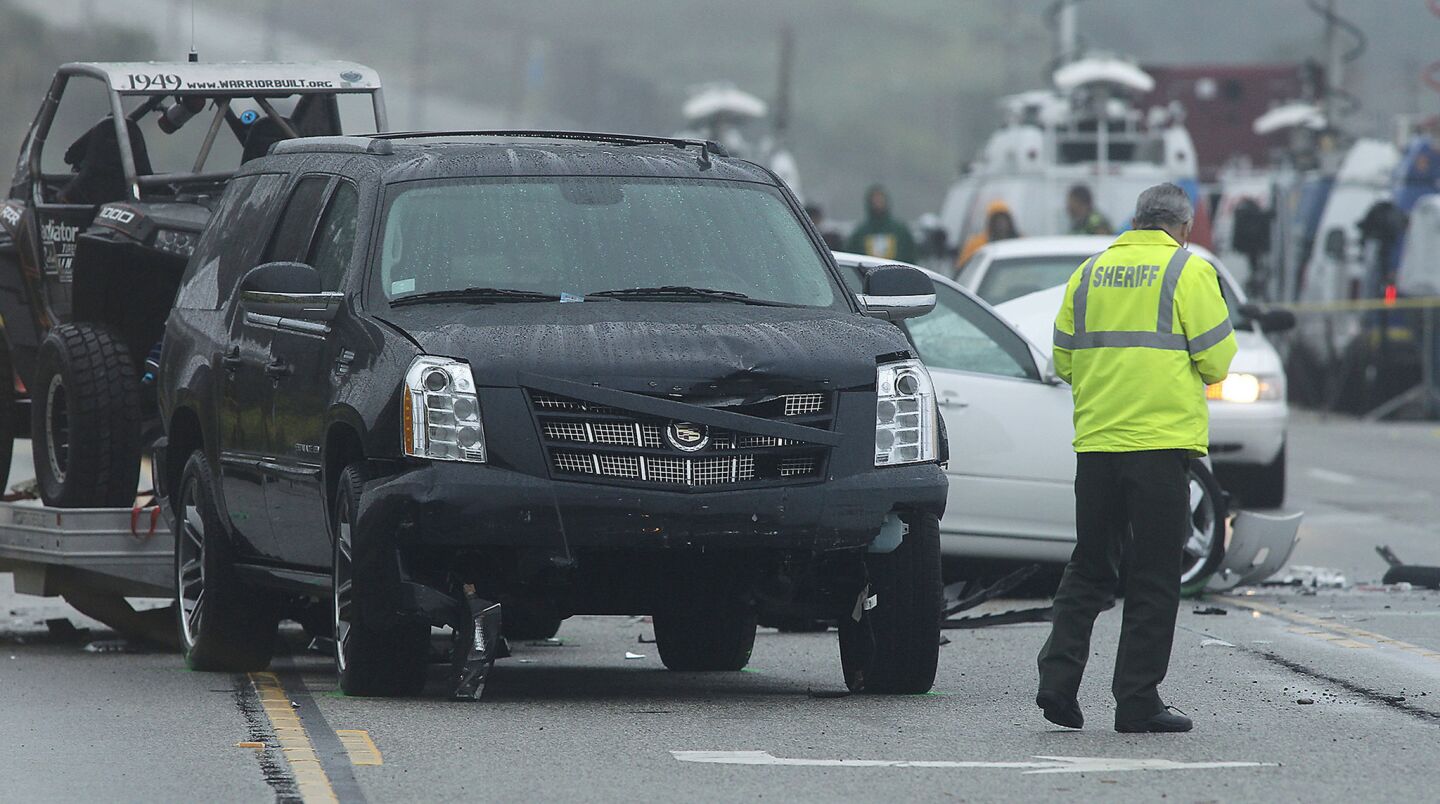 Bruce Jenner was believed to have been driving this black SUV at the time of the collision.
(Brian van der Brug / Los Angeles Times)
Los Angeles County Sheriff's deputies investigate the scene of a four-vehicle crash in Malibu on Saturday. Officials have confirmed that former Olympian Bruce Jenner was involved in the crash.
(Brian van der Brug / Los Angeles Times)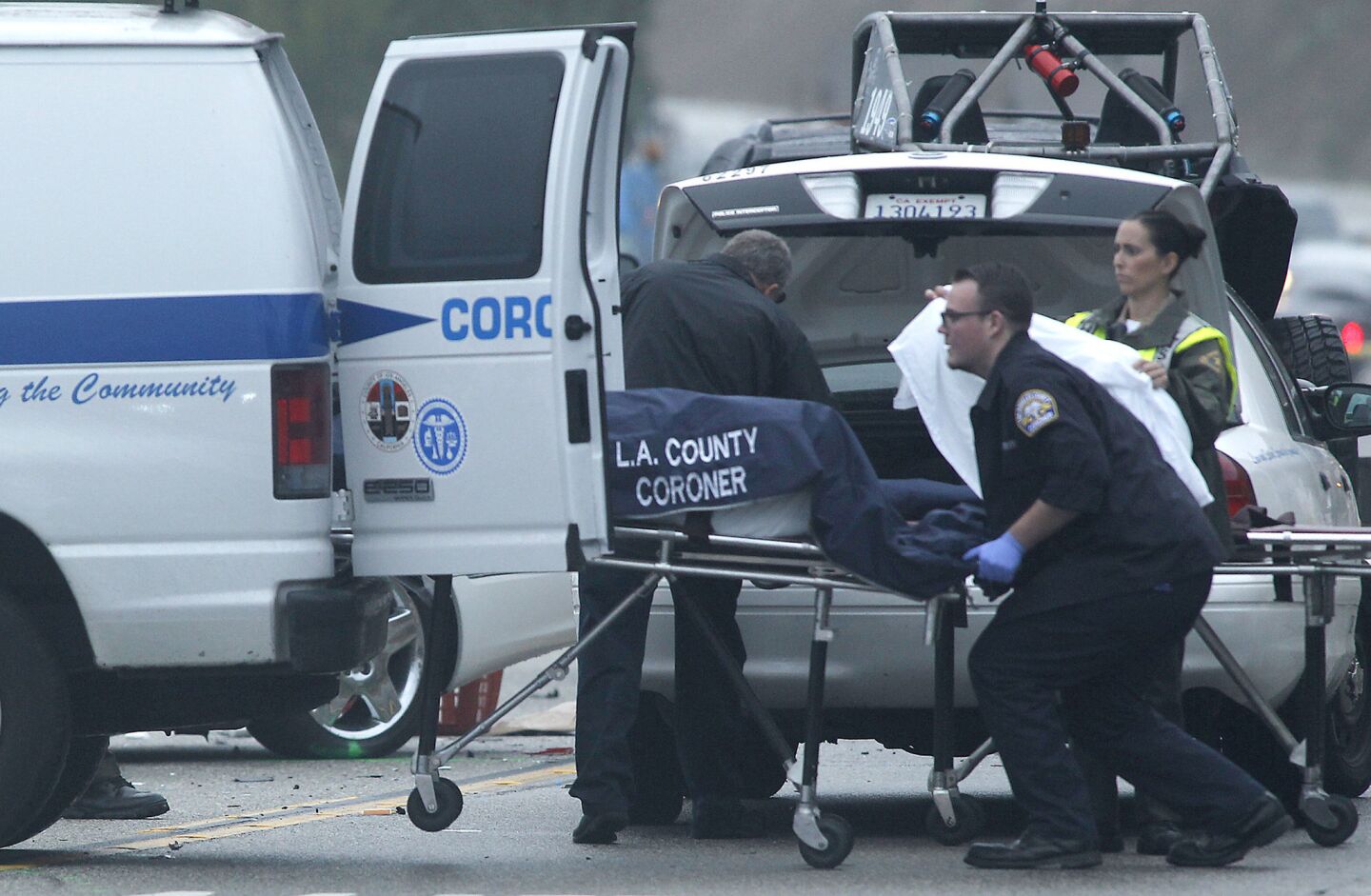 A woman's body is removed from the scene of a four-vehicle collision in Malibu. Five other people were injured in the crash.
(Brian van der Brug / Los Angeles Times)
Onlookers watch from a bluff overlooking Pacific Coast Highway as investigators examine the scene of the accident.
(Brian van der Brug / Los Angeles Times)
A person who was in this white car was killed and five other people were injured in the crash on Pacific Coast Highway in Malibu.
(Ringo H.W. Chiu / Associated Press)
A Los Angeles County Sheriff's deputy photograph the scene of a fatal car crash on Corral Canyon Road in Malibu.
(Ringo H.W. Chiu / Associated Press)
Bruce Jenner's publicist, Alan Nierob, says Jenner was unhurt.
(Ringo H.W. Chiu / Associated Press)
Los Angeles County Sheriff's deputies at the scene. There have been reports that paparazzi photographers also were at the scene of the collision.
(Ringo H.W. Chiu / Associated Press)
Authorities investigating the fatal car crash Saturday involving Bruce Jenner plan to examine the cellphone records of the reality-TV star and other motorists involved in the accident to see whether they were texting.
Los Angeles County Sheriff's Department Cmdr. Mike Parker said detectives and traffic investigators will examine the phone records as they try to piece together what happened.
Sgt. Phil Brooks said Sunday that a photo taken before the collision shows Bruce Jenner holding a cellphone, but it's unclear exactly when the photo was taken.
Officials said there is no indication that paparazzi played a role in the crash.
Jenner, whose apparent transition from male to female has drawn intense media coverage in recent days, was being followed by paparazzi when the collision occurred, but it's doubtful he was trying to outrun them, said L.A. County sheriff's Sgt. Philip Brooks.
Paparazzi were in the area, and some captured images of the crash and its aftermath.
Brooks described a chain reaction involving four cars:
A woman driving northbound in a Toyota Prius slowed down or stopped for reasons that were unclear. A woman driving a Lexus sedan rear-ended the Prius.
Jenner, who was driving a black Cadillac Escalade sport utility vehicle that was hauling a trailer carrying an off-road vehicle, then rear-ended the Lexus.
The impact propelled the Lexus into oncoming traffic, where a Hummer traveling southbound slammed into the Lexus. The driver of the Lexus, whom authorities declined to identify, died at the scene. Both the front and rear ends of the Lexus were severely damaged.
After the crash, a swelling crowd of onlookers and paparazzi led rescuers to call in reinforcements to manage the scene.
"It was a nightmare," Brooks said.
Photos on the celebrity gossip website TMZ showed Jenner, in sunglasses and a baseball cap, surveying the wreckage. Three photos showed the moment of impact when he rear-ended the Lexus.
Jenner passed a field sobriety test and took a blood-alcohol test, Brooks said. The results were not immediately available. Investigators plan to examine his mobile phone records to see whether he was using the phone when the crash occurred.
Five people, including three children, were injured in the wreck, but none was seriously hurt, said Lt. Jennifer Seetoo, watch commander of the Malibu/Lost Hills Sheriff's Station in Agoura.
Reports emerged Saturday that paparazzi had been following Jenner.
In 2010, the California Legislature passed AB 2479, a law that imposed stiffer penalties — including possible jail time — for photographers who drive recklessly or block sidewalks in pursuit of celebrities and create a sense of "false imprisonment."
Actresses Jennifer Aniston and Reese Witherspoon, among others, spoke to lawmakers about high-speed car chases through Hollywood as multiple photographers competed for a celebrity image.
Some news organizations argued that because reckless driving and trespassing were already illegal, the law threatened photographers' 1st Amendment rights.
Times staff writer Christie D'Zurilla contributed to this report.
---
The stories shaping California
Get up to speed with our Essential California newsletter, sent six days a week.
You may occasionally receive promotional content from the Los Angeles Times.