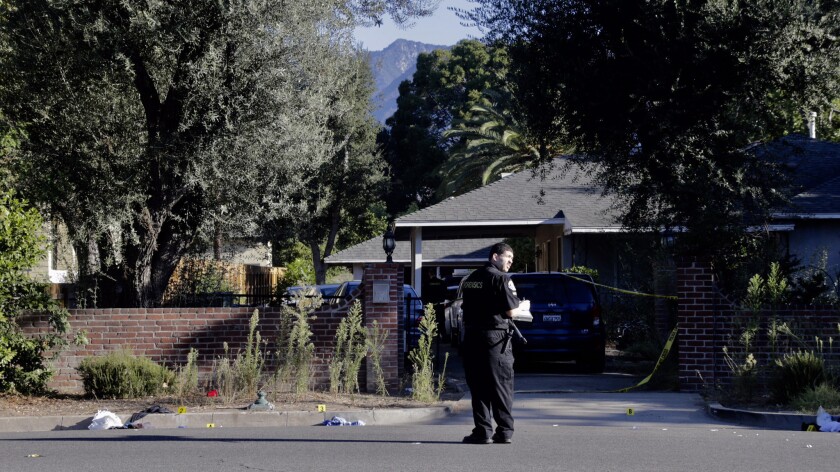 A San Gabriel man was arrested on suspicion of attempted murder Saturday after six people were stabbed, including two critically, at a Pasadena house party.
Police and firefighters arrived at the scene about 3:10 a.m. after a fight erupted at the party in the 3000 block of East California Boulevard, according to the Pasadena Police Department.
In all, six men were stabbed and another suffered blunt force trauma, Pasadena Fire Department spokeswoman Lisa Derderian said. All of the victims were taken to hospitals.
Investigators said that the suspect, Aaron Hong Te, 21, had bumped into someone at the party before the fight broke out. Te then pulled out a knife and began stabbing people, according to police.
Police found Te in front of the house and arrested him without incident. He was booked at the Pasadena City Jail.
As of Saturday morning, police said two of the stabbing victims were in critical condition, one was in serious condition, and three were in stable condition.
David Dai, the owner of the house, said he had rented out the residence for one night for $240. He said he did not find out what happened until Saturday morning.
"I just came here and they told me somebody made a party here last night and somebody got hurt," said Dai, who bought the house in July.
Shawn Lu, 22, who attended the party, said that there were 100 to 150 people there. He said it was a birthday party that was announced on Facebook.
He said two people were severely stabbed.
"It happened right away," he said. "Out of nowhere… someone was screaming. I didn't know what happened. I stayed away from the commotion."
Follow me on Twitter at @LATimesEmily
ALSO
Man who said he did his childhood friend a favor by killing him is sentenced to 10 years
Water main break floods part of Melrose Avenue
Man found dead with head trauma in Hollywood Hills home of Canadian TV personality
---
UPDATES:
11:40 a.m.: This story has been updated with new information from someone who attended the party.
10:13 a.m.: This story has been updated with new information about the owner of the house.
This article was originally published at 9:05 a.m.
---