Paul Walker crash: Man who allegedly stole Porsche rooftop apologizes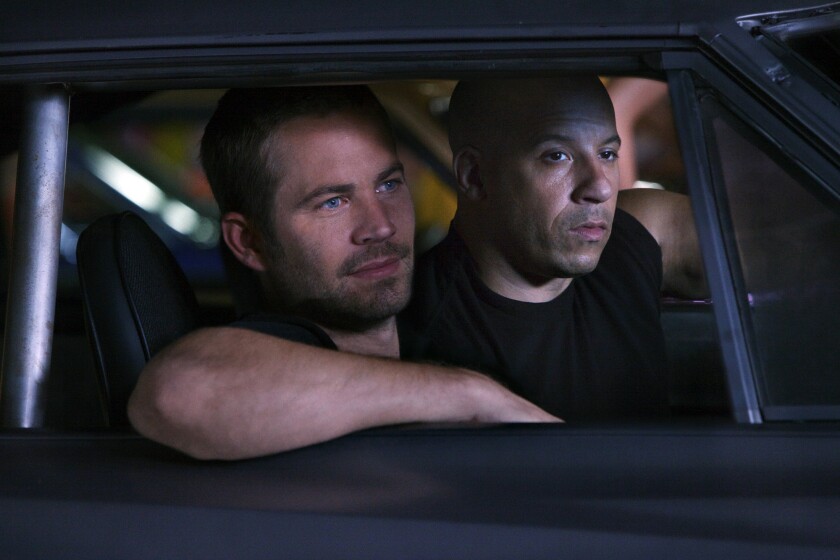 Paul Walker, who died at 40 in car crash in Valencia, had been filming Fast Five with costar Vin Diesel at the time of his death.
(Jaimie Trueblood / Universal Pictures)
Vin Diesel and Paul Walker drive the city streets as if they own them in the movie "The Fast and the Furious."
(Bob Marshak / Universal Studios)
Mia (Jordana Brewster) finds herself attracted to Brian (Paul Walker) unaware that he's an undercover cop in the movie "The Fast and the Furious."
(Bob Marshak / Universal Studios)
Paul Walker as Lewis in the movie "Joy Ride."
(Richard Foreman / 20th Century Fox)
Paul Walker and Freddie Prinze Jr. in Robert Iscove's "She's All That" a 1998 Miramax release.
(Claudette Barius / Miramax Films)
Leslie Bibb, Paul Walker and Joshua Jackson star in "The Skulls," released in 2000.
(George Kraychyk / Universal Pictures)
Tyrese, Paul Walker and Devon Aoki of the movie "2 Fast 2 Furious."
(Eli Reed / Universal Studios)
Paul Walker as Brian O'Conner and Eva Mendes as Monica Puentes on the set of the movie "2 Fast 2 Furious."
(Eli Reed / Universal Studios)
Frances O'Connor as Kate Ericson and Paul Walker as Chris Johnston in the movie "Timeline."
(Philippe Bosse / Paramount Pictures)
Penelope Cruz and Paul Walker in the movie "Noel."
(Takashi Seida / Red Rose Production)
Jessica Alba and Paul Walker star as Sam and Jared in the movie "Into the Blue."
(John P. Johnson / MGM Pictures)
Paul Walker as mob member Joey Gazelle in the 2006 crime drama "Running Scared."
(Larry D. Horricks / New Line Productions)
Paul Walker, (pictured), Jason Biggs and Bruce Greenwood play three members of an Antarctic scientific research team forced to leave behind, then later attempt to rescue, their loyal sled dogs after an accident in the movie "Eight Below."
(Chris Large / Winking Productions GmbH amp Co)
Walter Gust (Stark Sands, left) and Hank Hansen (Paul Walker, right) prepare for the battle of Iwo Jima in DreamWorks Pictures and Warner Bros. Pictures movie "Flags of Our Fathers".
(Merie W. Wallace / Warner Bros.)
Vin Diesel and Paul Walker in a reunion of returning stars from every chapter of the explosive franchise built on speed in the movie "Fast Five."
(Jaimie Trueblood / Universal Pictures)
Paul Walker in "Fast & Furious 6," which hit theaters in May.
(Giles Keyte / Universal Studios)
Paul Walker, Dwayne Johnson and Vin Diesel reunite for "Fast & Furious 6."
(Giles Keyte / Universal Studios)
Paul Walker stars in Screen Gems' action thriller "Takers."
(Suzanne Tenner / Screen Gems)
Paul Walker starred in and executive produced the thriller "Vehicle 19."
(ILZE KITSHOFF / Ketchup Entertainment)
A Los Angeles man appears to have apologized on his social media account for allegedly stealing the roof panel of the Porsche in which "Fast and Furious" star Paul Walker died.
The man, 18-year-old James Witty, was arrested last week on suspicion of stealing the roof panel from the back of a tow truck carrying the wrecked Porsche Carrera GT away from the crash site in Valencia.
A photo posted to an Instagram account for @jamesonwhitty showed what the user claimed to be a piece of the Porsche from the crash: "Piece of Paul walkers car, took it off a tow truck at a stop light…#paulwalker" #rip #comeup."
Now, in a message posted on the same account, the car enthusiast says he took the roof to make a memorial out of it.
"Paul was a childhood idol to me and many. At the time I was not thinking about the consequences it could have, I never wanted it to be like this I wasn't going to sell the piece to make a profit," the message reads. "Nobody in this world is perfect, we all make mistakes. Some bigger than others."
Los Angeles County sheriff's detectives said they are talking with a second, 25-year-old suspect and expect him to surrender soon.
Sheriff's officials said they were aware of photos posted online but would not confirm if they belonged to the two suspects. Witty was booked on suspicion of grand theft and tampering with evidence. He was released Friday night after posting $20,000 bail.
In a news release, the Sheriff's Department said the alleged theft occurred while the Porsche was being towed away.
"A witness saw a male exit a vehicle that was following the tow truck. The male grabbed a piece of the wrecked Porsche off the tow truck bed. The male drove away with the stolen vehicle part. The tow truck driver reported the theft to the Santa Clarita Valley Sheriff's Station," the statement said.
Search warrants were served, and the Sheriff's Department found some of the parts at a home in Canyon Country.
Walker, 40, died Nov. 30 from a combination of traumatic injuries and burns after the Porsche Carrera GT he was riding in crashed into a light pole in Santa Clarita and erupted in flames, the L.A. County coroner's office reported last week.
Roger Rodas, 38, Walker's financial advisor and friend, was behind the wheel of the high-performance 2005 Porsche when it crashed. He was killed by the impact alone, a medical examiner concluded.
On Sunday, hundreds of fans rallied at the crash site.
When Walker died, the cast of "Fast & Furious 7" was on a brief Thanksgiving break from filming in Atlanta. Last week, Universal Pictures officially put the film on hiatus.
The studio also announced this week that it would donate a percentage of proceeds from the home entertainment sales of "Fast & Furious 6" to Walker's charity, Reach Out Worldwide. Walker and Rodas had attended a fundraiser for the nonprofit just before the crash.
ALSO:
L.A. weather: Warming trend expected to break cold snap
HIV-positive porn performer seeks privacy amid investigation
Ex-Napster exec fatally struck by sheriff's patrol car while biking
Twitter: @josephserna
---
The stories shaping California
Get up to speed with our Essential California newsletter, sent six days a week.
You may occasionally receive promotional content from the Los Angeles Times.