Peacock killer used high-powered pellet gun; more violence feared
Indian blue peacocks were imported to the Palos Verdes Peninsula a century ago.
(Genaro Molina / Los Angeles Times)
One front yard welcomes at least some fowl; the residents' stance on the neighborhood peacocks is not clear.
(Genaro Molina / Los Angeles Times)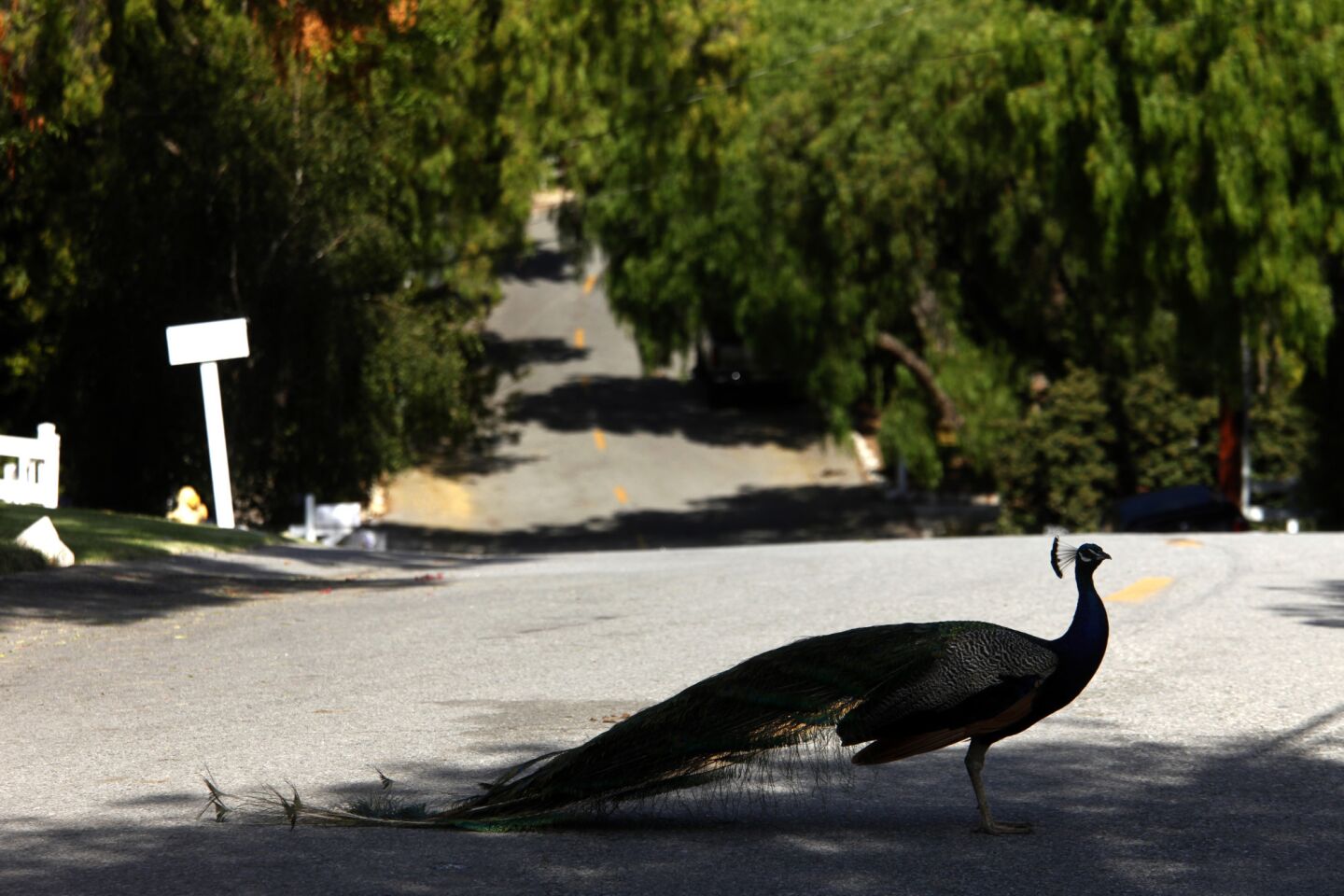 A peacock crosses Dapplegray Lane, where many of the deaths have occurred -- and where trapping and removal of peacocks require a permit.
(Genaro Molina / Los Angeles Times)
"Someone or somebody is killing peacocks," says Sydne Michel, a 14-year resident.
(Genaro Molina / Los Angeles Times)
A peacock makes his presence known outside a home along Dapplegray Lane.
(Genaro Molina / Los Angeles Times)
Rolling Hills Estates residents weren't all thrilled with the peacocks, but most had learned to live with them -- until two years ago, when things started to get violent.
(Genaro Molina / Los Angeles Times)
Each peacock killed could bring an animal cruelty penalty of up to three years in prison or a $20,000 fine.
(Genaro Molina / Los Angeles Times)
Officials fear an escalation of violence by a man who they say used a high-powered pellet gun to shoot and kill a peacock from his Mercedes-Benz in Palos Verdes Peninsula.
The peacock was shot at about 8:20 p.m. July 9 in driveway of a home in the 27000 block of Eastvale Road, said Lt. Cesar Perea, director of Animal Protection Services at Society for the Prevention of Cruelty to Animals Los Angeles.
The pellets, he said, could have easily penetrated through the walls of a home and injured someone.
"It really speaks to the level of violence and the lack of compassion for these animals," he said.
Perea expressed concern that the unidentified man's behavior might escalate from animals to people because he said the shooting shows a disregard for the residents who lived at the home.
Officials on Tuesday released a sketch of the man, who was seen driving a silver Mercedes sedan. They believe he lives in the community.
The man was described as white, 50 to 60 years old, with receding gray hair. He was wearing a white-collared shirt and aviator-style sunglasses.
More than 50 of the exotic birds have been killed or injured in the last two years in the Palos Verdes Peninsula and Rolling Hills Estates areas.
Some of the killings were accidental, but a significant number were apparently intentional, prompting an investigation by animal control and law enforcement officials.
Anyone with details about the suspect is urged to call Perea at the SPCA at (323) 730-5300, extension 272. To remain anonymous, call the animal cruelty tip line at (800) 540-7722.
For breaking news in Los Angeles and throughout California, follow @VeronicaRochaLA. She can be reached at veronica.rocha@latimes.com.
The stories shaping California
Get up to speed with our Essential California newsletter, sent six days a week.
You may occasionally receive promotional content from the Los Angeles Times.