Pepperdine University defends 'shelter in place' decision during Woolsey fire
Officials at Pepperdine University are taking heat for their decision to shelter more than a thousand students on campus last week, even as the Woolsey fire swept across Malibu and prompted authorities to order an all-out evacuation of the city.
At a community meeting on Sunday, some residents complained that the university's action caused firefighting resources to be diverted from other parts of the city to defend the school against flames. The angry claims have already triggered calls for a reassessment of the university's decades-old policy and — in the eyes of some — have damaged the institution's longstanding reputation for goodwill.
"Why were they allowed to stay there at all?" one woman asked pointedly during the meeting. "They should have been evacuated like everyone else."
The school's practice of herding students into fire-resistant structures dates back to 1993 and is supported by the Los Angeles County Fire Department, the university says.
However, some officials now question the practice.
"This shelter-in-place policy is going to have to be reassessed," state Sen. Henry Stern (D-Canoga Park) told the crowd on Sunday. "We cannot sacrifice the rest of Malibu for Pepperdine."
School officials have defended the policy as sound and say resources were not diverted.
"Our hearts are heavy, because there is huge devastation across not just Malibu, but adjoining communities where our friends and our family members live," said Phil Phillips, Pepperdine's vice president for administration. "I'm also very concerned, because Pepperdine works hard to be part of the community and we're not asking for more resources than we should have."
Nevertheless, Phillips said the university was open to reviewing its plans with the senator, the county supervisor, the Fire Department and the city of Malibu.
"We are absolutely happy to do that," Phillips said. "If there are ways to make it better, we'll be the first to jump at those suggestions."
Pepperdine adopted its shelter-in-place policy after a 1985 fire, according to President Andrew Benton. The university has employed the practice for all fires since 1993 — including the Old Topanga in 1993, Calabasas in 1996 and the Canyon and Corral fires in 2007.
The most recent episode was during the Woolsey fire, which broke out on Thursday and began moving rapidly through Ventura and Los Angeles counties, toward the Pacific Ocean. It wasn't until the next morning, however, that officials considered the fire a threat in Malibu.
At about 4 a.m. Friday, the university posted on its website that classes in Malibu and Calabasas were canceled and both campuses were closed. At 5 a.m., Malibu residents were ordered to evacuate, an action that quickly created gridlock on the Pacific Coast Highway as residents fled south. Shortly before 7 a.m., students were informed that flames had jumped to the south side of the 101 freeway in some locations and that the Malibu campus was experiencing a power outage. Less than 20 minutes later, the university posted that it was activating its shelter-in-place procedures for the Malibu campus. Those in on-campus apartments were directed to the Firestone Fieldhouse. Students in residence halls and other locations were told to go to the Tyler Campus Center.
As resident assistants knocked on doors throughout residence halls, it quickly became clear that many students were unfamiliar with the policy and doubted its effectiveness.
"They were like, 'This is the safest place you guys can be,'" said Siobhan de Cleir, a freshman. "I didn't feel safe."
A university official reassured students that sheltering in place was effective and discouraged students from leaving, according to De Cleir and her roomate, Layla Tipton-Ortiz. But within a couple hours, Tipton-Ortiz's father told the pair to come to the family's home in Laguna Nigel.
"My dad was super adamant about me coming home," Tipton-Ortiz said. "My parents were freaking out about what they were seeing on the news at home."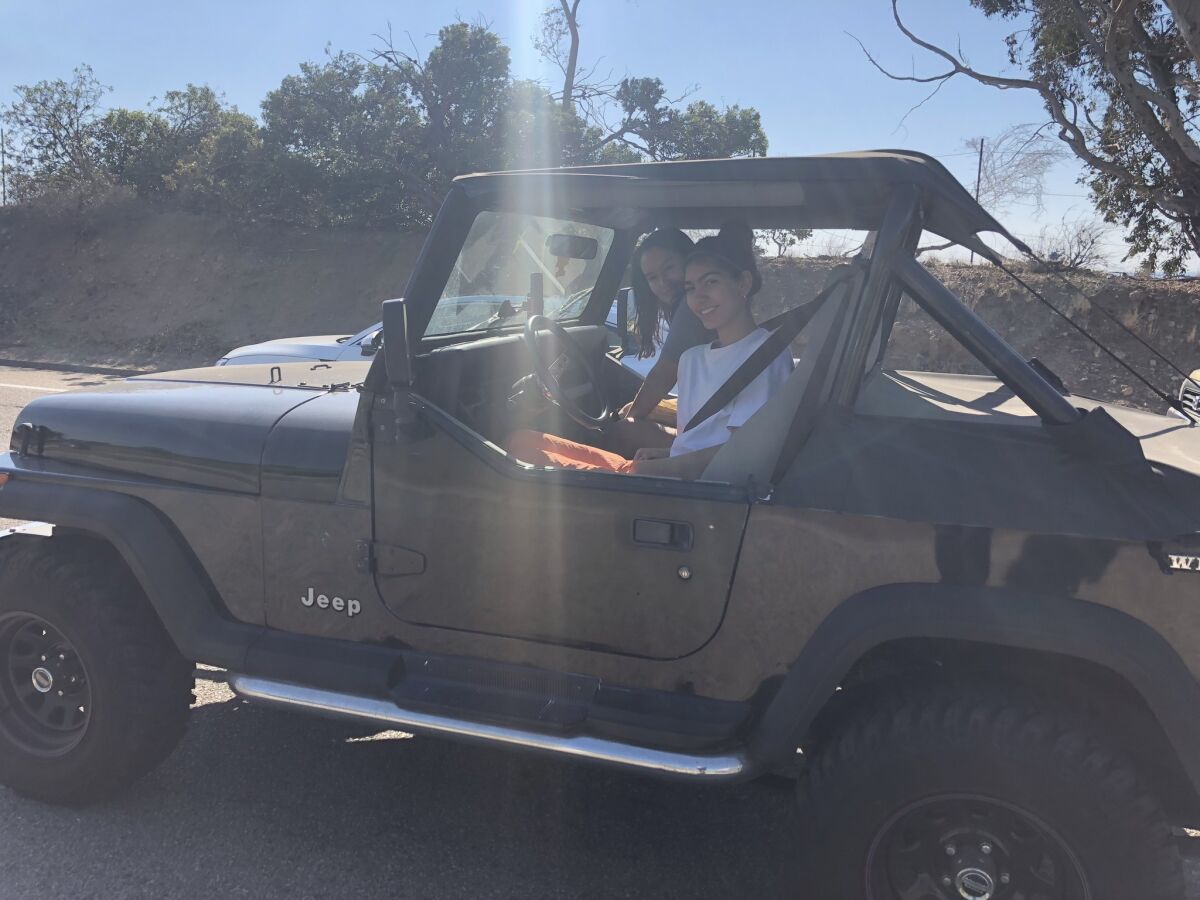 As Tipton-Ortiz and De Cleir drove down the Pacific Coast Highway, billowing smoke clouds descended on the campus behind them. The two were caught in bumper-to-bumper traffic as they joined a multitude of others trying to evacuate Malibu. Normally a drive of an hour and a half, the trip took seven hours.
"It took us probably two hours to go five miles on PCH," Tipton-Ortiz said.
At around noon, the university lifted the shelter-in-place order, although people were encouraged to remain on campus "due to road closures and severe congestion restricting travel." Within a couple hours, those still on campus were told again to shelter in place.
Sawa Yamakawa, 18, sheltered in the cafeteria on campus until 6 p.m. Yamakawa, a student from Japan, said he could see red fire over the mountain as he left.
"I was obviously very scared," Yamakawa said. "I feel like Pepperdine should do occasional fire drills to make sure students know what they're doing."
On any given day, there are about 3,000 to 4,000 people on the Malibu campus, according to Phillips.
"In order to evacuate everybody that's here in the Malibu area, you'd get gridlock if you added our students and faculty and staff," Phillips said.
Buildings on the 830-acre campus are constructed with fire-resistant materials whenever possible, campus roads provide natural fire breaks, and fire-resistant landscaping is used throughout campus, Phillips said.
Brush is cleared annually to at least 200 feet from campus buildings, according to the university. The county Fire Department reviews Pepperdine's plans regularly, Phillips said. The battalion chief for the area walks the perimeter of the buildings and makes suggestions to university staff.
Four strike teams were called to Pepperdine during the fire, but two arrived and felt they could handle it — thus diverting the other two teams to different spots, Phillips said. Flames were well onto the campus before fire personnel arrived, he added.
"It's really clear to me that even in the moment, the Fire Department — their concern was using their resources in the best way that they could," Phillips said. "It was clear to me they were not trying to put a bunch of extra resources on Pepperdine."
At the public meeting, David Richardson, the county Fire Department's chief deputy of emergency operations, explained that the university "has had a long understanding with the Fire Department and with our Sheriff's Department as far as the option to shelter in place."
Richardson added that sheltering in place was a "viable option in a fast-moving wildfire."
"I can't speak for the president; I'm not the president of the university," Richardson said. "But I can tell you as a fire service professional, sheltering in place is a viable option dependent upon whatever the particular situation is."
Twitter: @Brittny_Mejia
---
The stories shaping California
Get up to speed with our Essential California newsletter, sent six days a week.
You may occasionally receive promotional content from the Los Angeles Times.