L.A. Times and Sacramento Bee sue for records of law enforcement discipline, force in Sacramento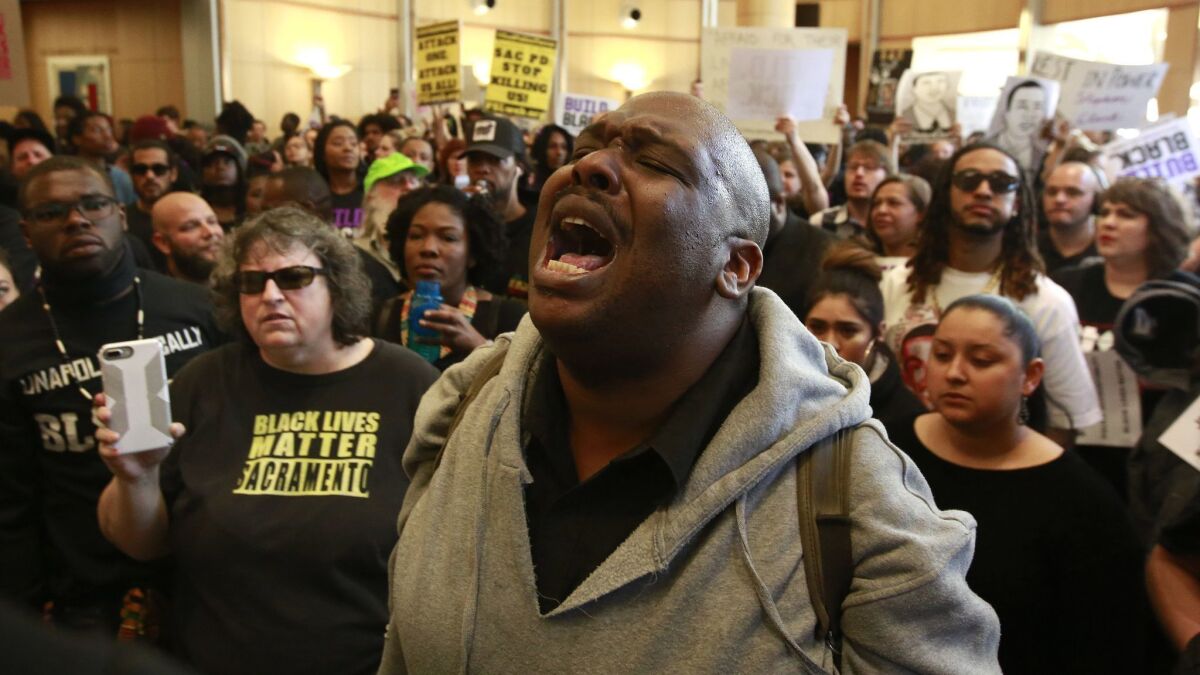 The Los Angeles Times and the Sacramento Bee sued the Sacramento County Sheriff's Department on Friday over the release of documents about misconduct or significant use of force by deputies, marking the latest maneuver in what has become a statewide legal battle over the disclosure of law enforcement personnel records.
The lawsuit alleges that the department violated the state's Public Records Act by denying requests from both newspapers.
Disciplinary reports have long been secret in California, but a landmark law that took effect Jan. 1 requires the disclosure of records of shootings by officers, severe uses of force and confirmed cases of sexual assault and lying by officers.
Law enforcement unions in Los Angeles and several other counties have obtained temporary restraining orders stopping agencies from releasing records, arguing that Senate Bill 1421 does not apply to records from incidents that took place before 2019.
In denying requests for the documents, the Sacramento Sheriff's Department said it was withholding records until there was "clear legal authority to release such records" because "Senate Bill 1421...was not expressly made retroactive."
There are no restraining orders preventing the Sheriff's Department from releasing the records.
The newspapers' lawsuit cited two deadly shootings by Sacramento police officers last year that set off protests. In one, Stephon Clark, an unarmed 22-year-old, was fatally shot in his grandmother's backyard as police looked for a vandal in the neighborhood. In the other, 19-year-old Darell Richards was shot after allegedly pointing a pellet gun at SWAT officers.
Neither shooting was by Sacramento County sheriff's deputies. The lawsuit mentioned the incidents and the protests they sparked as an indication of public sentiment regarding police shootings in the area.
"The public interest in monitoring police conduct is especially strong in Sacramento County (as in the rest of California), where officer-involved shootings which claimed the lives of Stephon Clark and Darell Richards, have ignited public protests and criticism of police," the lawsuit said.
The lawsuit notes that when SB 1421 was being developed last year, one of the bill's opponents, the Los Angeles County Professional Peace Officers Assn., acknowledged the measure would be retroactive. The group, which represents some Los Angeles County Sheriff's deputies, argued that some police records could become public even if an officer's actions were justified.
"Moreover, our reading of Senate Bill 1421 is that making the records of an officer's lawful and in-policy conduct is retroactive in its impact … (an officer's) records are available for public inspection irrespective of whether or not they occurred prior to the effective date of SB 1421," the association wrote. The comments were cited in a California senate public safety committee analysis of the bill.
The Times also requested records under the new law from the Sacramento Police Department. The agency said it would provide some records by the end of next month.
Until last year, the state's powerful law enforcement unions repeatedly blocked attempts to make any disciplinary records public. But lawmakers approved SB 1421 amid a heightened debate over how officers use force and interact with communities of color.
Proponents of the measure say restricting its reach to records of incidents after Jan. 1 severely limits the law's impact and shields misconduct by some officers who remain on the job.
Sen. Nancy Skinner (D-Berkeley), who wrote the law, said she intended for it to apply to any records in a department's possession. She added that if a court decided otherwise, she believed the law would still increase transparency surrounding police activities.
In response to the lawsuit, the Sacramento County Sheriff's Department reiterated its position that it could not provide records of pre-2019 incidents due to ongoing litigation over whether SB 1421 is retroactive.
---
The stories shaping California
Get up to speed with our Essential California newsletter, sent six days a week.
You may occasionally receive promotional content from the Los Angeles Times.