Oakland police likened to a frat house, and mayor says 'toxic, macho' culture must end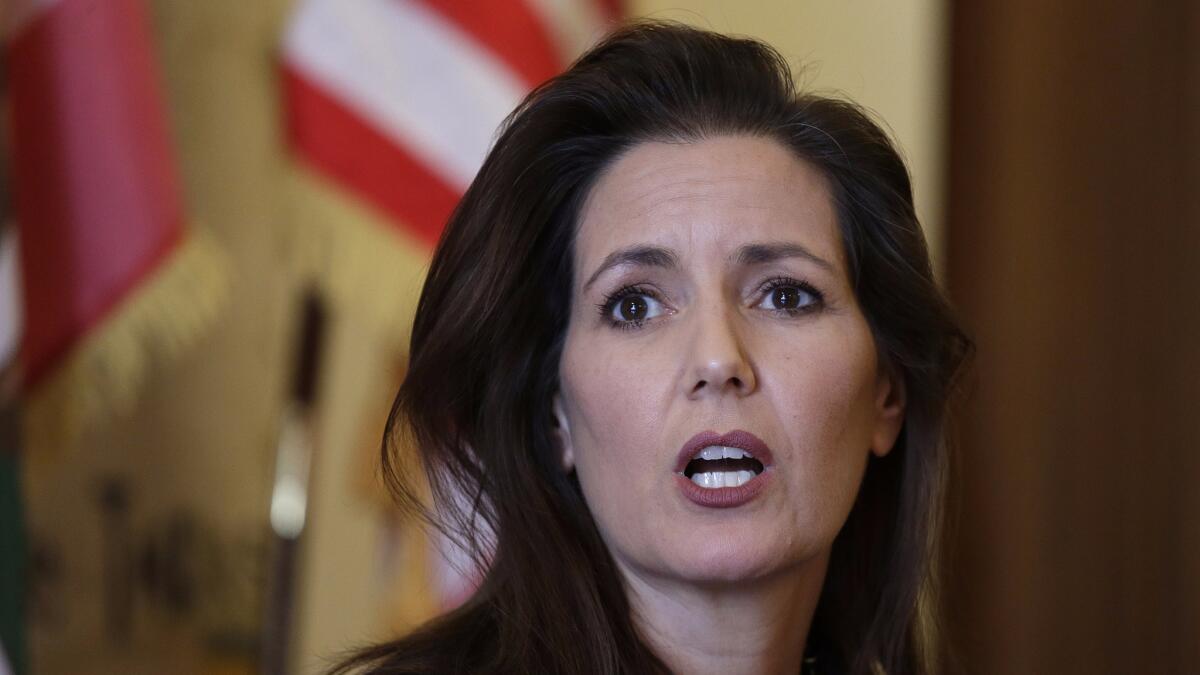 Oakland's police department is reeling from scandal, and that prompted Mayor Libby Schaaf to mince no words Friday.
"As the mayor of Oakland, I am here to run a police department, not a frat house," she said. "Today continues to be a day where we are sharing disturbing information with you."
Schaaf vowed to "root out what is clearly a toxic, macho, culture" within the city's police department.
What is this scandal about?
It involves allegations that officers were having inappropriate relationships with a teenage sex worker, possibly while she was underage.
After a sex scandal rocked Oakland police, officials are trying to figure out how to restore public trust »
The woman at the center of the sexual misconduct scandal said in a televised interview that she had slept with more than a dozen Oakland police officers. She also accused several officers of having sex with her when she was underage and said she had had sexual encounters with members of several other Bay Area law enforcement agencies.
What happened Friday?
Acting Chief Paul Figueroa tendered his resignation to Schaaf on Friday, and the department's command staff now will report to City Administrator Sabrina Landreth, Schaaf said during a news conference Friday evening.
Figueroa was appointed to replace Interim Chief Ben Fairow on Wednesday, after Schaaf said she had received information that made her question Fairow's ability to lead.
Fairow's tenure as Oakland's top cop lasted just six days. He had been appointed to replace Chief Sean Whent, who resigned in the wake of the widening sexual misconduct scandal.
"I'm hoping to not have to fire anyone else anytime soon," said the mayor, laughing in response to a question from a reporter.
Schaaf did not say why Figueroa resigned.
In a statement released Friday, Figueroa said, "I thank the city for the opportunity, and I am deeply sorry that I was unable to fulfill the functions of acting chief of police."
Figueroa voluntarily went on leave after resigning the chief's post Friday, Schaaf said.
What about these text messages?
Schaaf also said Friday that the department was close to finishing an investigation into an exchange of racist text messages between officers.
The text message inquiry does not involve Figueroa, according to Schaaf , who said that situation was "not as widespread" as the sexual misconduct scandal.
According to Schaaf, several African American officers sent and received messages that were "wholly inappropriate and not acceptable from anyone who wears the badge of the Oakland Police Department."
Join the conversation on Facebook »
She would not name the officers or disclose their ranks, but the situation is similar to a scandal that recently roiled the San Francisco Police Department, one of several that led to the resignation of Police Chief Greg Suhr.
Schaaf said the investigation of the text messages would be completed within two weeks.
Whent resigned on June 9, in what city officials termed a "personal choice." But three sources with knowledge of the situation told The Times that Whent was let go over his mishandling of an investigation into the sex scandal.
Two officers have resigned, and three were placed on administrative leave as a result of the sex scandal, city officials have said.
John Burris, the attorney who negotiated the 2003 settlement that placed Oakland police under federal oversight, said he hoped all of the department's skeletons can be revealed at one time in order to clear a path to real reform.
"It appears to be a cesspool here," he said. "But you gotta keep working at it to drain the swamps."
Follow @JamesQueallyLAT for crime and police news in California.
ALSO
Oakland replaces interim police chief six days after his appointment
Report links Oakland police chief's resignation to officer sex scandal
Sign up for Essential California for news, features and recommendations from the L.A. Times and beyond in your inbox six days a week.
You may occasionally receive promotional content from the Los Angeles Times.