Benedict Canyon fire 40% contained; fire fight aided by good weather, officials say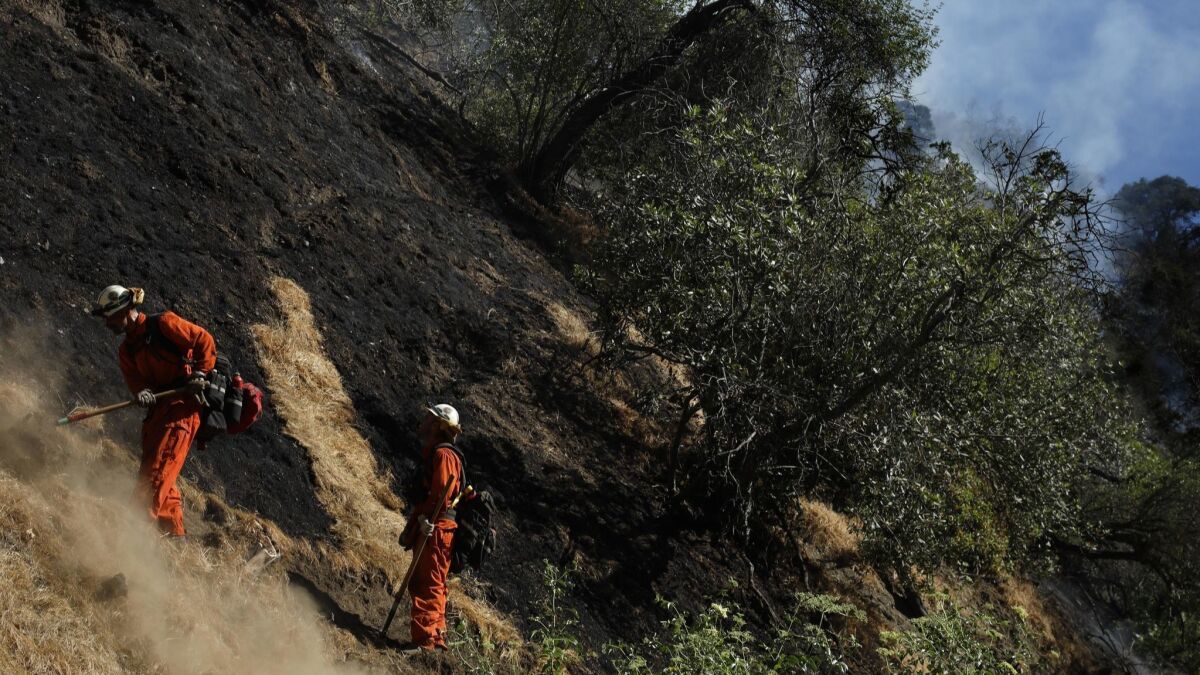 Firefighters battling a brush fire that forced evacuations in an upscale Los Angeles neighborhood were aided by good weather overnight, and the blaze was 40% contained early Wednesday, authorities said.
The blaze, dubbed the Portola fire, had charred 35 to 40 acres in the Beverly Crest and Benedict Canyon areas as of Wednesday, said Los Angeles Fire Department Capt. Erik Scott. The fire was sparked Tuesday afternoon by someone using a weed wacker to clear brush in preparation for the fire season, according to the LAFD.
Residents of about 86 homes were ordered on Tuesday to pack up their belongings and leave as more than 250 firefighters swarmed the narrow, winding streets and mounted an aggressive attack.
Although all evacuation orders were lifted by nightfall, the area remained open only to residents, with Los Angeles police officers checking identification, according to the LAFD. The affected areas included Mulholland Drive from Beverly Glen to Deep Canyon Drive and Benedict Canyon Drive from Mulholland Drive to the Beverly Hills border.
"We do not want anyone that is not a resident to go into those areas," Scott said. A large number of firefighters and trucks remained in the area, and crews were still actively fighting the fire, he said.
Scott said crews were optimistic they would make good progress on Wednesday.
"Fortunately, the weather's been in our favor," he said. "The flames have really quelled down. The humidity and moisture are also in our favor, as well as the lack of wind, and we hope that continues into our operation throughout the day."
Firefighters, he said, used drones to get a bird's-eye view of the flames, map out the perimeter and look for hot spots with infrared thermal technology. The department dispatched drones for the first time in December while fighting the Skirball fire in Bel-Air.
The Portola fire comes after a dry winter and after one of the most destructive fire seasons on record in California history, prompting firm warnings from Los Angeles fire officials.
They urged residents to use licensed contractors who follow safety rules — avoiding metal blades and carrying an extinguisher — for brush clearance. The weed wacker that sparked this week's blaze probably had exhaust manifolds that overheated, authorities said.
"We're never truly out of fire season," said Art Marrujo, an LAFD dispatch supervisor. "Because of the drought and no rain and everything else, all the vegetation out there is dried up and easier to catch fire and spread more rapidly than normal."
Two firefighters were injured Tuesday, one with a minor burn and the other with heat exhaustion, according to the LAFD.
Shortly before 4:30 p.m., Homa Hakimi, 66, walked out of her ranch-style home in the Beverly Crest neighborhood. She had heard a helicopter hovering nearby and sirens from firetrucks. Standing in her driveway, she saw neighbors stacking boxes and clothes into their luxury cars and SUVs.
"Do I have to evacuate?" she asked a reporter. "I'm nervous."
Soon afterward, she ran back inside her home.
"I have to go," she said.
alene.tchekmedyian@latimes.com
Times staff writer Joseph Serna contributed to this report.
The stories shaping California
Get up to speed with our Essential California newsletter, sent six days a week.
You may occasionally receive promotional content from the Los Angeles Times.