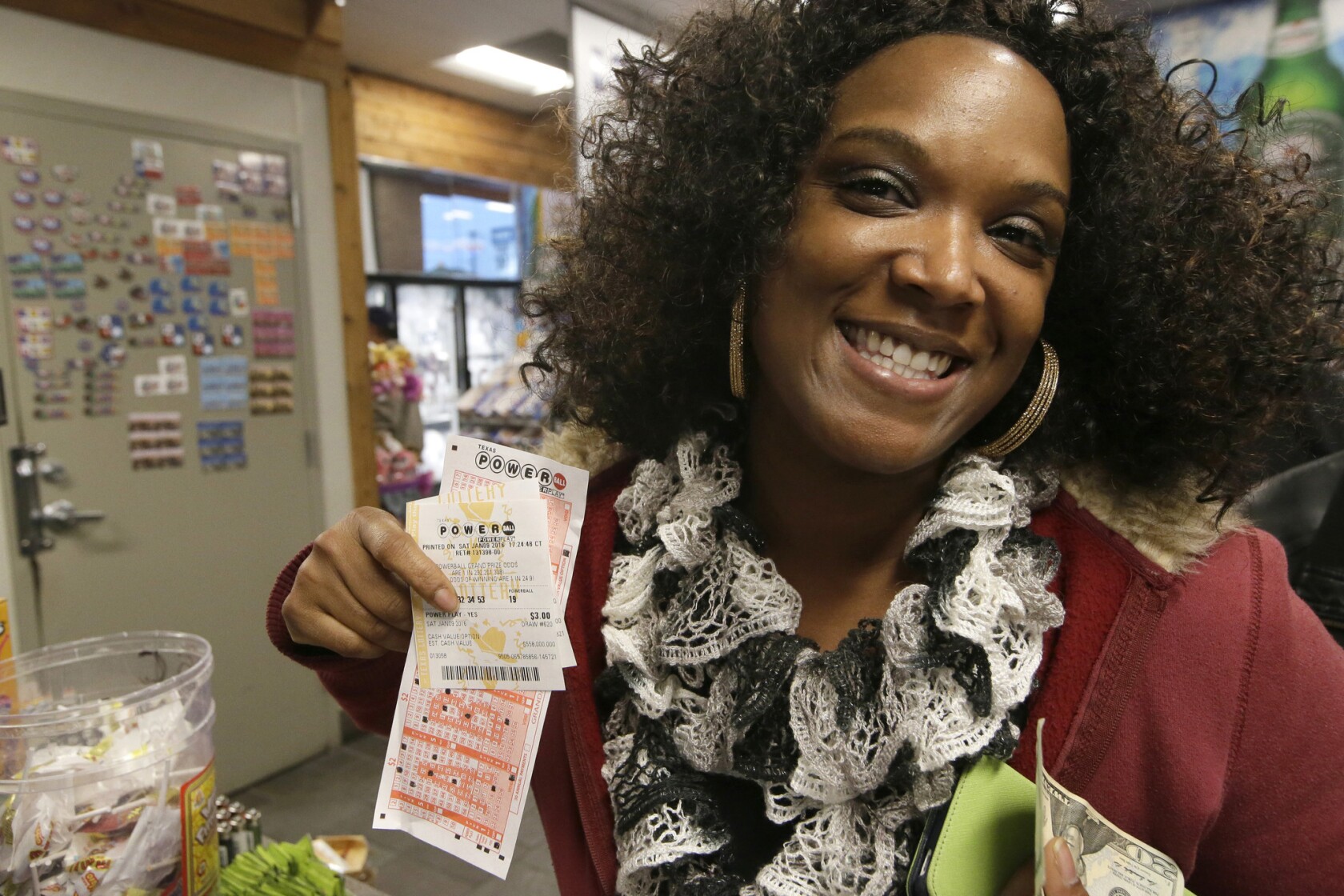 Alicia Rainey shows off the Powerball ticket she purchased in Dallas.
(LM Otero / Associated Press)
Customers wait in line at the Blue Bird Liquor Store in Hawthorne, Calif., to buy Powerball tickets.
(Richard Vogel / Associated Press)
Two customers show off their Powerball tickets Saturday at a 7-Eleven in Chicago.
(Joshua Lott / Getty Images)
People line up to buy Powerball tickets Saturday at Kavanagh Liquors in San Lorenzo, Calif.
(Marcio Jose Sanchez / Associated Press)
Jennifer Rawashdeh tends to Alex Cage at the Eagle Market store in Sherman Oaks as he buys Powerball tickets Saturday.
(Gus Ruelas / Associated Press)
Jessie Mercado of Lincoln, Neb., displays the numbers he wrote on a paper napkin, which he hoped would win the Powerball jackpot.
(Nati Harnik / Associated Press)
With no winners from Saturday's record Powerball drawing, the jackpot is hitting billion-dollar territory.
How much is the new jackpot?
The jackpot rises to $1.3 billion for the next drawing, on Wednesday. Saturday's winnings would have been $949.8 million.
------------
FOR THE RECORD, 7:56 p.m.: A previous version of this post said the jackpot rose to $1.38 billion. It has risen to $1.3 billion.
------------
How many tickets were sold in California?
On Friday, California players purchased about $37 million in tickets. Saturday's sales were higher. As of 7 p.m., Californians had scooped up $59.1 million in Powerball tickets, officials said.
Nationwide, more than $1 billion in Powerball tickets were sold, lottery officials said. The Powerball game is played in 44 states and three U.S. territories.
How does it work?
To win, a participant must match five numbers between 1 and 69 and a sixth number between 1 and 26 that is drawn separately.
If someone had hit the right combination for the jackpot Saturday, he or she would have had the option of taking a lump sum payment of $588.8 million.
California officials said that six tickets purchased in the state matched five of the six winning numbers, entitling their holders to smaller, but still substantial, prize money.
The winning numbers were: 16, 19, 32, 34, 57 and the Powerball number, 13.
What are the odds of winning?
The odds of matching all six numbers are 1 in 292.2 million.
Many underestimate just how small that probability is because 292.2 million is so large that it's "almost impossible" for people to wrap their heads around, said Ron Wasserstein, executive director of the American Statistical Assn.
Lottery officials probably expected bigger jackpots and, in turn, bigger sales when they implemented new game rules last year that changed the odds from 1 in 175 million, he said.
Join the conversation on Facebook >>
ALSO
Anti-immigrant protest turns violent in Cologne
'El Chapo' met with actor Sean Penn months before recapture, Rolling Stone magazine says
Roger Goodell says NFL stadium proposals are not viable in Oakland, St. Louis and San Diego
---