Winning Powerball jackpot ticket sold in Chino Hills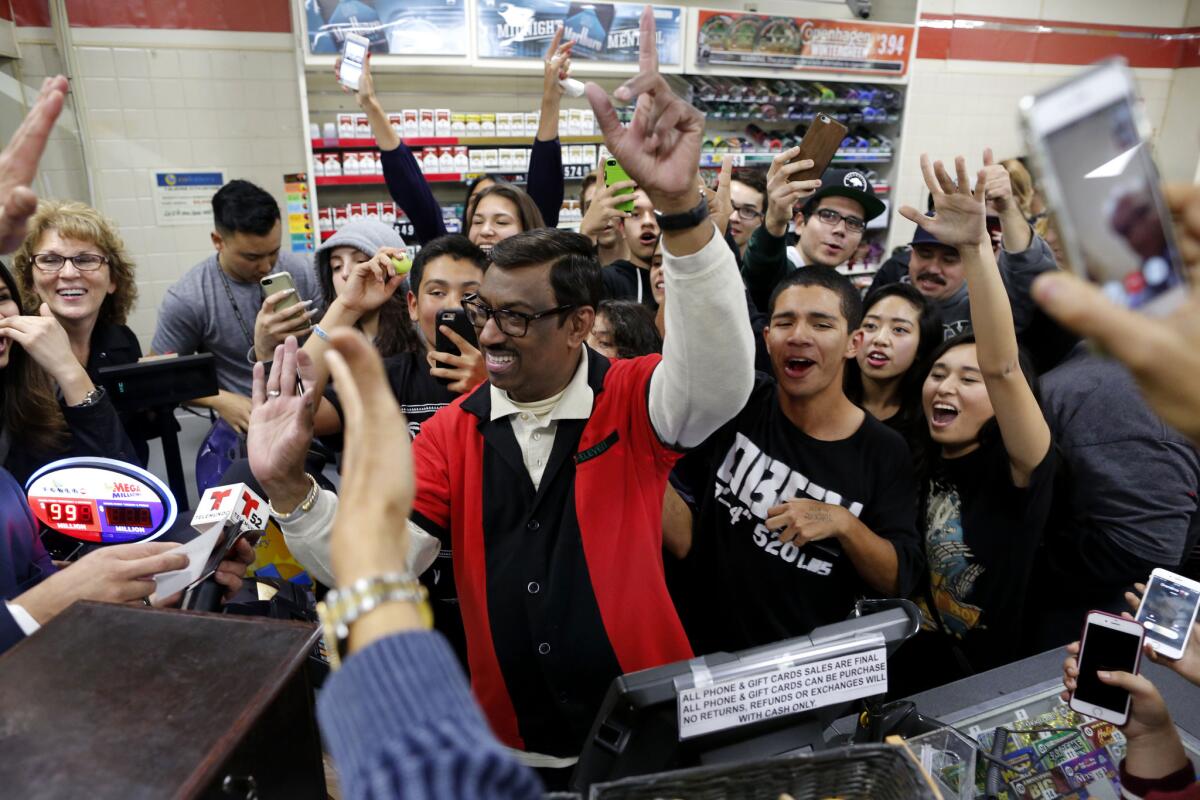 The chances of winning the record-setting $1.5-billion jackpot were a ridiculous 1 in 292 million.
That lucky one could have been anywhere in the 44 states and six U.S. territories that play Powerball. But on Wednesday, it turns out that golden ticket was printed in Chino Hills. At a 7-Eleven in a strip mall on Chino Hills Parkway to be exact.
Late Wednesday, a California lottery official said winning Powerball tickets were also sold in Tennessee and Florida.
In a sign of frenzy caused by the massive jackpot, scores of people swarmed the 7-Eleven parking lot Wednesday night, cheering, taking photos and trying to take in the historic moment.
"I'm really happy," said an employee of the store at 4092 Chino Hills Parkway, which will receive the maximum bonus of $1 million. "It's very good news."
The employee, who declined to provide his name because the store owner wasn't present, said the 7-Eleven was selling about $5,000 in tickets daily over the last few days, and on Wednesday alone sold about $12,000 worth.
"People were crazy," he said. "Everyone was paying $200, $300, $400" for Powerball tickets.

State lottery officials said one winning ticket matched all six numbers -- five plus the Powerball. The winning numbers were: 8, 27, 34, 4, 19 and the Powerball number, 10.
Hours after the draw, lottery officials said winning tickets were also sold in Florida and Tennessee, so the Chino Hills winner will have to share the jackpot.
An additional 12 tickets in California matched five numbers but not the Powerball. Those ticket holders will receive an estimated $633,000 each, lottery officials said.
According to state lottery officials, the 12 tickets that matched the five numbers were sold at Primm Valley Lotto in Stateline, a 7-Eleven in Chula Vista, Larkfield Union in Santa Rosa, a Chevron station in Santa Cruz, Jerry's Liquor in Santa Monica, Tustin Fuel and Market in Tustin, Eden Roc Liquor in Pacoima, a 7-Eleven in Vacaville, a Quik Stop in Cloverdale, a 7-Eleven in Redlands, Ted's Liquor in Gardena and Spot Not Auto Wash and Gas in Irwindale.
Earlier Wednesday evening, lines formed hours before the estimated $1.5-billion Powerball drawing.
During the afternoon, at least 14% of all possible number combinations had yet to be purchased, according to lottery officials.
Just 86% of all potential winning sequences had been selected by ticket purchasers, according to Alex Traverso, a spokesman for the California State Lottery. As a result, it remained possible that the drawing would fail to produce a winner, just like 19 drawings that had occurred since Nov. 7.
Although the chances of winning the jackpot are ridiculously slim, Powerball dreamers began lining up outside the Bluebird Liquor store in Hawthorne before sunrise. By the time store owner James Kim opened, some 60 people were waiting in line to purchase the $2 tickets.
"This is exciting. I hope we have a winner today," he said.
Interested in the stories shaping California? Sign up for the free Essential California newsletter >>
To win the grand prize, players must match five numbers between 1 and 69 and then a sixth number between 1 and 26.
The Powerball jackpot starts at $40 million and continues to grow until the grand prize finds a winner. It has never reached this size or set off such a public frenzy.
The fever surrounding the game has reignited debate about whether it is a harmless form of entertainment, or something darker that plays unfairly on the hopes of low-income ticket buyers. Critics say it erodes the ability of the poor to save money and offers little in return.
"They're playing this to try and get back to some status … and see this as their best chance of doing so," Cornell University economist David Just said. But the chances of coming out a big winner are "astronomically low."
Lottery officials argue the odds are beside the point.
"The tickets are $2 and serve a purpose, if it's their entertainment," Traverso said. "Ultimately, the bottom line — if they have $2 in their pockets and this is what they like to do, then that's what they're going to do."
Lottery supporters say that the money goes to a good cause — education funding — and that players come from all walks of life.
Studies commissioned by the California Lottery show that the income distribution of players closely reflects the makeup of California.
Lottery players are "vastly similar to California's population, in terms of demographics," Traverso said.
Duke University economist Charles Clotfelter, co-author of the book "Selling Hope: State Lotteries in America," said looking at the demographics of players without considering how much each group spends is misguided. Low-income lottery players end up spending a greater percentage of their wages than people of greater means.
Times staff writers Ruben Vives and Paloma Esquivel contributed to this report.
For breaking California news, follow @JosephSerna.
ALSO
Los Angeles County sheriff's deputies shoot masked man wielding BB gun
The Rams are expected to bring a psychological and economic boost to L.A.
Union official: LAPD chief lost support of officers after saying one should be charged
Sign up for Essential California for news, features and recommendations from the L.A. Times and beyond in your inbox six days a week.
You may occasionally receive promotional content from the Los Angeles Times.