Downtown L.A. has gotten more rain in 4 months than it normally gets for the whole year
Flyover of the Los Angeles River in Long Beach. (Travis Geske / For The Times)
Travelers who seek the splendor of basking in the sun's rays amid a cloudless sky nearly year-round haven't found much success in Los Angeles these days.
The typically temperate climate has been replaced by gloomy storm clouds, chilly temperatures and enough rainy days to make many Angelenos shudder — and winter isn't over yet.
Much of Southern California has received above-average rainfall for this time of the year, and many areas have already recorded an average year's worth of rain. Downtown Los Angeles has received 17.98 inches since the water year began in October, surpassing the 14.93 inches the city gets on average annually.
Kristen Stewart, a meteorologist with the National Weather Service in Oxnard, moved to Southern California from Boston, in part, she said, to escape cold, wet winters.
"As soon as I move here it starts raining — a lot," she said, laughing.
She's not kidding.
People visit Griffith Observatory in the rain on Wednesday.
(Irfan Khan / Los Angeles Times)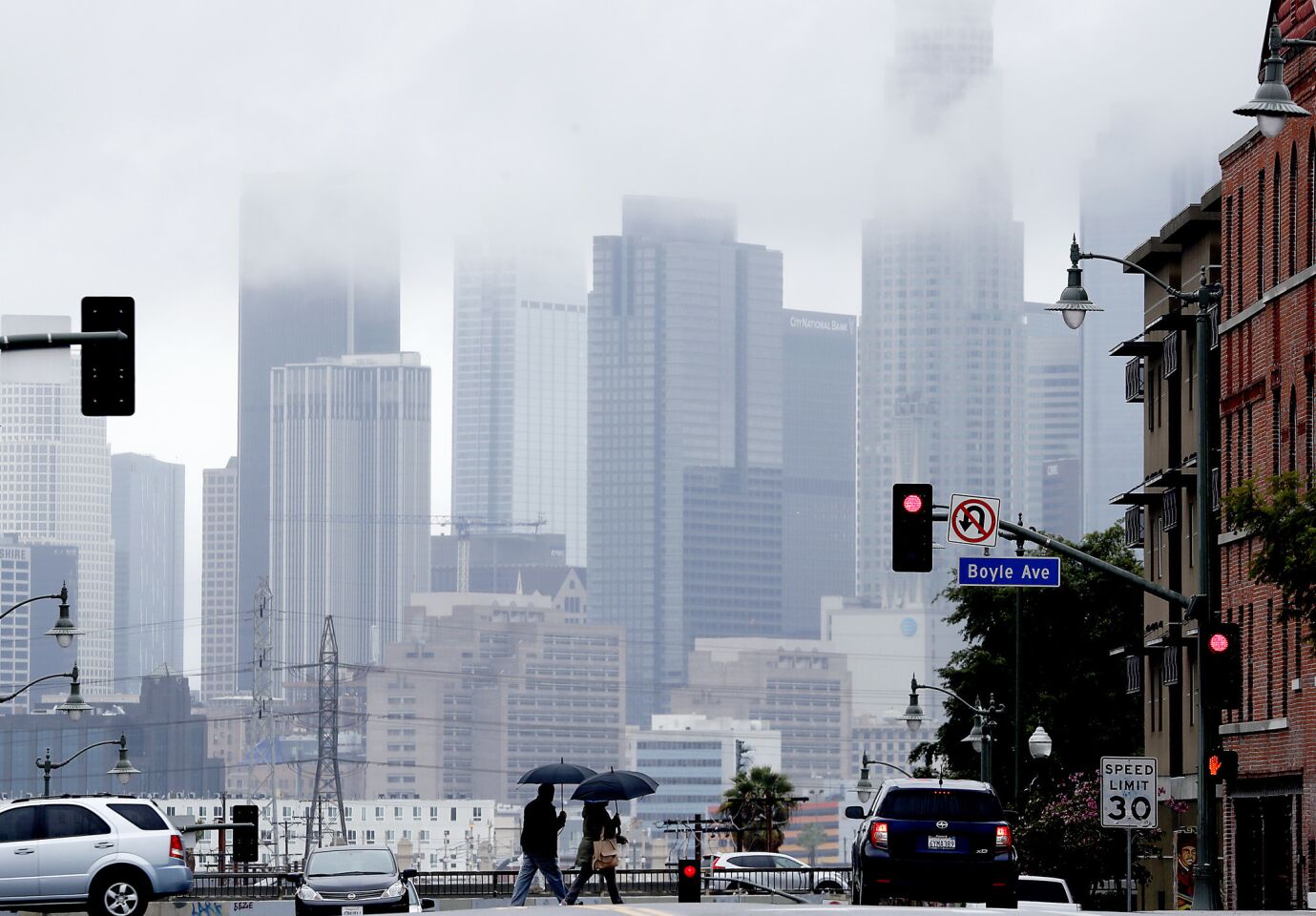 Pedestrians cross 1st Street in Boyle Heights as clouds obscure the Los Angeles skyline on Wednesday.
(Luis Sinco / Los Angeles Times)
A pedestrian walks along 1st Street in Boyle Heights.
(Luis Sinco / Los Angeles Times)
A street vendor sells umbrellas along Figueroa Street in downtown Los Angeles on Wednesday.
(Luis Sinco / Los Angeles Times)
People walk outside the rain-stained Cathedral of Our Lady of the Angels in downtown L.A.
(Dania Maxwell / Los Angeles Times)
Undeterred by rain visitors cover up at the Griffith Observatory in Los Angeles.
(Irfan Khan / Los Angeles Times)
A couple take cover at the Griffith Observatory in Los Angeles.
(Irfan Khan / Los Angeles Times)
A view of Los Angeles skyline shrouded in fog and rain clouds.
(Irfan Khan / Los Angeles Times)
A couple has the Huntington Beach pier all to themselves amid rain showers and cool temperatures Wednesday.
(Allen J. Schaben / Los Angeles Times)
Flor Armada's spirits aren't dampened by the rain during her morning run on Reseda Boulevard in Tarzana.
(Irfan Khan / Los Angeles Times)
A jackknifed big rig on the 101 Freeway in Woodland Hills had traffic backed up for miles Wednesday morning.
(Irfan Khan / Los Angeles Times)
A pedestrian with umbrella crosses Palm Avenue in Huntington Beach.
(Allen J. Schaben / Los Angeles Times)
Dark clouds come ashore in Long Beach.
(Luis Sinco / Los Angeles Times)
Erika Ginter of Portland, Ore., is silhouetted by stormy skies approaching the Venice Pier.
(Allen J. Schaben / Los Angeles Times)
Downtown L.A. received at least 1.24 inches Wednesday, breaking the record for that date of 0.88 inches, set in 1884. Record rain — 0.94 inches — also fell on Los Angeles International Airport, surpassing the record for the date of 0.54 inches set in 1962.
Lancaster, which received 0.73 inches of precipitation Wednesday, shattered the record of 0.48 inches set on that day in 1980. Palmdale also nudged past its rain record for the day — 0.55 inches — also set in 1980.
That's a sharp turnaround from the last water year, which was the third-driest since recordkeeping began in 1877, with a meager 4.72 inches of rain. Prior to this year, six of the past seven water years — which run from Oct. 1 to Sept. 30 — have been below average.
The Sierra Nevada, California's greatest mountain range, has also been seeing a banner year for precipitation. All three regions of the Sierra are almost at the point where they will have seen a year's worth of precipitation for the season. The wet winter has helped keep much of the state out of drought conditions that plagued California for years, but officials warn one rainy season doesn't mean the state is safe.
Atmospheric rivers, which are narrow bands of water vapor that are pushed across the Pacific Ocean by gusty winds, have played a leading role in providing the state with a solid soaking this winter. When they are strong enough, atmospheric rivers can account for a disproportionate amount of the annual precipitation — between 30% and 40% — on the West Coast, according to experts.
During Wednesday's atmospheric-river-fueled storm, thunderstorms produced a dramatic lightning show. In one five-minute stretch shortly after 8 p.m., forecasters recorded 1,489 pulses of lightning off the coast, 231 over Santa Barbara County and 40 in Los Angeles County.
If it seems like downtown Los Angeles has also been a bit colder than usual, even for winter, it's because it has been. Temperatures in the region have been running about 10 degrees below normal, Stewart said.
For the first time since forecasters began recording data — at least 142 years — the mercury did not reach 70 degrees in downtown Los Angeles for the entire month of February.
The downtown portion of the city has had 36 consecutive days so far, beginning on Jan. 30 and continuing through at least Wednesday, when the high temperature failed to reach or exceed 70 degrees. It's the longest stretch in 40 years, since 1979, according to the weather service, and is tied for the ninth-longest stretch since forecasters began recording data.
Forecasters expect the cold snap to continue for at least five days as another pair of chilly storms make their way into the region.
The first system, which is expected to roll in Thursday night and linger through Friday afternoon, will bring roughly a tenth of an inch of rain to Los Angeles. The Central Coast is expected to receive a little bit more precipitation, roughly a quarter of an inch, Stewart said.
Cold air that will accompany the storm is expected to drop snow levels to 4,000 feet, which could bring powder to the 5 Freeway over the Grapevine, but likely won't stick.
The area should dry out late Friday into Saturday, but another storm system will bring a chance for more rain on Sunday and Monday.
"It'll be a much weaker and drier system than what we just had," Stewart said. "We probably won't see a lot of rainfall, but temperatures will stay about the same."
Times staff writer Alene Tchekmedyian contributed to this report
Twitter: @Hannahnfry
---
The stories shaping California
Get up to speed with our Essential California newsletter, sent six days a week.
You may occasionally receive promotional content from the Los Angeles Times.