Wildfires have charred more than 1 million acres in California this year — and fire season is far from over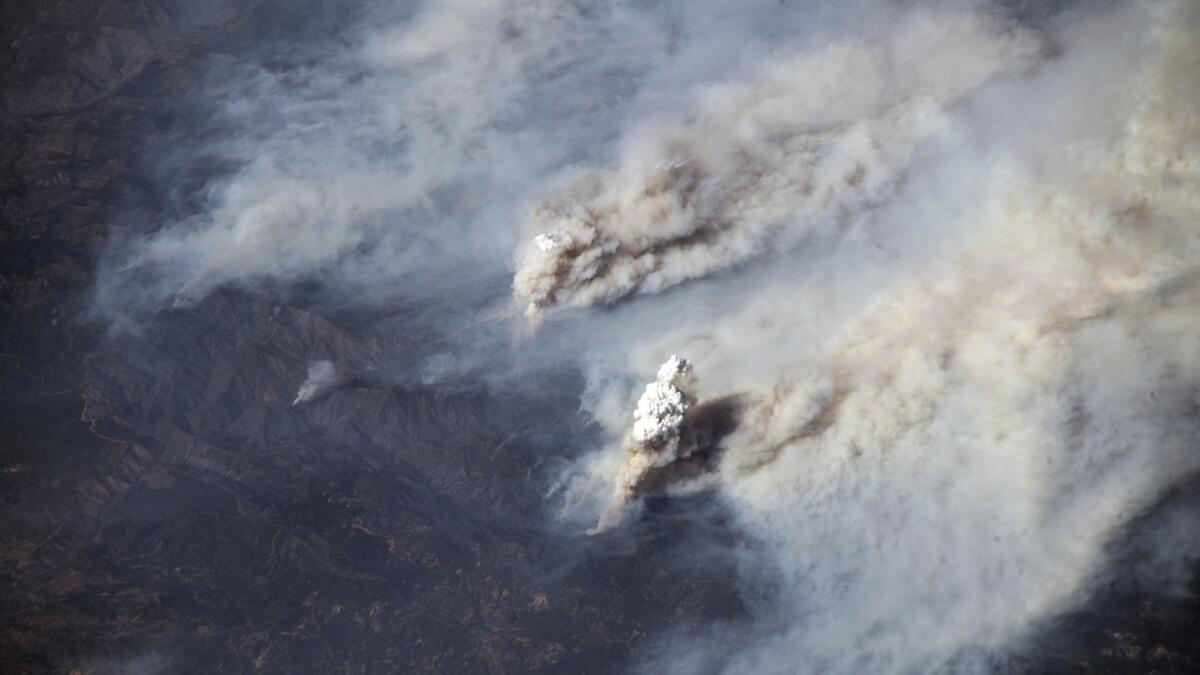 More than 1.2 million acres burned. Over 1,200 homes destroyed. At least a dozen dead. And California's fire season is far from over.
During the next month, California is expected to see above-normal fire activity after a hot summer dried out grasses that grew long thanks to the state's brief reprieve from drought. Expected Santa Ana winds will exacerbate any fire that starts.
Predictive models of the coming month's fire activity suggest that, if wildfires start, they will likely grow rapidly and be more difficult to contain, said Jessica Gardetto, a spokeswoman for the National Interagency Fire Center.
"It's fairly common to have California experience this level of fire activity in the fall, but it's not usually the entire state," she said.
The amount of land that has burned this year is almost equivalent to the 1.4 million acres that burned last year, according to the California Department of Forestry and Fire Protection. It's a significant uptick from the last nine years, said Heather Williams, a Cal Fire spokeswoman.
This summer, more than a dozen fires were burning at the same time throughout Southern and Northern California, including some of the largest single wildfires in recorded state history.
Large single fires seem to be part of a more permanent trend, threatening and burning more homes and businesses, fire officials said.
California holds the top spot for acres burned, followed by Nevada and Oklahoma, and accounts for 10% of all acreage burned in the U.S. since 2000, according to the National Interagency Fire Center.
Firefighters who have been on the job for decades have repeatedly expressed alarm about the changing behavior of fires, which have become more intense and less predictable, and the increasingly elongated fire season.
That season is now about 72 days longer than it was 30 years ago, according to Cal Fire.
"It's a marathon that just keeps getting longer and longer," said J Olsen, a firefighter with Central Calaveras Fire and Rescue who worked the Mendocino Complex fire. "Every season I go into it thinking it's going to be the worst season we've seen yet."
For the last several weeks, fires across Northern and Central California have prompted thousands of residents in small cities and rural regions to evacuate as thousands of firefighters and support personnel work the lines. In many cases, the fires are burning in steep, rocky terrain that's often inaccessible or too dangerous to fight directly.
Here is a list of the fires that have recently burned through the state (acreage and containment figures for active fires are as of Friday night):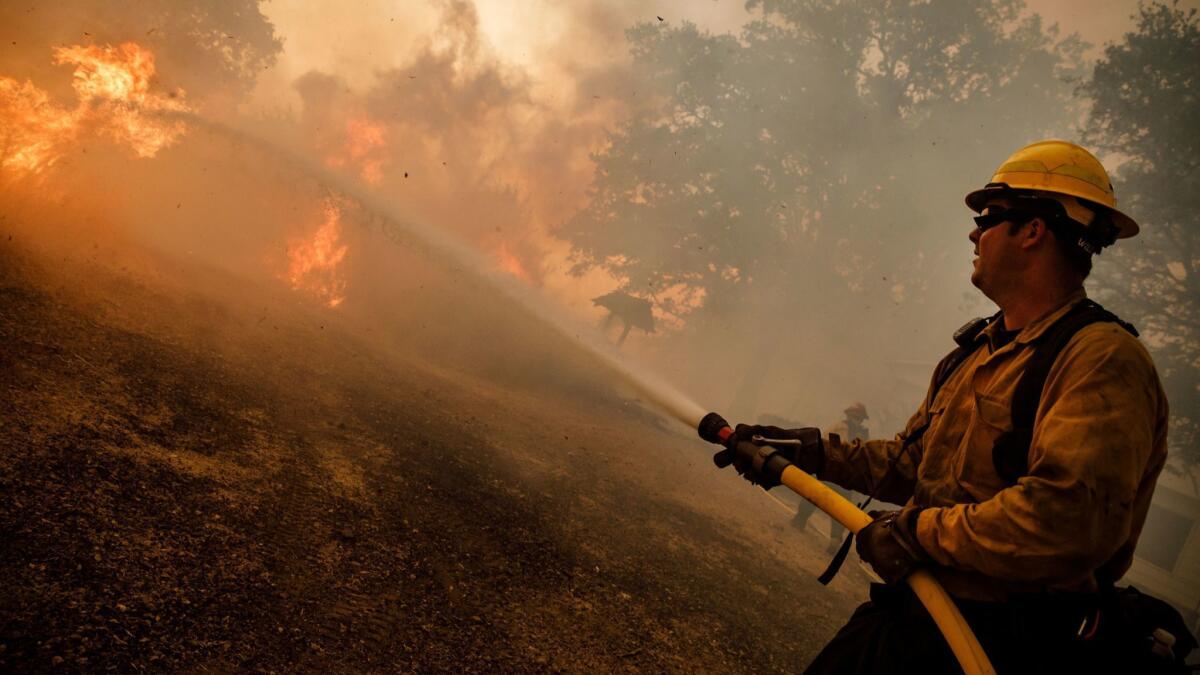 The Mendocino Complex fire
Size: 459,123 acres
Percent of perimeter contained: 98%
Start date: July 27
Cause: Under investigation
How to help: You can donate to a disaster fund, set up by the Community Foundation of Mendocino County, or to the North Coast Opportunities fire relief fund.
The Mendocino Complex fire, which is made up of the River fire and the Ranch fire, is the largest wildfire in modern California history, usurping last year's Thomas fire, which ravaged Ventura and Santa Barbara counties in December.
The fire burned toward the rugged Mendocino National Forest, making it difficult for firefighters to attack the fire directly, prolonging the time it took for containment. Firefighters focused on digging fire lines near natural barriers to stop the blaze. Nighttime temperatures and humidity levels didn't improve, which caused the fire to regularly grow overnight. Less destructive than last year's wine county fires, the fire destroyed 157 homes and 123 other buildings.
If it were in L.A. County, the Mendocino Complex fire's perimeter would stretch from Los Angeles International Airport to Pomona.
Battalion Chief Matthew Burchett, 42, of the Draper City Fire Department in Utah, died after he was injured while working on an active portion of the Ranch fire.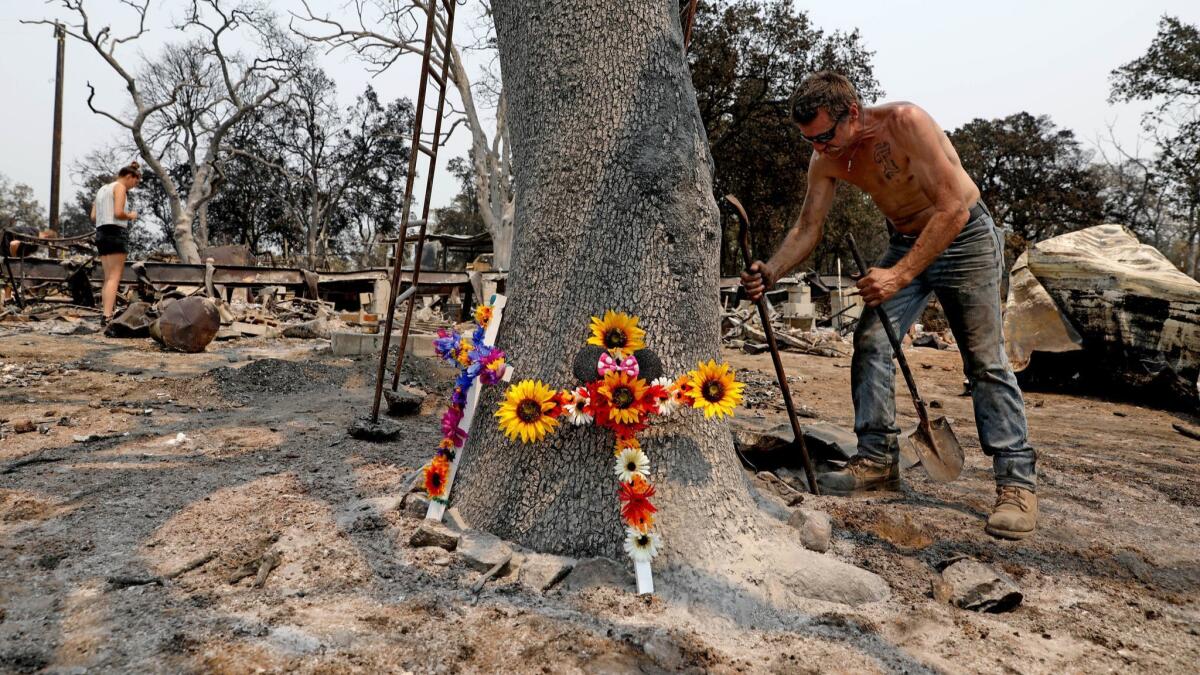 The Carr fire
Size: 229,651 acres
Percent of perimeter contained: 100%
Start date: July 23
Cause: A malfunctioning recreational trailer off Highway 299 in Shasta County
How to help: To donate to the relief fund set up by the Shasta Regional Community Foundation, visit shastarcf.org/funds/cdrf. To donate to the United Way of Northern California's Shasta County fire relief fund, text CARRFIRE to 91999.
At one point, more than 4,700 firefighters from the U.S. and abroad battled the Carr fire as it pushed west into Redding, fed by drought-stricken trees, bone-dry grass and triple-digit heat.
After moving predictably in its first days, the Carr fire exploded July 26 as it moved into Redding. That day, a 143-mph fire tornado blasted through the city of almost 92,000 in Shasta County, moving cars and ripping tiles off homes.
At least eight people died in the Carr fire, including a 70-year-old woman and her two great-grandchildren and a Cal Fire mechanic.
The Carr fire was one of the most destructive fires in modern California history, burning through 1,079 homes, 22 businesses and 503 other buildings.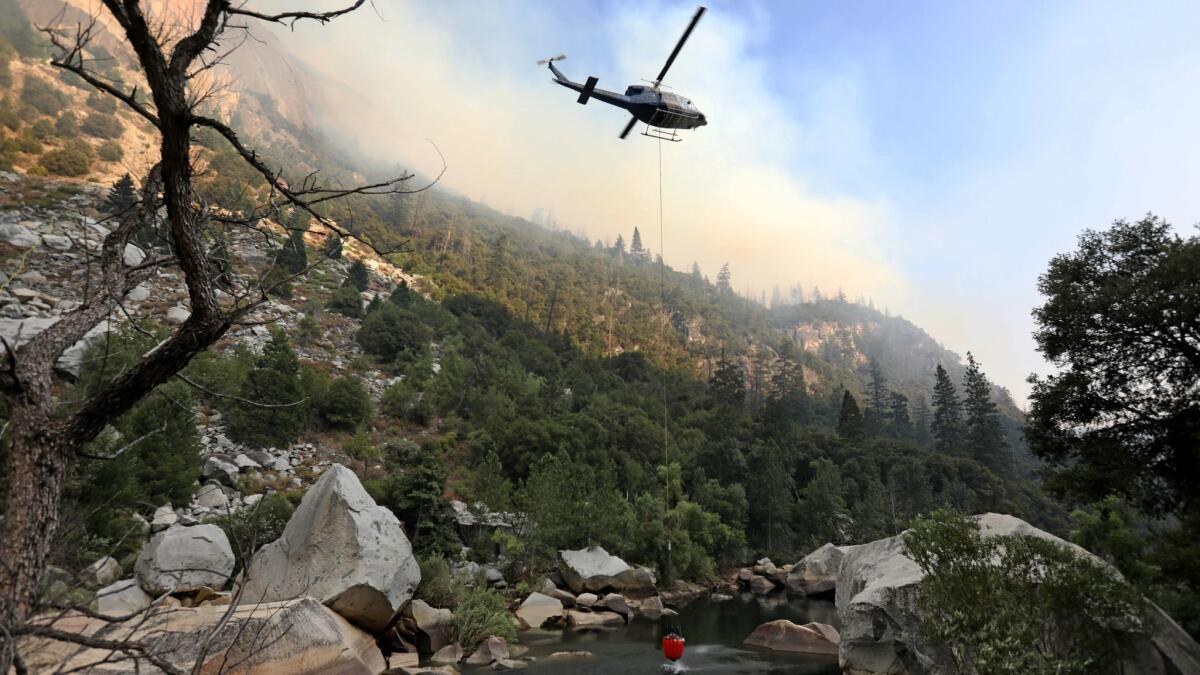 The Ferguson fire
Size: 96,901 acres
Percent of perimeter contained: 100%
Start date: July 13
Cause: Unknown
The Ferguson fire shut down Yosemite Valley for almost three weeks. Smoke filled the normally picturesque region for weeks, depleting the area of one of its most important resources: tourists. In Yosemite Valley, bears, foxes and other animals enjoyed the peacefulness of an empty park. Staff left in the park snapped frequent photos of the usually shy critters.
For more than a month, the fire burned in steep, rugged terrain, making it unsafe to fight directly. Firefighters built miles of containment line by hand and with bulldozers, backburning much of the region to starve the fire of fuel. Tall trees killed by drought and beetle infestations regularly fell, placing firefighters in repeated danger.
Two firefighters were killed on the Ferguson fire: Braden Varney, a heavy equipment operator with Cal Fire, and Capt. Brian Hughes of the Arrowhead Interagency Hotshots.
The Hirz fire
Size: 46,150 acres
Percent of perimeter contained: 89%
Start date: Aug. 9
Cause: Human
Burning 18 miles northeast of Redding in the Shasta-Trinity National Forest, the Hirz fire has made air already smoky from the Carr fire worse.
Like many of the fires this summer, the Hirz fire is burning through oak, brush and mixed conifers in mountainous terrain with no recorded fire history. Because the fire is impractical, and in some cases unsafe, to fight directly, firefighters instead have dug lines and waited for the fire to reach them.
The Pacific Crest Trail goes through the northern part of the fire. A local organization helped ferry through-hikers around the trail, said Darryl Jones, public information officer for the Hirz fire.
The Stone fire
Size: 39,387 acres
Percent of perimeter contained: 100%
Start date: Aug. 15
Cause: Lightning
One of three fires ignited by lightning in the Modoc National Forest, the Stone fire burned through timber, brush and tall grass near Yellow Jacket Spring. The fire was closest to two small communities, burning 10 miles southwest of Canby and 15 miles northwest of Adin.
The Donnell fire
Size: 36,400 acres
Percent of perimeter contained: 87%
Start date: Aug. 1
Cause: Under investigation
Burning for more than a month, the Donnell fire continues to spread in grassy areas and in pockets of the Stanislaus National Forest. Like the Ferguson fire, the Donnell fire has burned in forest with dead standing trees, a particularly dangerous hazard because they're quick to ignite and often fall once burned.
The fire destroyed the main store and restaurant at the Dardanelle Resort, along with cabins and other structures, the Union Democrat newspaper reported. In total, 54 major structures were destroyed by the fire.
In early August, the fire forced officials to close a portion of the Pacific Crest Trail between Highway 108 and Highway 4 near the forest's boundary.
Officials warn that the area will be at an increased risk for landslides, especially with the fall rainy season approaching.
The Natchez fire
Size: 31,361 acres
Percent of perimeter contained: 74%
Start date: July 15
Cause: Lightning
A lightning storm July 15 started five large fires in southwest Oregon and the Natchez fire in Northern California. That day, the region saw 917 lightning strikes that caused 117 fires of varying sizes.
The 26% of the fire that remains uncontained is burning west and southwest into the Siskiyou Wilderness, up against the Eclipse Complex fire scar, which burned more than 75,000 acres last year. It is too dangerous for firefighters to enter that area to put out the Natchez fire.
Firefighters have been successful at holding the fire back as it has tried to force its way through passes between mountain peaks, including Preston Peak, Copper Mountain and Polar Bear Mountain, said Howard Hunter, a public information officer for the Natchez fire.
The Delta fire
Size: 31,325 acres
Percent of perimeter contained: 0%
Start date: Sept. 5
Cause: Human
Hundreds of drivers were surprised Wednesday when the Delta fire exploded around them, enveloping both sides of Interstate 5 with up to 300-foot flames and heavy smoke.
A roughly 45-mile section of I-5 is expected to remain closed through the weekend. Traffic is clogging smaller, windy roads being used as detours, and the California Highway Patrol told drivers to expect at least a five-hour trip along the alternative route, Highway 89 to Highway 299.
Numerous structures are threatened, and the Shasta County Sheriff's Office and Trinity County Sheriff's Office both issued mandatory evacuations in the area. Dunsmuir, a community of 1,650 people about nine miles south of Mt. Shasta, is under an evacuation warning.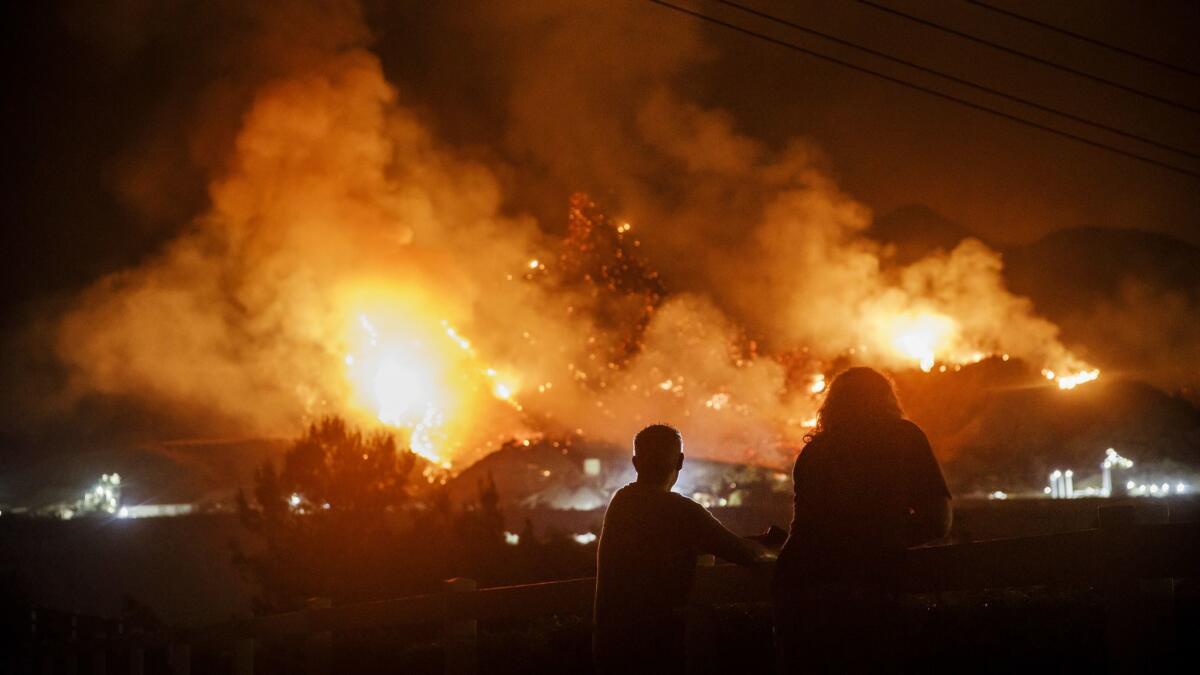 The Holy fire
Size: 23,136 acres
Percent of perimeter contained: 93%
Start date: Aug. 6
Cause: Human
Shortly after the Holy fire began, Forrest Gordon Clark, 51, was taken into custody on suspicion of arson. He reportedly texted the local fire chief, "It's all going to burn like you planned." Clark is known in the small community in the Cleveland National Forest for frequently fighting with neighbors.
At least 12 single-family residences were destroyed in Orange County and an additional six single-family residences in Riverside County.
The Lions fire
Size: 13,347 acres
Percent of perimeter contained: 85%
Start date: July 11
Cause: Lightning
The Lions fire started seven miles southwest of Mammoth Lakes and is burning in forestland at 6,000 feet to 8,000 feet elevation with a substantial number of dead trees. As a result, firefighters saw have seen extreme fire behavior, including flames rapidly climbing from the forest floor to the tops of trees, sending embers that caused multiple spot fires.
This has also meant limbs and treetops, and sometimes entire trees, falling in areas where firefighters are working to contain the blaze.
The Boot fire
Size: 6,873 acres
Percent of perimeter contained: 3%
Start date: Sept. 4
Cause: Unknown
Hot and windy conditions created extreme fire behavior on the Boot fire, which is burning nine miles southwest of Walker, a small community in Mono County. Air support, including seven helicopters and two CL-415 water scoopers, is attempting to slow the fire as firefighters and heavy equipment operators construct containment lines.
A mandatory evacuation remains in effect for residents in the area of Fales Hot Springs, Devil's Gate Pass and Swauger Creek, and for the Marine Corps Mountain Warfare Training Center. Highway 108 (Sonora Pass) remains closed to all eastbound traffic to Kennedy Meadows.
The Valley fire
Size: 1,350 acres
Percent of perimeter contained: 82%
Start date: July 6
Cause: Under investigation
The Valley fire began in the San Bernardino National Forest during record heat near the community of Forest Falls. It remains in steep, inaccessible terrain, but has shown no new smoke or flame in recent weeks after hot and dry weather.
The fire is in patrol status and will be declared fully contained only after the first significant precipitation event of the fall or winter.
The North fire
Size: 1,274 acres
Percent of perimeter contained: 55%
Start date: Sept. 3
Cause: Under investigation
More than 800 firefighters and support personnel have been sent to the North fire, burning south of Emigrant Gap, nine miles northeast of Alta, a small community off Interstate 80.
No structures have been threatened. The fire is burning in often inaccessible rocky land in the Tahoe National Forest. Several hotshot crews have worked the fire, and firefighters have been successful in building and maintaining containment lines, said Barbara Rebiskie, a public information officer with Nor Cal Interagency Incident Management Team 1.
The Kerlin fire
Size: 1,228 acres
Percent of perimeter contained: 0%
Start date: Sept. 4
Cause: Under investigation
Another blaze burning in the Shasta-Trinity National Forest, the Kerlin fire has prompted mandatory evacuations for residents in the rural area of Trinity County.
Times staff writer Joseph Serna contributed to this report.
Sign up for Essential California for news, features and recommendations from the L.A. Times and beyond in your inbox six days a week.
You may occasionally receive promotional content from the Los Angeles Times.