L.A. commission says Airbnb rentals should be allowed in rent stabilized housing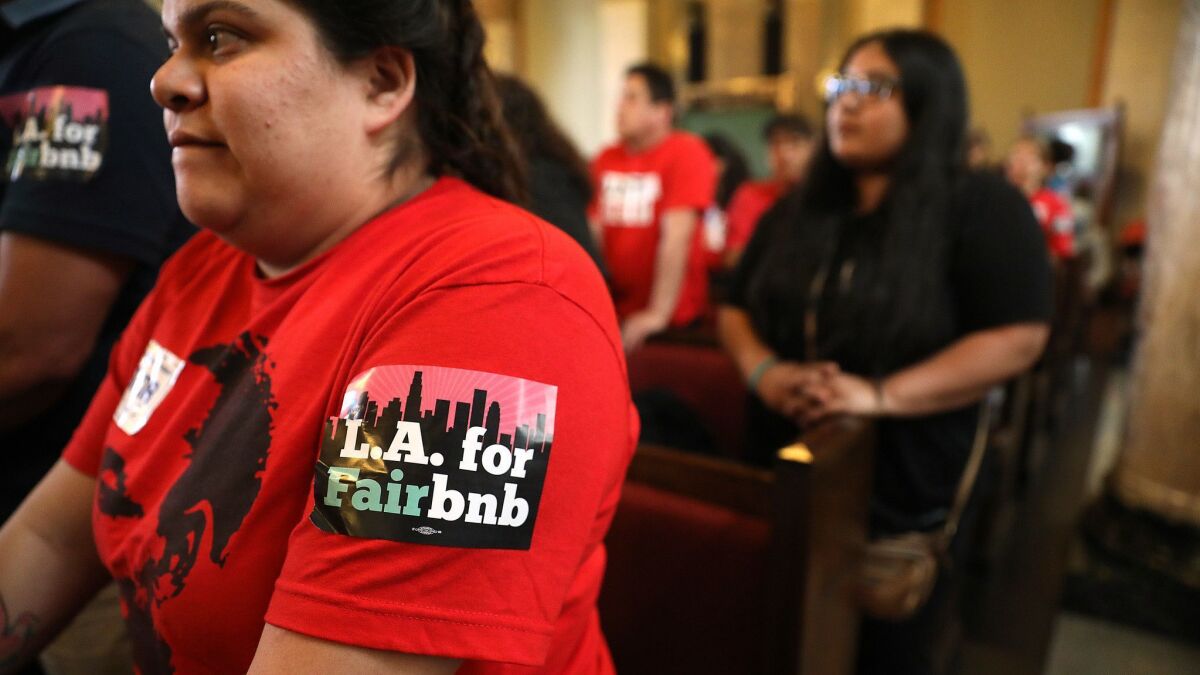 Los Angeles moved one step closer Thursday to imposing new rules on renting out rooms or entire homes for short stays, a phenomenon that has boomed with the rise of Airbnb and other online platforms.
The Planning Commission, whose members are appointed by Mayor Eric Garcetti, voted to back a proposed law that would limit Angelenos to renting out their own primary residence to short-term guests — a rule meant to stop corporate entities from buying up housing and running it like a hotel.
But the commission balked at another proposed restriction that had gotten traction at City Hall: Banning such rentals in any housing that falls under rent stabilization rules, which cap annual increases for tenants.
"Why are we excluding people who are in rent stabilized housing as a class?" asked commissioner David Ambroz. "It's almost as if we pick people of lower economic means and say, 'You do not get to participate in the future economy.'"
The decision is the latest turn in the lengthy debate over how Los Angeles should regulate such rentals. More than three years have passed since Councilman Mike Bonin and Council President Herb Wesson first vowed to impose new regulations on the industry, arguing that the city needed to rein in the practice to protect its rental housing.
The debate has pitted Airbnb, which has mobilized its hosts and lobbied at City Hall, against a politically muscular coalition that includes tenant activists, neighborhood advocates and the hotel industry, along with the members of Unite Here Local 11, an influential hotel workers union that has scored previous victories at City Hall.
Tenant activists have grown increasingly frustrated by the delay in imposing new rules, arguing it has exacerbated the housing crisis as more and more apartments are taken off the market for ordinary tenants. At Thursday's hearing, they urged the city to ensure such rentals are barred in rent stabilized units, describing them as a precious and endangered pool of housing.
"It is vital to keep [rent stabilized] units available for low-income families who have no need to rent out extra rooms, because they have no extra space," said Cynthia Strathmann, executive director of Strategic Actions for a Just Economy, a nonprofit that works with poor families.
Strathmann said after the hearing that rent stabilized housing is not supposed to "provide an economic windfall for people who can afford to live in larger spaces than they need."
Airbnb and its hosts, in turn, argued that the proposed rules and fees were too hard on homeowners who rely on such rentals to make ends meet, and charged it would be unfair to exclude apartments that fall under rent stabilization.
Several said the rooms they rent out to travelers would never be suitable for longtime tenants. And many argued that proposed caps on such rentals could put them in financial jeopardy.
"This is not a hobby for us," said Ed Colman, a Venice resident who said he relied on renting out his guest room after he lost his job five years ago. "This is our livelihood."
Under the proposed rules approved Thursday, hosts could rent out their homes to short-term guests for up to 120 days annually.
If they have a clean record with no violations from the city, or can make a successful case to planning officials that it would not harm the area, they would be able to exceed that cap and rent them out to travelers all year. Exceeding the 120-day cap would not be an option, however, for rent stabilized housing.
The latest version of the rules still must be vetted and approved by City Council before it can become law. If approved, it would go into effect in July.
The new law would also require rental hosts to register with the city. Online platforms such as Airbnb or HomeAway could be fined if they advertise illegal listings or refuse to hand over addresses of scofflaw rentals.
Earlier this year, Councilman Gil Cedillo floated the idea of another ordinance to allow "vacation rentals" — short-term rentals of properties that are not the primary residence of the host — but that plan has yet to be taken up at City Hall.
Samantha Millman, who heads the planning commission, recused herself from the Thursday discussion because her husband had done work for the California Hotel and Lodging Assn., which has lobbied the city on the proposed rules.
Two other commissioners, Renee Dake Wilson and Dana Perlman, disclosed that they had met and listened to representatives of the hotel industry ahead of the meeting.
Twitter: @AlpertReyes
---
The stories shaping California
Get up to speed with our Essential California newsletter, sent six days a week.
You may occasionally receive promotional content from the Los Angeles Times.