A 25-year-old mystery solved: Last unidentified victim of '92 L.A. riots has a name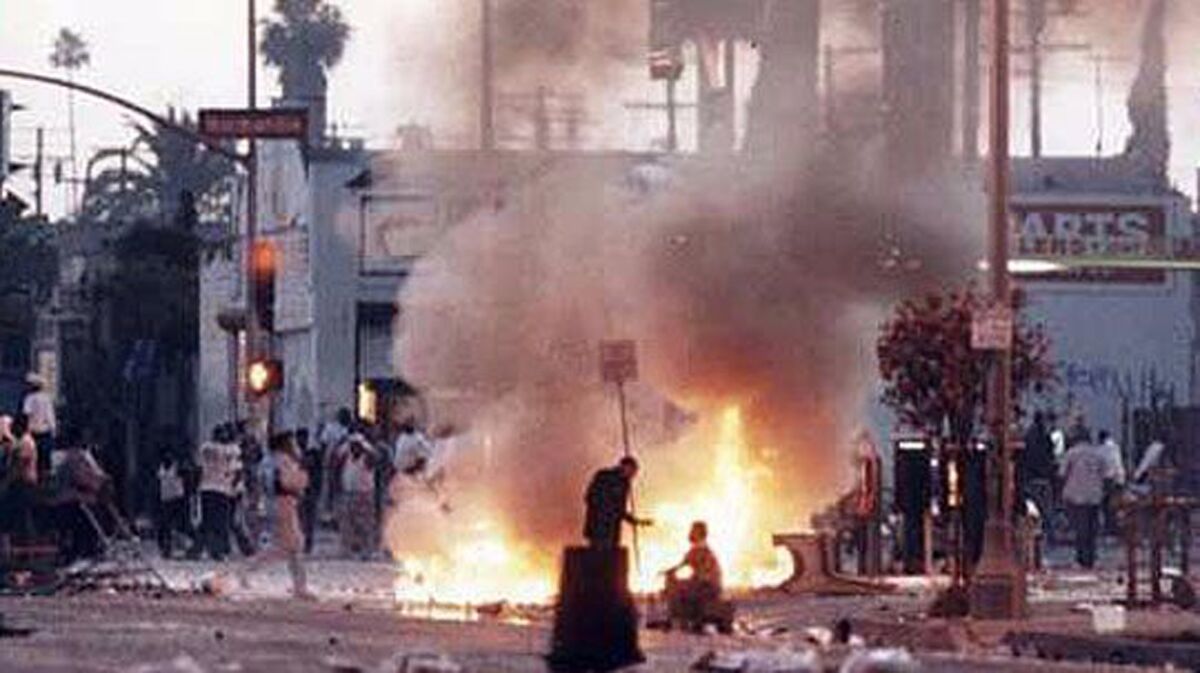 For a quarter-century after his charred body was found inside a Pep Boys torched in the 1992 Los Angeles riots, he was known as John Doe No. 80.
He was the only remaining unidentified victim among the more than 60 people who lost their lives in the deadliest riots in U.S. history.
His body was so badly burned that coroner's investigators were left with only some teeth and a partial print from his left middle finger.
But they never forgot about him. Every few years, they would try to match the fingerprint.
Recently, coroner's investigators sent the print to an FBI squad that specializes in identifying victims of disasters such as Hurricane Katrina and the Sept. 11 terrorist attacks.
Last month, as the 25th anniversary of the riots approached, a name came back: Armando Ortiz Hernandez, who was 18 when he died.
Hernandez had a few minor arrests in Los Angeles County and Anaheim, allowing the FBI investigators to make a match, said Ed Winter, deputy chief of investigations for the Los Angeles County coroner.
"We tried many, many times over the years. Every couple of years, someone would pick up the file," Winter said. "Finally, we did it."
Hernandez's only known relative is a sister in Mexico, who was recently notified of his death.
In many cases, detectives have not been able to determine the circumstances of deaths tied to the rioting that engulfed Los Angeles after four LAPD officers were acquitted in the beating of a black man, Rodney G. King.
Because the fire at the Pep Boys was deliberately set, John Doe No. 80's death was ruled a homicide. He joined the list of 23 riot-related homicides that have never been solved.
Whether his identity will shed light on his death is unclear. Hernandez was inside the auto repair shop at 5801 S. Vermont Ave., just north of Slauson Avenue, when it was set on fire sometime after the riots started on April 29, 1992. His body was not found until May 2.
Jorge Macias was a young officer patrolling the area at the time when he was flagged down by a 10-year-old boy.
"He said, 'Officer, there's a dead guy in there!' Macias said in an email to The Times.
"He pointed to a burnt-out pile of rubble on the west side of the street, which I believe was either Figueroa or Vermont. I asked him to show me where, and we approached the still-smoldering structure. The boy pointed beyond some fallen girders, which had fallen at acute angles ostensibly from the roof, when the roof had given way, sealing the victim's fate. I had to duck-walk under the maze of obstacles, including the blackened steel beams, until I reached the remains," Macias said.
A pair of blue underwear and the remnants of a pair of bluejeans, as well as a .38-caliber bullet casing, were found inside the blackened store. Hernandez died of smoke inhalation and burns, according to the coroner.
He was cremated and buried in a mass grave at the L.A. County cemetery with other unclaimed bodies.
Looking back 25 years later, Macias said: "I never forgot this person or the young boy that first led me to the body."
Twitter: @lacrimes
Twitter: @cindychangLA
ALSO
Border Patrol detains 22-year-old Cal State L.A. student activist; her lawyer says it is retaliation
L.A. city attorney says new limits on assisting immigration agents don't violate federal rules
Jury rules in favor of West Hollywood in whistleblower trial
---
UPDATES:
8:30 a.m.: This article was updated with comments from the LAPD officer who found the body.
This article was originally published at 7:25 p.m.
The stories shaping California
Get up to speed with our Essential California newsletter, sent six days a week.
You may occasionally receive promotional content from the Los Angeles Times.