Gas pipe leak in Roseville leads to evacuations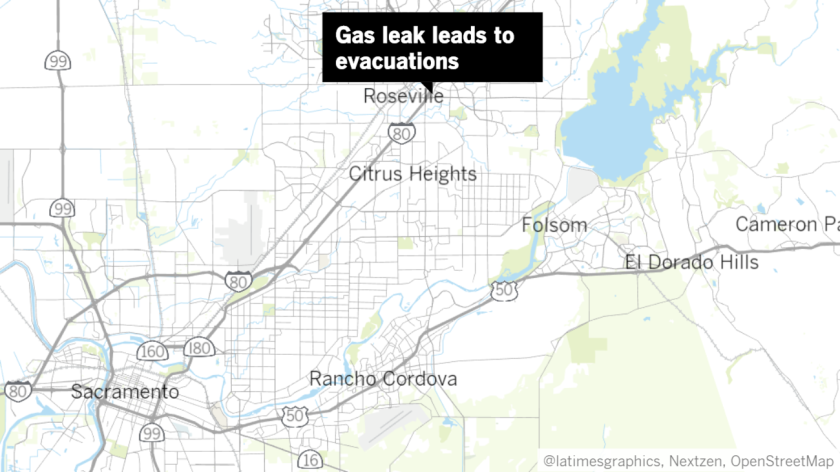 A gas pipe leak at a construction site in Roseville led to evacuations Monday morning, officials said.
Someone across the street from the construction site at North Sunrise Avenue called police at about 9:45 a.m. after seeing gas, rocks and debris flying through the air and people running from the site, said Roseville Police Department spokesman Rob Baquera.
Officials evacuated the area surrounding the construction site, which is in a business district, and closed North Sunrise Avenue in both directions between Sierra Gardens Drive and Douglas Boulevard, Baquera said. Crews from Pacific Gas & Electric Co. arrived at about 10 a.m. to assist, he said.
"We believe the line should be capped relatively soon with no major impact," Baquera said, adding that officials believe it was a natural gas pipe that leaked while construction crews were working on the site.
The cause of the leak is under investigation.
alejandra.reyesvelarde@latimes.com
Twitter: @r_valejandra
---
The perils of parenting through a pandemic
What's going on with school? What do kids need? Get 8 to 3, a newsletter dedicated to the questions that keep California families up at night.
You may occasionally receive promotional content from the Los Angeles Times.