Education Matters: Judge says charter group cannot interfere with unionization efforts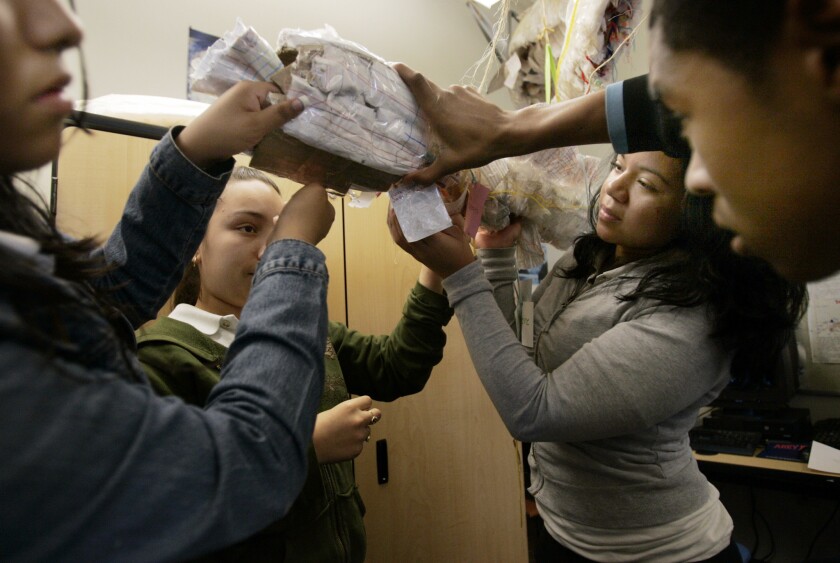 A Los Angeles Superior Court judge this week issued a preliminary injunction barring administrators at the city's largest charter group from hampering efforts to unionize its teachers.
The order is the latest action in a nine-month dispute between Alliance College-Ready Public Schools and United Teachers Los Angeles, which has launched a unionization effort with a group of teachers from the charter organization.
Charters are publicly financed but independently run. Most are nonunion.
In the order, Judge James C. Chalfant says that leaders of the charter group:
cannot post petitions on the charter's website that solicit signatures against unionization.
cannot ask teachers their positions or intentions on collective bargaining.
must allow organizers after-school access to campuses.
cannot block emails from the union to teachers.
are required to stay 40 feet away from organizers inside buildings and 100 feet away in outside areas unless student safety is involved.
United Teachers Los Angeles has filed four unfair-practice claims against Alliance since launching a drive to unionize in March. The union alleges that the charter group is violating state law by intimidating employees, conducting surveillance on teachers and blocking organizers at school sites.
Charter leaders have denied wrongdoing.
The injunction will remain in place until California's Public Employment Relations Board, which enforces the collective bargaining laws for most public sector employees, completes a hearing process for all four complaints.
"We hope the injunction will lead Alliance managers to take responsibility for their behavior, repair the damage their unlawful campaign has done and allow us to reach an agreement for a fair process as we organize our union," Xochil Johansen, a teacher at Alliance's Stern Mass High School, said in a statement.
The charter group is required to provide employees a copy of the court's order.
"The filing of unfair labor practices is a standard tactic in labor organizing, particularly when efforts are not accelerating at a rate deemed acceptable by union leaders," Alliance spokeswoman Catherine Suitor said.
"Despite an intense yearlong unionization campaign, the majority of Alliance teachers have shown no interest in allowing UTLA leadership to speak on their behalf."
For more education news, follow @zahiratorres on Twitter.
Education Matters, the Times' new digital initiative devoted to more in-depth reporting on schools, is funded, in part, by the Baxter Family Foundation. Frank Baxter sits on the Alliance board of directors. The Broad Foundation and the California Community Foundation also provide financial support for Education Matters. Under terms of the grants, The Times retains complete control over editorial content.
---
The perils of parenting through a pandemic
What's going on with school? What do kids need? Get 8 to 3, a newsletter dedicated to the questions that keep California families up at night.
You may occasionally receive promotional content from the Los Angeles Times.