The high and lows of the new Runyon Canyon hike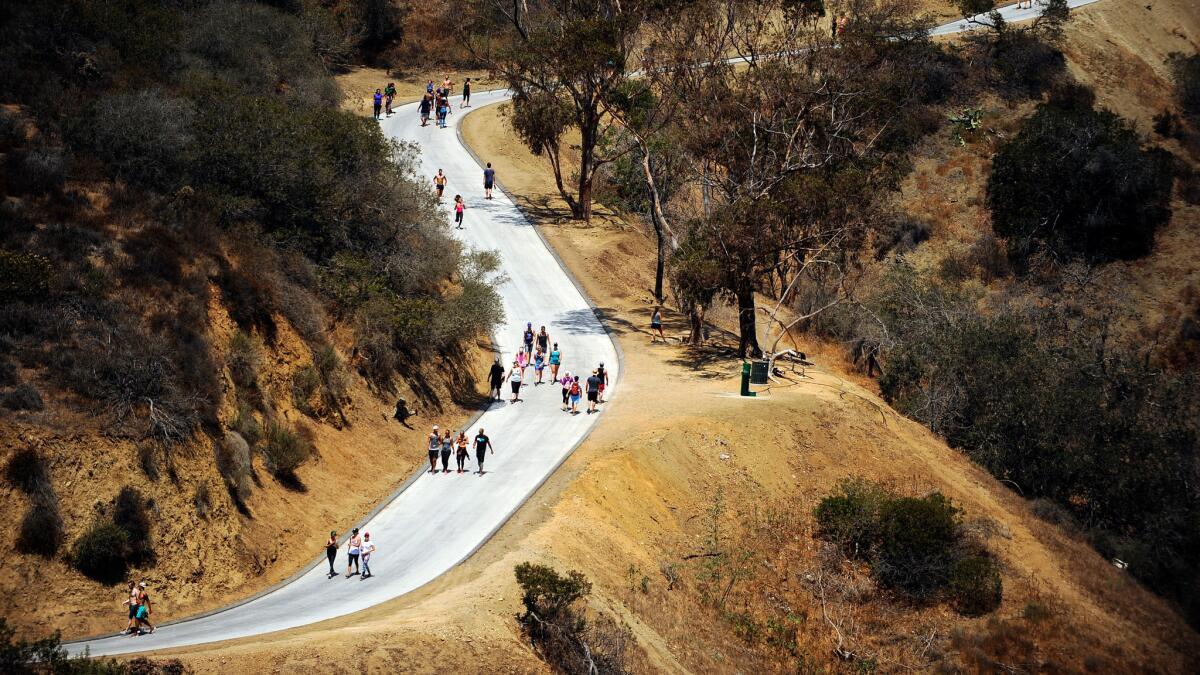 L.A.'s favorite hiking spot is back.
Runyon Canyon -- equally popular as a workout destination and as an Instagram photo opp -- formally reopened last week after a four-month closure to renovate the main trail and replace the water pipeline.
I've hiked Runyon at least once every couple of months since I was an undergraduate at UCLA about a decade ago. Over the weekend, I paid it a visit for the first time since it closed in April to see what has changed and what has remained the same.
THE TRAILS
Runyon Canyon has three trails, all of which connect and loop together, so hikers can go up one way and down another. They are:
The main trail, which has the gentlest slope and is the easiest to hike.
The east trail, sometimes called the "steps trail," which is moderately difficult.
The west trail, colloquially known as the "spine trail," which is the steepest and toughest to climb.
For my first time back, I took the route I've been taking since college: Up the spine trail and back down the central route.
Part of what hikers loved, and worried about when the construction was announced, were the two more difficult trails. They both include steep stretches and rocky segments that can challenge even experienced hikers. Fortunately, those two trails are still essentially the same: unpaved and, at least on the West trail, sorely lacking any water fountains. Only the main stretch has been repaved.
Runyon regulars will recall that the main trail was already paved. That pavement was showing its age: Cracks and potholes dotted the road, including some spots where parks officials had to put up orange safety cones to prevent people from tripping over them. The edges of the trail cracked into loose gravel. A layer of sand and sediment had settled over the road, guaranteeing that everything you wore and brought with you would be covered with a fine layer of dust by the time you were done.
Now, the repaved trail is smooth, clean, and free of hazards.
THE WATER SITUATION
The water fountains are a welcome change. Previously, options for refilling your water bottle were limited; there were only a couple of ancient stone water fountains near the entrance of the park. Now, fountains appear at regular intervals along the main trail all the way up.
The new installations are four-way fountains with a side at adult height, a side at child height, a side for dogs to use, and a space specifically designed for refilling water bottles.
Erin Nash of Arleta hiked the steps trail and was delighted to see she could refill her water bottle so easily at the new fountain.
"It's very efficient," she marveled. Before the park closed, Nash hiked it at least twice a week. Saturday was her first time visiting since the reopening. She said she was wary of the changes before her visit, but thought the trail felt more walkable and scenic.
A MINOR SNAG
The first weekend day back in business wasn't without incident. Capt. Cameron Cress of the L.A. Fire Department was on the scene at the base of the trail. He said a hiker had twisted an ankle and had to be helicoptered out. It was the first injury since the trail had reopened, but a fairly routine one.
Speaking of people, I expected it to be shoulder-to-shoulder along the trails with people checking out the improvements. But the foot (and paw) traffic seemed normal for a Saturday.
CANINE HIKERS
And speaking of paws, one concern people had about the repaved trail ahead of the reopening was that it would be too hot for dogs' delicate paws. One of the best things about Runyon is that dogs can go off-leash in many areas. It was 76 degrees while I was out there, and the road didn't seem unbearably hot. It was repaved with macadam, not asphalt, which gets less hot and can actually help regulate the temperature for two-legged hikers as well. My 9-year-old Dachshund/chihuahua mix came along for the hike, and her paws looked and felt fine after we came down.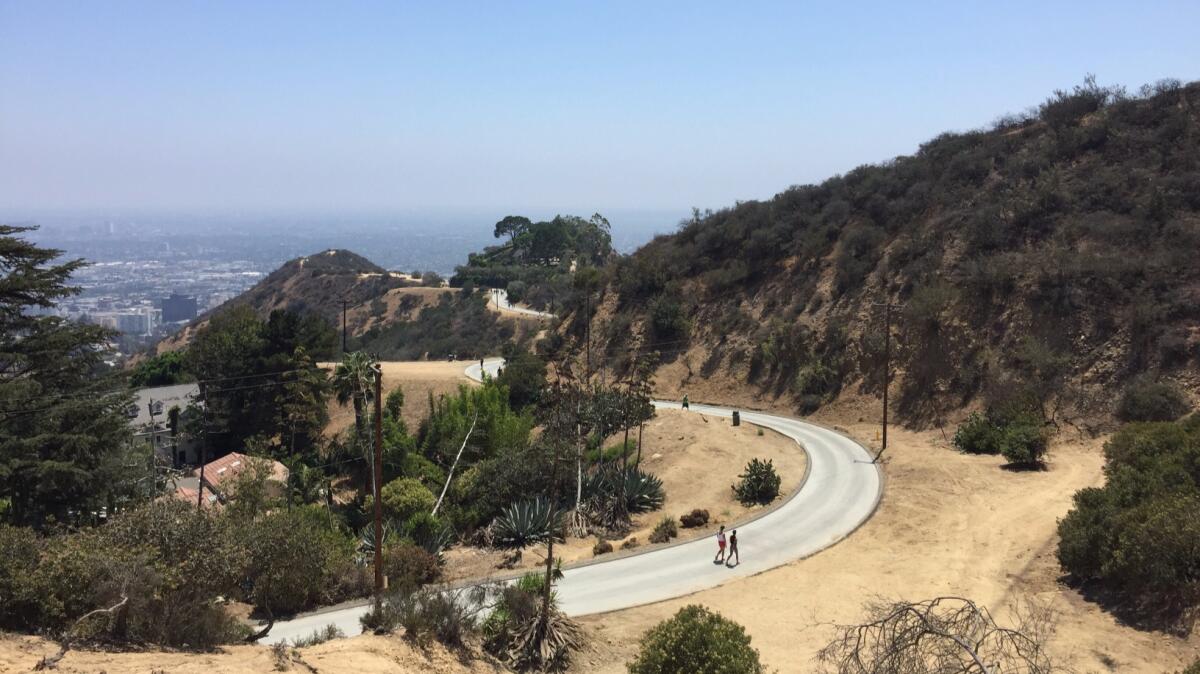 Lisa Hillary was out on the trail with her 11-year-old yellow lab, Buddy. (Hillary spent many years as an on-air sports anchor for Comcast and other networks, thus fulfilling the L.A. prophecy that you can't hike Runyon without running into at least one famous person.) She noted that before the renovations, the main trail was already paved, so it wasn't too much of a change. When she would take Buddy out for long hikes on hot days, his paws could get irritated by it. The new paving didn't seem to increase that risk.
Overall, she said the renovated park looked "absolutely fabulous."
"It's a cleaner version and it's just a little bit more slick," she said. She said she liked that Runyon allowed her to work out with her dog off-leash, and that it was free.
"It's the cheapest way to work out in L.A., by far," she said, laughing.
At the top of the trail, where the main route and the spine trail meet up, I talked to Adriana Alvaredo of Compton. She had hiked the tough route and was preparing to come down the central trail. She said the spine trail was essentially the same as before, though taking four months off when she used to hike it regularly made it seem a lot harder.
I noticed that too: Sitting down to write this story a couple hours after getting home, I'm already feeling how sore I'll be tomorrow. But I missed my neighborhood hiking spot, and it's worth checking out again now that it's gotten a face-lift.
How very L.A. of it.
Twitter: @jessica_roy
ALSO
State rail authority will seek a $35-million increase for key project in bullet train plan
Back when PCH felt Mother Nature's wrath, and a water taxi went from Malibu to Santa Monica
Hollister Ranch owners are fighting the state again over public's right to use the beach
Sign up for Essential California for news, features and recommendations from the L.A. Times and beyond in your inbox six days a week.
You may occasionally receive promotional content from the Los Angeles Times.