Sacramento mayor moves to block city's release of certain emails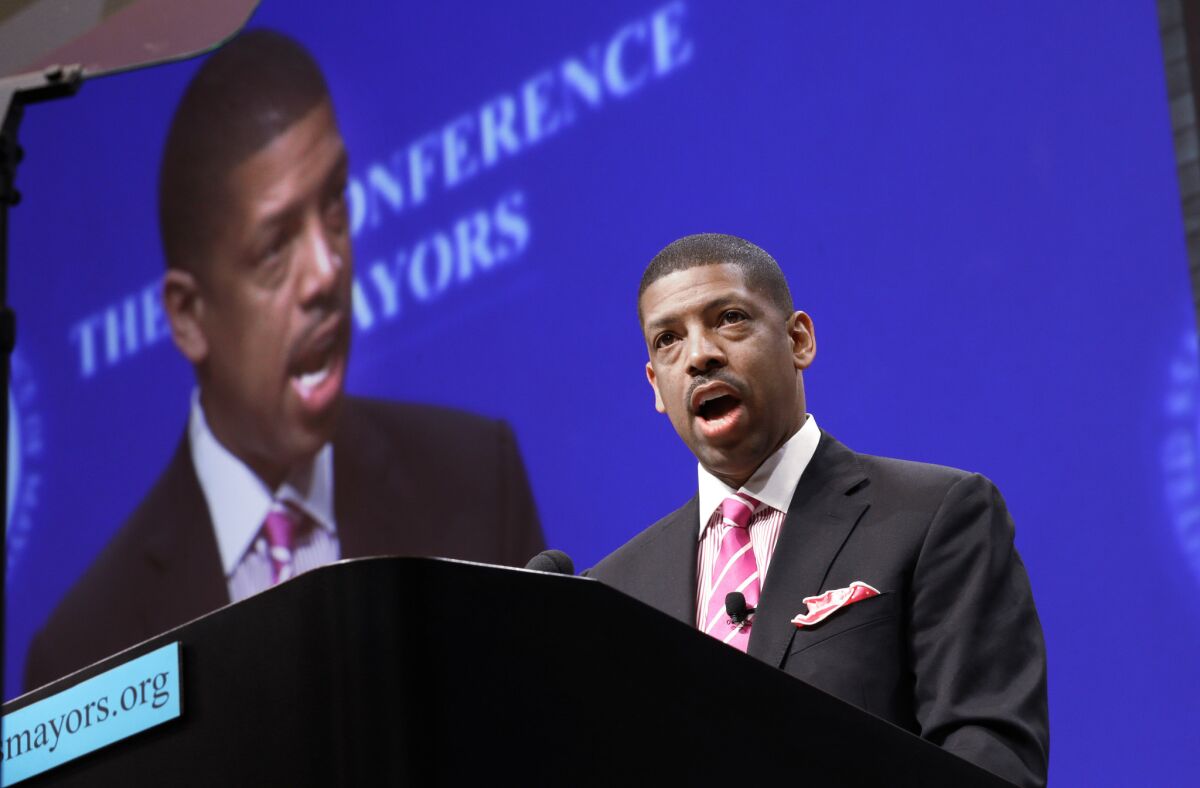 Sacramento Mayor Kevin Johnson is seeking a court order against the city and an area newspaper to stop certain emails from being released to the news media through a public records act request.
The emails at the center of the controversy were sent while Johnson was president of the National Conference of Black Mayors in 2013, when an internal audit discovered the organization lost its 501(c)(3) tax status and was in "significant debt," according to the petition filed Wednesday in Sacramento County Superior Court.
When Johnson's election and actions as president came into question, he and the organization hired the Ballard Spahr law firm for legal representation, according to court documents. A Georgia court later ruled his actions were proper and his role as president was valid.
During that time, however, Johnson sent hundreds of emails to the law firm, which his attorneys argue is privileged information.
Then, on June 12, the Sacramento Bee and the Sacramento News & Review filed a public records act request with the city, seeking all emails sent from Johnson's emails accounts as well as financial records regarding his time with the National Conference of Black Mayors.
Johnson's attorney responded by saying his emails are protected by attorney-client and work product privileges. He has since filed a petition to stop their release.
"All of the parties who filed this writ, including Mayor Kevin Johnson, are committed to transparency and disclosure of all appropriate public records. They are equally committed to the bedrock principle of attorney-client privilege, which is recognized in the public records request statute," said attorney Peter Haviland, who represents Johnson and the organization.
City Atty. James Sanchez appeared in court Thursday. He said a judge asked the city and the other parties involved to review the emails in question and try to work out an agreement in the next two weeks.
Sanchez said his office is developing a log of about 102 emails in question.
His office plans to lay out the documents for the involved parties who then must decide whether they will accept the email log or ask a judge to help them sort it, he said.
Sanchez said, at the time, he reviewed the public records act request and had agreed to release the emails on July 6.
"This wasn't an unusual situation," Sanchez said. "From our standpoint, it's typically the way we handle our public records act requests."
According to Johnson's petition, the Sacramento Bee has conceded, agreeing to exclude the privileged emails.
But the Sacramento News & Review, his attorneys said, have not withdrawn their request.
The Sacramento News & Review, an alternative newspaper published and owned by Chico Community Publishing Inc., is seeking full transparency, co-editor Nick Miller said.
He said the bigger issue was that Johnson was conducting public business on a private email server like Gmail and "is refusing to turn over those emails." He added Johnson's actions violate the California Public Records Act.
"He basically has a Hillary Clinton problem," Miller said. "This is not how we do business at City Hall."
Former Secretary of State Hillary Rodham Clinton is also under scrutiny for using her personal email server to conduct State Department business, including emails related to the 2012 attack on a U.S. diplomatic compound in Benghazi, Libya. A batch of emails released by the State Department this week detailed scheduling matters and exchanges between Clinton and her staff.
For breaking news in California, follow @VeronicaRochaLA.
---
The stories shaping California
Get up to speed with our Essential California newsletter, sent six days a week.
You may occasionally receive promotional content from the Los Angeles Times.