San Jose State students charged with hate crimes against roommate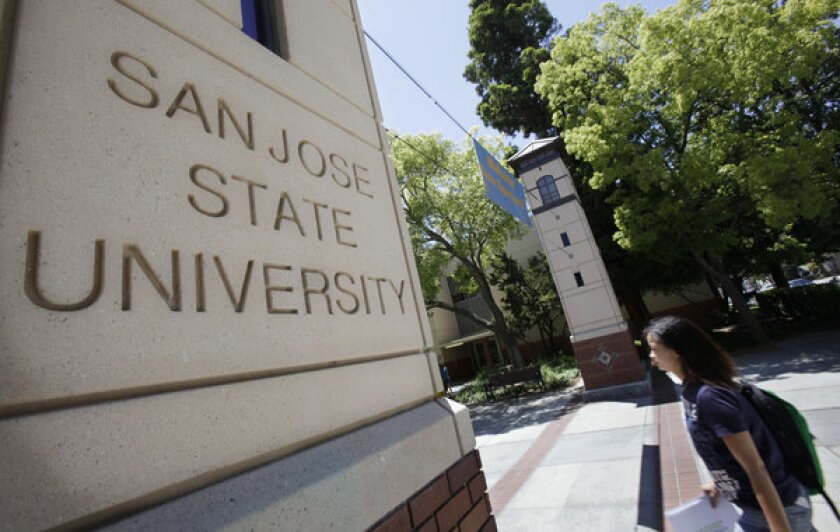 Three white students at San Jose State University have been charged with misdemeanor hate crimes after allegedly hanging a Confederate flag in a shared dormitory suite and calling a black roommate "three-fifths," among other derogatory names.
The three students -- Logan Beaschler, 18, of Bakersfield. Joseph Bomgardner, 19, of Clovis and Colin Warren, 18, of Woodacre -- also allegedly locked the roommate in his room, wrote a derogatory slur on a board in the living room and fastened a bicycle lock around his neck, according to the San Jose Mercury News.
The trio was also charged with misdemeanor battery.
"This is outrageous," the Rev. Jethroe Moore II, president of the San Jose/Silicon Valley chapter of the National Assn. for the Advancement of Colored People said, according to the Mercury News. "This form of bullying cannot be tolerated."
A university spokeswoman told the newspaper that the incident was still under investigation.
In the students' apartment, investigators also reported finding swastikas and a picture of Adolf Hitler.
ALSO:
Pastor finds Bibles labeled as fiction in Costco store
Four firefighters seriously injured battling South L.A. blaze
New city website shows where parking tickets won't be handed out
Twitter: @aribloomekatz | Facebook
---
The perils of parenting through a pandemic
What's going on with school? What do kids need? Get 8 to 3, a newsletter dedicated to the questions that keep California families up at night.
You may occasionally receive promotional content from the Los Angeles Times.