San Onofre nuclear plant closure tied to finances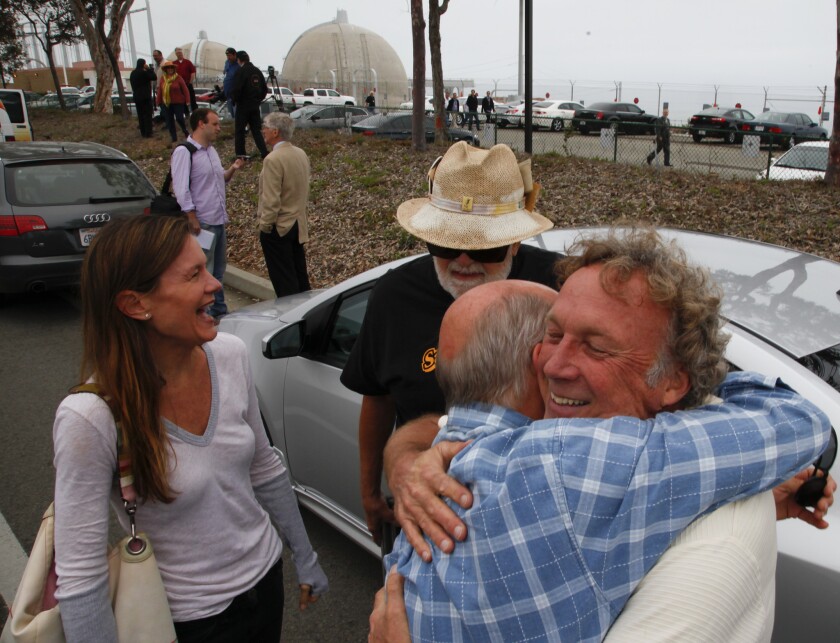 The fate of the troubled San Onofre nuclear plant was apparently sealed last month when it became clear that a potential lengthy series of hearings would likely have to be held before the coastal facility could be powered back up.
The plant, which once supplied power to about 1.4 million homes in Southern California, has been closed for more than a year after a tube leaked a small amount of radioactive steam. On Friday, Edison International announced the facility would be retired.
San Onofre, one of only two nuclear power plants in California, has been in regulatory limbo for months as the U.S. Nuclear Regulatory Commission weighed a proposal by Southern California Edison to restart one of units at the facility.
Q&A: Why is it closing and what will it cost?
On Friday, Edison International Chief Executive Ted Craver said a ruling by a Nuclear Regulatory Commission panel last month became a "definitive" moment in the decision to shut down the plant for good.
The regulatory process to restart the plant likely would have stretched into next year, possibly beyond.
The decision to shut the power plant had an immediate effect on more than 1,100 workers who will lose their jobs and left unanswered daunting questions -- how will the loss of San Onofre's power be made up, who ultimately picks up the tab on the costs and what becomes of the nuclear waste that remains at the facility in northern San Diego County?
FROM THE ARCHIVES: San Onofre Nuclear Generating Station
Edison had asked the U.S. Nuclear Regulatory Commission in October for permission to restart one of the two units at the plant -- which has been shuttered for more than a year because of problems with its steam generators -- at 70% power.
The request became entangled in multiple regulatory processes, including a debate over whether Edison would have to go through a lengthy license amendment process with trial-like hearings before restart.
Craver said in a call with reporters Friday that the regulatory processes would have gone into at least next year.
GRAPHIC: Wear and tear at San Onofre
"The problem is, the longer the plant sits idle waiting for a definitive yes or no answer, we're racking up essentially double costs," he said.
Edison has been paying for the plant's ongoing operation and maintenance costs as well as the cost of replacement power -- a bill that has soared to more than half a billion dollars -- while the plant remained idle.
Last month, a panel of judges convened by the NRC ruled that the restart plan did constitute a de facto license amendment process subject to a hearing.
"That was very definitive for us, because that's the ruling that made clear we were going to have a much more uncertain process," Craver said.
Edison replaced the plant's steam generators in 2010 and 2011 in a bid to extend the plant's life, because tubes in the old steam generators were wearing down.
Craver said had the steam generators not been replaced, the plant's two units would have been shut down in 2012 and 2015 because of wear on tubes in the old steam generators.
The steam generator replacement cost Edison and San Diego Gas & Electric -- the plant's minority owner -- a combined $768.5 million, which ratepayers have been repaying.
Those costs and the ongoing costs of the plant during the outage are the subject of an investigation by the California Public Utilities Commission, which could eventually lead to rates being refunded to customers.
Meanwhile, anti-nuclear activists and Sen. Barbara Boxer (D-Calif.) celebrated Southern California Edison's announcement Friday that the troubled San Onofre nuclear plant would be retired.
"I am greatly relieved that the San Onofre nuclear plant will be closed permanently," Boxer said in a statement. "This nuclear plant had a defective redesign and could no longer operate as intended."
Those who count on the plant for a livelihood feel differently.
Dan Dominguez, business manager for the Utility Workers Union of America Local 246, said he had gotten word of Edison's decision early Friday morning. Although Edison had hinted that the plant might be retired, Dominguez said the news came as a shock.
"But the decision's been made, so we'll have to deal with the consequences," he said.
ALSO:
Accident prompts closure of Orange County Metrolink
County worker accused of lewd acts on children due in court
L.A. Now Live: Poll shows Californians concerned about fracking
Twitter: @sewella
---
The stories shaping California
Get up to speed with our Essential California newsletter, sent six days a week.
You may occasionally receive promotional content from the Los Angeles Times.