Santa Clarita enacts new restrictions on homeless people: No sitting on sidewalks or sleeping in libraries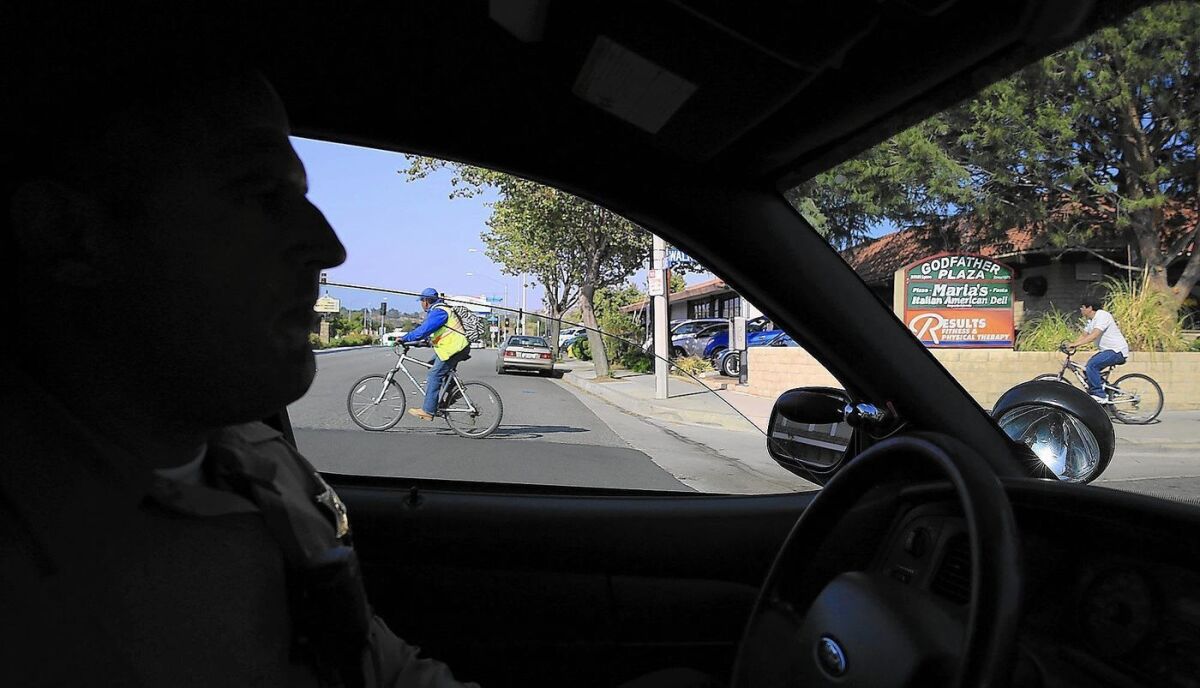 Santa Clarita has enacted sweeping new rules barring individuals from sitting on sidewalks and sleeping in cars on public streets, joining other California municipalities that have passed laws to block homeless people from living in public spaces.
The City Council voted 5-0 Tuesday night for the restrictions, with council members defending the crackdown as part of a larger homeless strategy that also includes spending $1 million to help build a homeless shelter and creating a long-term plan to combat homelessness.
Opponents at Tuesday's hearing urged the council to soften the restrictions, saying individuals in Santa Clarita are now prohibited from sitting on a curb, for instance. Homeless people "aren't going to leave Santa Clarita, if that's your hope," Logan Smith, a candidate for City Council, told officials.
With the new rules, individuals can't sit or lie down in a wide range of public spaces, including streets, sidewalks and maintained landscaped areas. Sleeping in public buildings is now prohibited and individuals can't store their belongings in parks or public spaces.
Individuals also can't use their vehicle as a dwelling in any park or public space. City officials said that rule targets people who sleep in their cars in parking lots.
A city report accompanying the new ordinance cited an increase in calls about transient encampments at parks and other public spaces in Santa Clarita.
Councilman Cameron Smyth said in an interview before the meeting that he has heard complaints about homeless people at the city library and human waste on the sidewalk.
"We are trying to take a comprehensive approach to homelessness in our community," said Smyth, who sits on a city committee dedicated to homelessness issues. "We don't want to kick people out of public spaces but we can't have people sleeping in our libraries."
Santa Clarita, 30 miles north of Los Angeles, has 331 homeless individuals, according to the latest figures from the Los Angeles Homeless Services Authority. About half of that group is unsheltered.
The city is using a grant to help draft a citywide plan to prevent and combat homelessness and has acquired two pieces of land — valued at $1 million — to help build a permanent shelter.
Passing the new restrictions required two separate votes by the City Council and Tuesday's action marked the final vote. People who violate the ordinance face citations ranging from $100 to $500, depending on whether they had previous infractions.
Across California, laws that crack down on homelessness continue to be enacted and enforced, according to a 2015 study by the Law Policy Advocacy Clinic at UC Berkeley. The study found that 58 California cities have laws that target homeless people by restricting standing, sitting or sleeping in public places.
Eve Garrow, policy analyst with the American Civil Liberties Union of Southern California, called the ordinance "incredibly broad."
"It really prohibits being homeless in Santa Clarita," she said.
At Tuesday's meeting, Santa Clarita City Manager Ken Striplin said the city has been grappling with homeless issues for more than a decade. He contrasted the situation in Santa Clarita to the crisis in Los Angeles, which allows homeless people to sleep overnight on the streets.
"You can only go to the city of Los Angeles and see how out of control that situation has gotten," Striplin said.
Twitter: @dakotacdsmith
---
UPDATES:
4:20 p.m.: This article was updated with comments from the ACLU of Southern California.This article was originally published at 9:15 a.m.
The stories shaping California
Get up to speed with our Essential California newsletter, sent six days a week.
You may occasionally receive promotional content from the Los Angeles Times.