The board members who gave Compton residents brown water are fighting to keep their jobs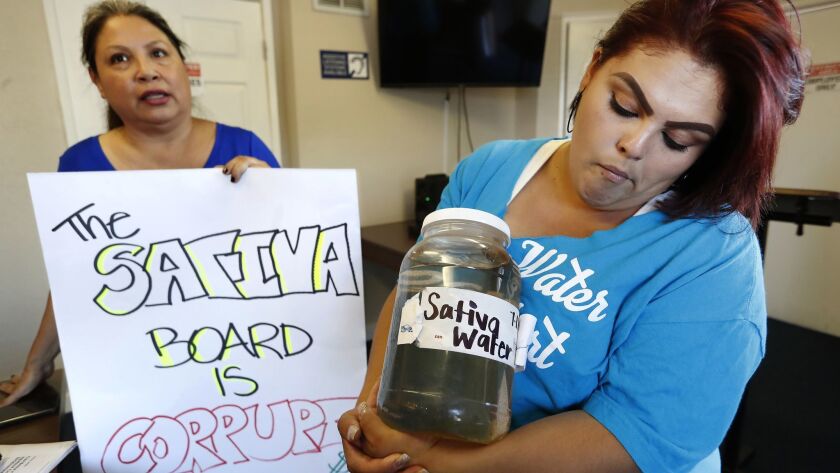 A Compton water district that could be abolished for delivering brown water is waging an eleventh-hour campaign for its survival.
The push comes after legislation sailed through the state Assembly and Senate last month that would dismantle the Sativa Los Angeles County Water District's five-member elected board of directors and install a new general manager by year's end. Lawmakers say the legislation is necessary to ensure Sativa's 6,800 customers in Compton and Willowbrook quickly receive water free of the manganese that taints the district's supply.
As the bill awaits a decision from Gov. Jerry Brown before the end of the month, Sativa's board is launching a bid to save the district — and their jobs — by arguing what's at stake is not simply water but also democracy.
The leadership of Sativa and other public water systems in California is selected by voters. By ousting Sativa's leadership, board members say, Assembly Bill 1577 would strip power from voters and deny the elected body its right to a public hearing to plead its case.
The legislation, board members warn, imperils all of the state's small water districts, which were created by residents who wanted more control over local services.
"This bill will not only hurt Sativa but will be impacting other water districts in the future," said Thomas Martin, Sativa's interim general manager. "We don't know who's next in the chopping block."
In the last week, Martin said, he has written Brown's office twice and requested a meeting with his staff. When Martin got no response, the board hired a lobbying firm for $20,000 to gain access to the governor.
At a news conference Monday, Martin described the bill as a "power grab" that might result in a private company obtaining the 474 acre-feet of water a year that Sativa is allowed to extract from the central groundwater basin.
Martin said those water rights are worth $6 million a year and warns that an outside provider could charge higher prices than Sativa's monthly flat rate of about $70.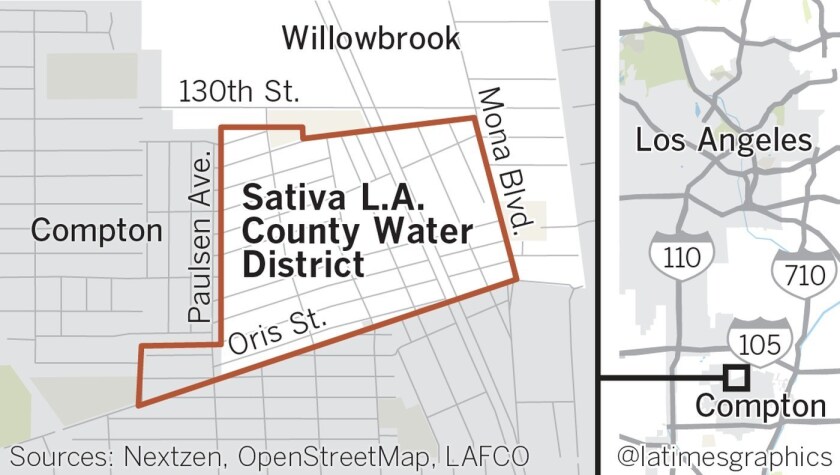 He said that water quality is improving and that the district has received no complaints in the last two weeks. Projects approved by the board would further increase water pressure and better flush out the manganese, but the State Water Resources Control Board has put them on pause, Martin said.
The state water board said in a letter last month that Sativa's proposal was incomplete and failed to meet state standards.
Assemblyman Mike Gipson (D-Carson), who introduced the legislation, said Sativa's publicity campaign is a waste of ratepayers' money by a district that says it needs as much as $15 million to fix its aging pipes.
"We are talking about a water system that does not have the proper resources to address the eroding and aging and failing infrastructure to provide good, clean, quality water to its residents," yet they spend money on a lobbyist, he said.
Gipson said he's following the will of ratepayers, who separately launched a process to recall Sativa's board.
"It is not an overreach for the state to step in to ensure minimum standards of water quality are met," he said. "If anything, it is unfortunate that this was our only option."
L.A. County's Local Agency Formation Commission, or LAFCO, voted in July to begin dissolving the Sativa water district, which has been accused of supplying customers in Willowbrook and Compton with dirty, smelly water.
Authorities have long questioned whether Sativa should exist at all. Over decades, district officials have weathered accusations of financial instability, nepotism, poor maintenance and mismanagement. But when customers began posting videos online of brown water flowing from their faucets earlier this year, new efforts were launched to abolish the district.
In July, L.A. County's Local Agency Formation Commission, or LAFCO — which oversees public water agencies such as Sativa — voted to dissolve the district.
It's a slow process, and one Sativa's board could further delay by suing LAFCO or galvanizing customers to force an election in which the voters would decide the district's fate.
A provision in AB 1577 would eliminate voters' right to contest the dissolution, speeding up the process by months, said LAFCO's executive officer, Paul Novak.
Current law requires that LAFCO transfer the services of any public agency it dissolves to another public agency. The bill would allow the state-appointed administrator to select a permanent replacement, which could also be an investor-owned utility.
The Los Angeles County Board of Supervisors and LAFCO have asked the state to appoint the county's Department of Public Works as the interim administrator.
The bill would shield the replacement provider from liability and make it a criminal offense for the board to divert any assets or sell off the system.
Some groups that represent small water districts acknowledge that the extreme circumstances at Sativa warrant immediate action. But others worry about the precedent of bypassing due process to remove an elected body.
State water officials say they are trying to comply with the 2012 Human Right to Water Bill, a mandate that every Californian have access to water that's reliable and safe to drink. But that's a challenge with so many tiny water districts that are underfunded and understaffed.
About 2,000 water systems across California serve drinking water to fewer than 500 homes. Most are scattered across the Central Valley and pump water into as few as 15 households. These districts were responsible for 85% of state drinking-water citations last year.
Experts say tiny water systems lack the economies of scale to pass maintenance costs to their customers while remaining affordable. Some are reluctant to merge with bigger neighboring districts, while some other communities are isolated and don't have viable neighboring districts to join.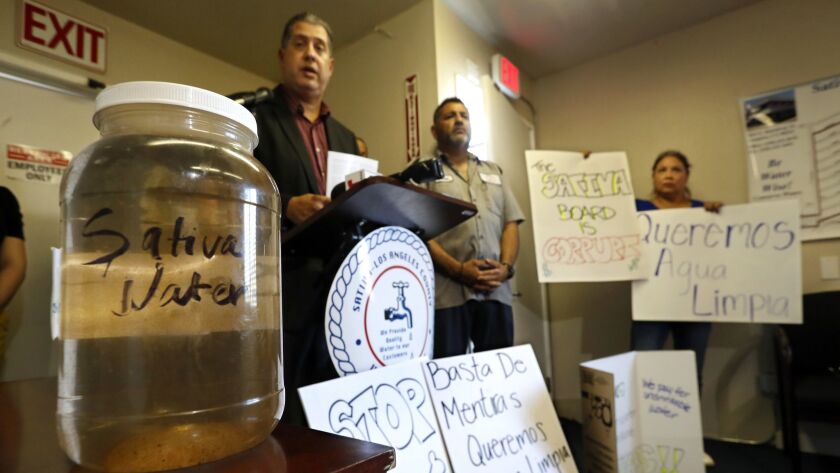 Until recently, the California water board could only encourage mergers between systems. A 2015 law authorized it to forcibly consolidate a system that has consistently failed to provide safe drinking water. Since then, 11 mandatory consolidations have been initiated.
In 2016, the board's powers were further expanded to allow it to appoint an administrator to take over operations of a troubled water system. However, the administrator has to be paid by the state, and the law did not provide funding.
The bill awaiting Brown goes a step further and allows the state to oust a water district's entire board. Tucked into the budget bill, which is also on Brown's desk, is $200,000 to pay for an administrator to take over Sativa.
Advocacy groups that represent smaller water systems said they are slowly being stripped of their ability to operate in ways that best suit their customers. New state rules for testing and reports, coupled with the water conservation mandate during the drought, put a bigger financial burden on tiny agencies, they said.
"The vast majority of water suppliers in the state do a great job of providing safe, reliable drinking water to customers," said John Woodling, executive director of the Regional Water Authority, which represents midsize Sacramento-area water agencies. "Being able to respond when there are problems that come up is really best handled at the local level."
Sativa customers said the water district ignored their complaints of discolored, and at times smelly, water.
Karen Lewis said occasionally she still has to run all of her faucets until they pour clear. It takes about an hour, down from seven hours when the manganese problem was at its worst earlier this year, she said.
Twitter: @AngelJennings
---
The stories shaping California
Get up to speed with our Essential California newsletter, sent six days a week.
You may occasionally receive promotional content from the Los Angeles Times.