After children lose their mother in the San Bernardino attack, a community tries to soften the blow
After children lose their mother in the San Bernardino attack, a community tries to soften the blow.
Colin and Ethan Verdehyou grabbed red shopping carts and headed directly to the toys and electronics sections of the Redlands Target. Ten-year-old Ethan gasped as he entered an aisle filled with Star Wars merchandise.
"Oh, Colin! Lightsabers!" he said, and plucked two from the shelf. Colin, 12, ran to the display. "Lightsabers!"
Friday will be the boys' first Christmas without their mother, Bennetta Betbadal, 46, of Rialto, who died in the Dec. 2 San Bernardino terrorist attack. On Wednesday, nearly a dozen Rialto police officers and firefighters took them on a shopping spree sponsored by their labor unions, area businesses and local civic organizations.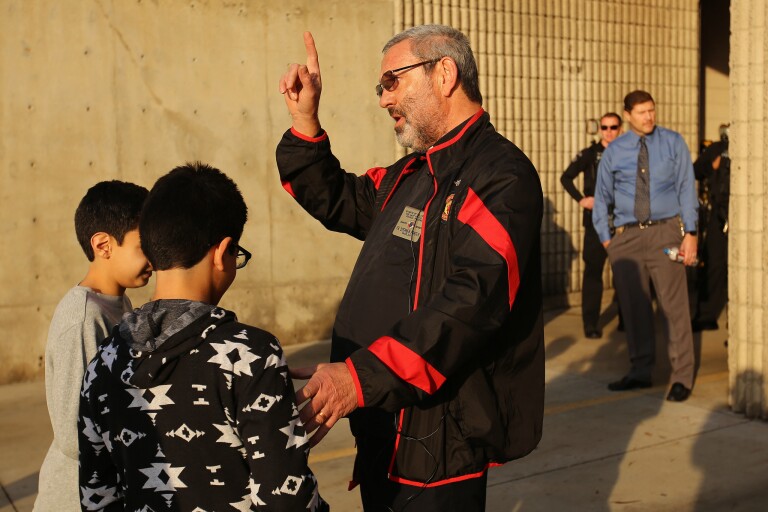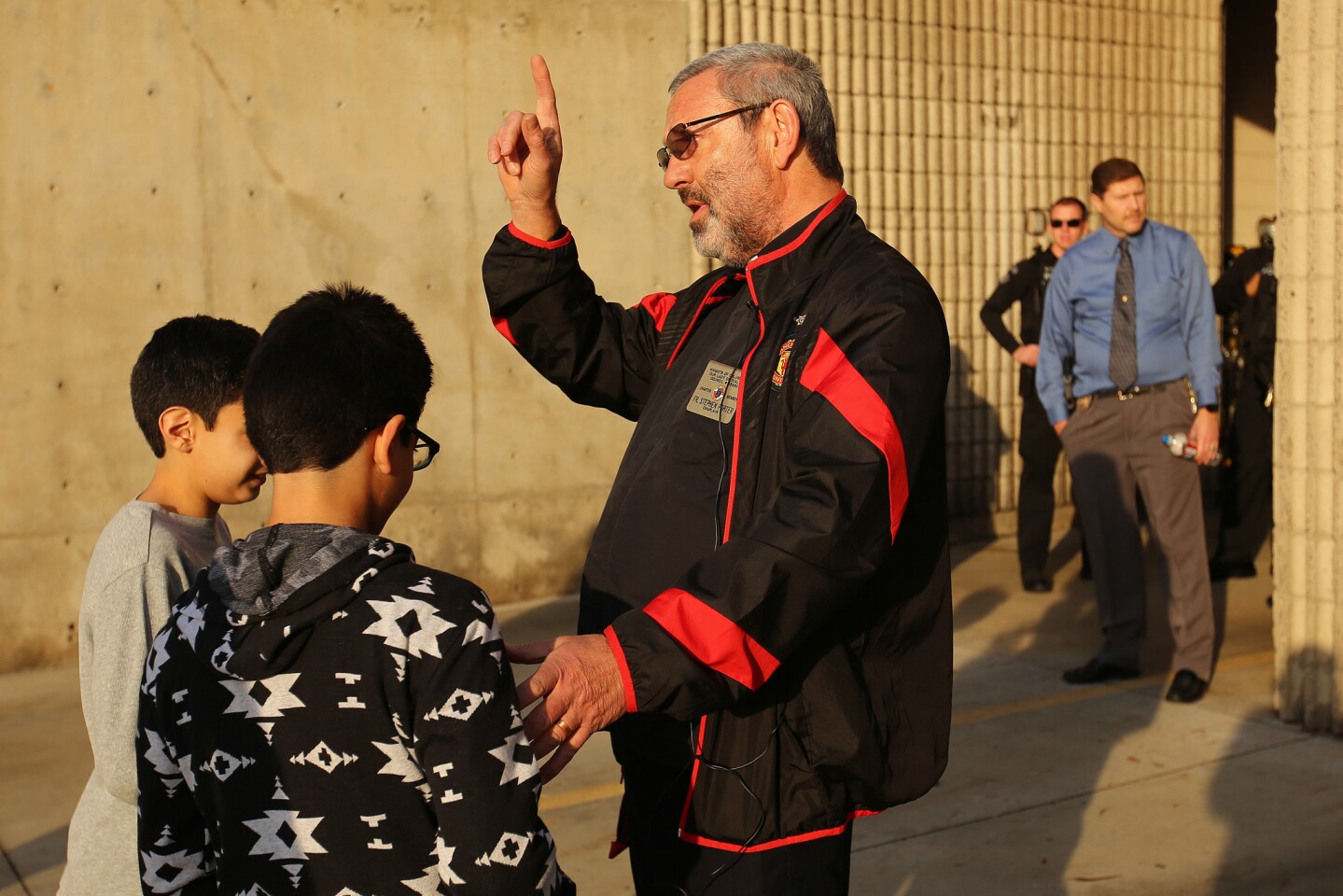 Father Stephen Porter tells Colin and Ethan Verdehyou that their mother, Bennetta Betbadal, is in heaven. Betbadal was one of 14 people killed in the San Bernardino rampage. On Wednesday, nearly a dozen Rialto police officers and firefighters took the brothers on a Christmas shopping spree.
(Rick Loomis / Los Angeles Times)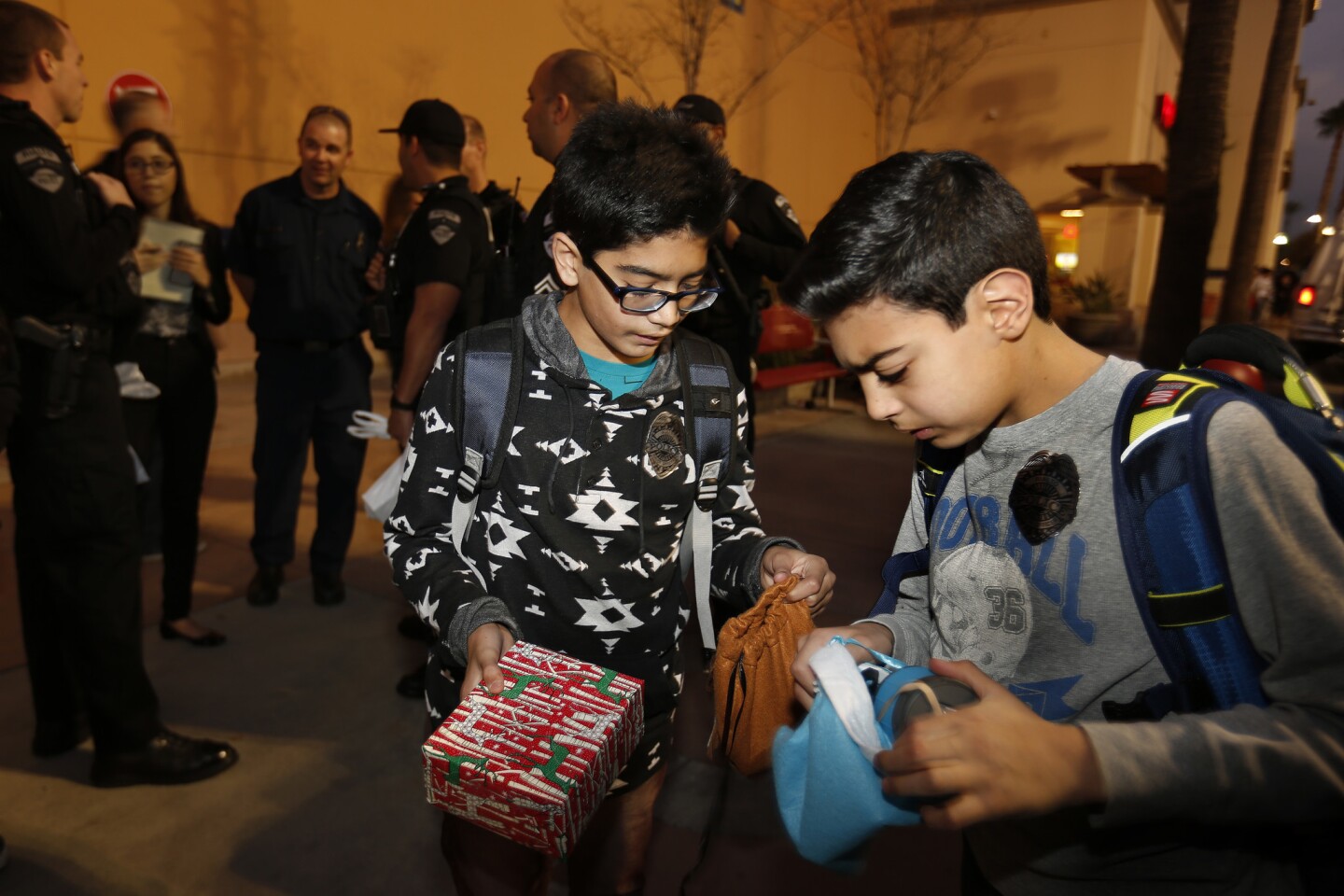 Ethan and Colin Verdehyou look at some of their gifts.
(Rick Loomis / Los Angeles Times)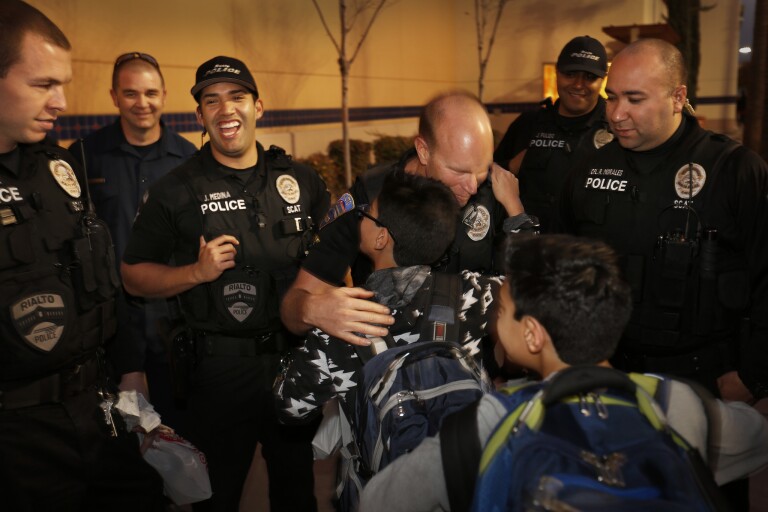 Ethan Verdehyou, 10, and his brother, Colin, 12, thank members of the Rialto Police Department.
(Rick Loomis / Los Angeles Times)
Colin Verdehyou enjoys a ride in a firetruck.
(Rick Loomis / Los Angeles Times)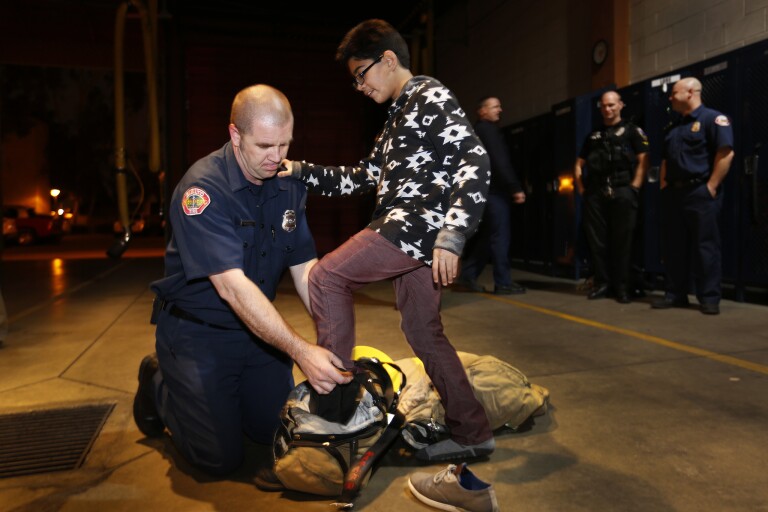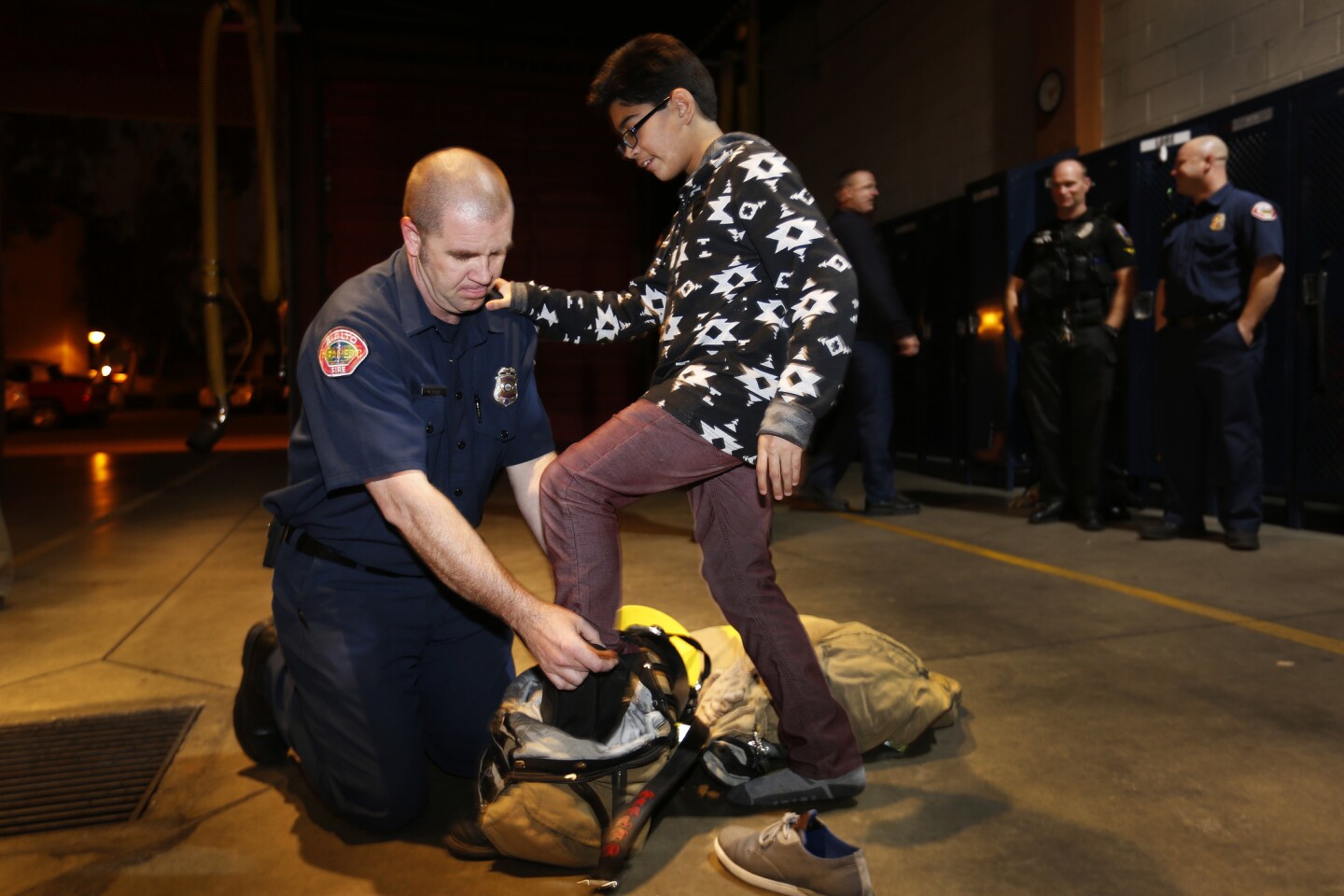 Rialto firefighter Matt Payne helps Ethan Verdehyou try on fire gear.
(Rick Loomis / Los Angeles Times)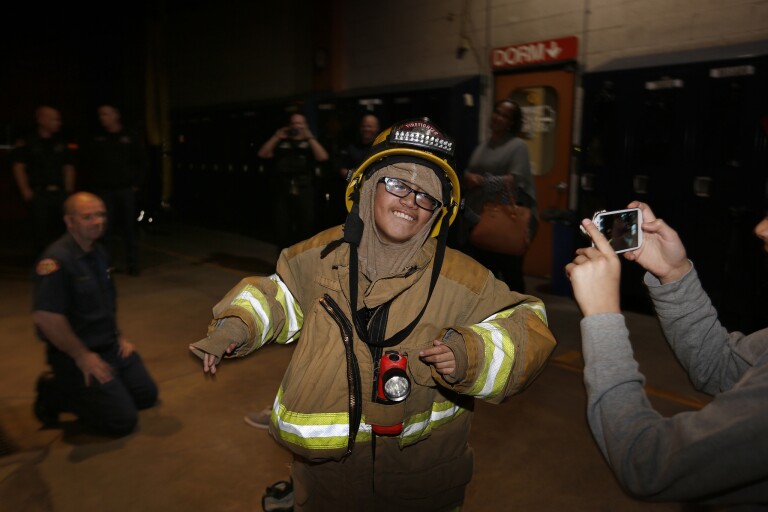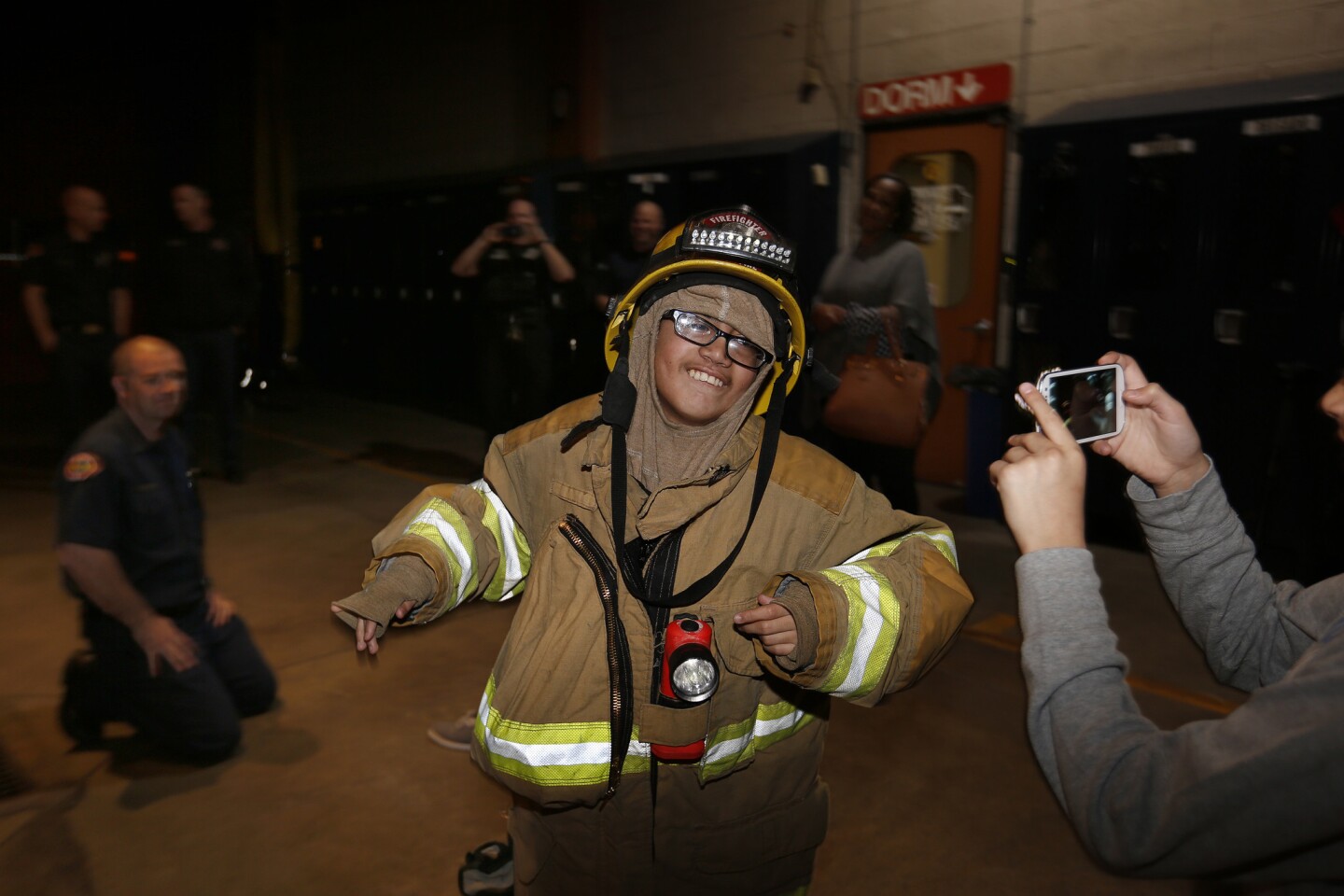 Ethan Verdehyou has his photo taken by brother Colin.
(Rick Loomis / Los Angeles Times)
Colin and Ethan had come prepared with a list, which was scrawled in red ink on computer paper. They walked out of the store about an hour later with two full carts of presents, including a gaming headset, video game controller, video games and chocolates. The boys also made sure to grab a GoPro and Karaoke set for their 15-year-old sister, Jolene, who loves singing. She couldn't be at the event because she was home sick with their father.
The boys had been given a choice of vehicles for their shopping expedition: A police cruiser, an ambulance or a fire truck. Without hesitation, they chose the shiny red fire engine.
Before they stepped aboard however, the family's priest, Father Stephen Porter of St. Catherine of Siena, spoke earnestly to the boys.
Join the conversation on Facebook >>
"I know it's sad for you," Porter said. "but one day, a long time from now, you'll see her again."
Porter said that although the gifts and donations mean a lot, they are merely material items. What matters most, he said, is that the boys know that their community cares. Porter told them he would pray for their mother and asked them to do the same.
Rialto Police Cpl. Cameron Nelson, who helped organize the event, said the departments had wanted to give the children a bit of Christmas joy and take their minds off of their grief, even just for a short while.
"The holidays are a tough time when you lose somebody," Nelson said. "Hopefully this makes it a little easier."
Sponsors raised about $1,300 to fund the spree, according to firefighter paramedic Ryan Cathey. The Rialto Staples also donated backpacks full of school supplies for the three children. And a GoFundMe account for the family had raised almost $100,000 by Thursday.
The boys' uncle Edwin Vardayou, 57, said the family has been overwhelmed by the support of community members, many of whom have flooded their home with meals and gifts.
"It was unbelievable," Vardayou said of the day's event. "We really appreciate it. There are no words for it."
Angelo Jackson, who works with the boys' father, Arlen, at Riverside City College Police Department, brought the boys and their uncle to the event. "It was good to see them smiling," Jackson said of the brothers.
NEWSLETTER: Get the day's top headlines from Times Editor Davan Maharaj >>
"We're one big family in law enforcement," he added. "When we have something tragic like this happen, we support one another. That's what we do."
Dr. Michael Neeki, the Rialto Fire Department's medical director, was a first responder the day of the shooting. He too came to show his support for the children.
"I'm not sure they understand the depth of the situation, but they've been incredibly brave," Neeki said. "We are actually learning from these children how to be brave."
After all the gifts were loaded into their car, the boys rode with firefighters in the back of an ambulance to Rialto Fire Station 201. On the way, Colin looked up at firefighter paramedic Matt Payne with wide eyes, worried they may have gone overboard in the store, and asked, "Do you think my dad's gonna kill us?"
"You just tell him the fireman wouldn't let you stop," Payne said. "The fireman kept telling you you had to get more."
Despite the officers' and firefighters' insistence that they shop to their heart's desire, the boys didn't up spending all of the donated funds. The rest will be sent by check to the family, Cathey said.
At the station, Colin and Ethan tried on, or rather, swam, in firefighter uniforms many sizes too large. They then thanked each officer and firefighter and gave them goodbye hugs.
"It was an awesome day, and I'm so thankful for these people, these nice gentleman, doing this stuff for us," Colin said. "We had so much fun."
The two said they're looking forward to the holiday, though they know it will be difficult.
"It's going to be a very sad Christmas, but at least we'll be with family," Colin said.
In the days just prior to the San Bernardino terrorist attack, Betbadal had set up the family Christmas tree. Beneath it this Friday morning, the children will find several presents wrapped with love from their mother.
MORE ON SAN BERNARDINO
FBI is working on a timeline leading up to the San Bernardino mass shooting
What Tashfeen Malik's visa application reveals about the San Bernardino killers
Goofy, friendly guy, or aspiring terrorist: Clashing portrayals of Enrique Marquez, friend of San Bernardino shooter
---
Get breaking news, investigations, analysis and more signature journalism from the Los Angeles Times in your inbox.
You may occasionally receive promotional content from the Los Angeles Times.