Sexual harassment lawsuit filed against ex-San Diego Mayor Bob Filner
Bob Filner enters the San Diego council chambers to announce that he is resigning as mayor as his supporters applaud in the background. He was publicly accused of sexual harassment by many women.
(Don Bartletti / Los Angeles Times)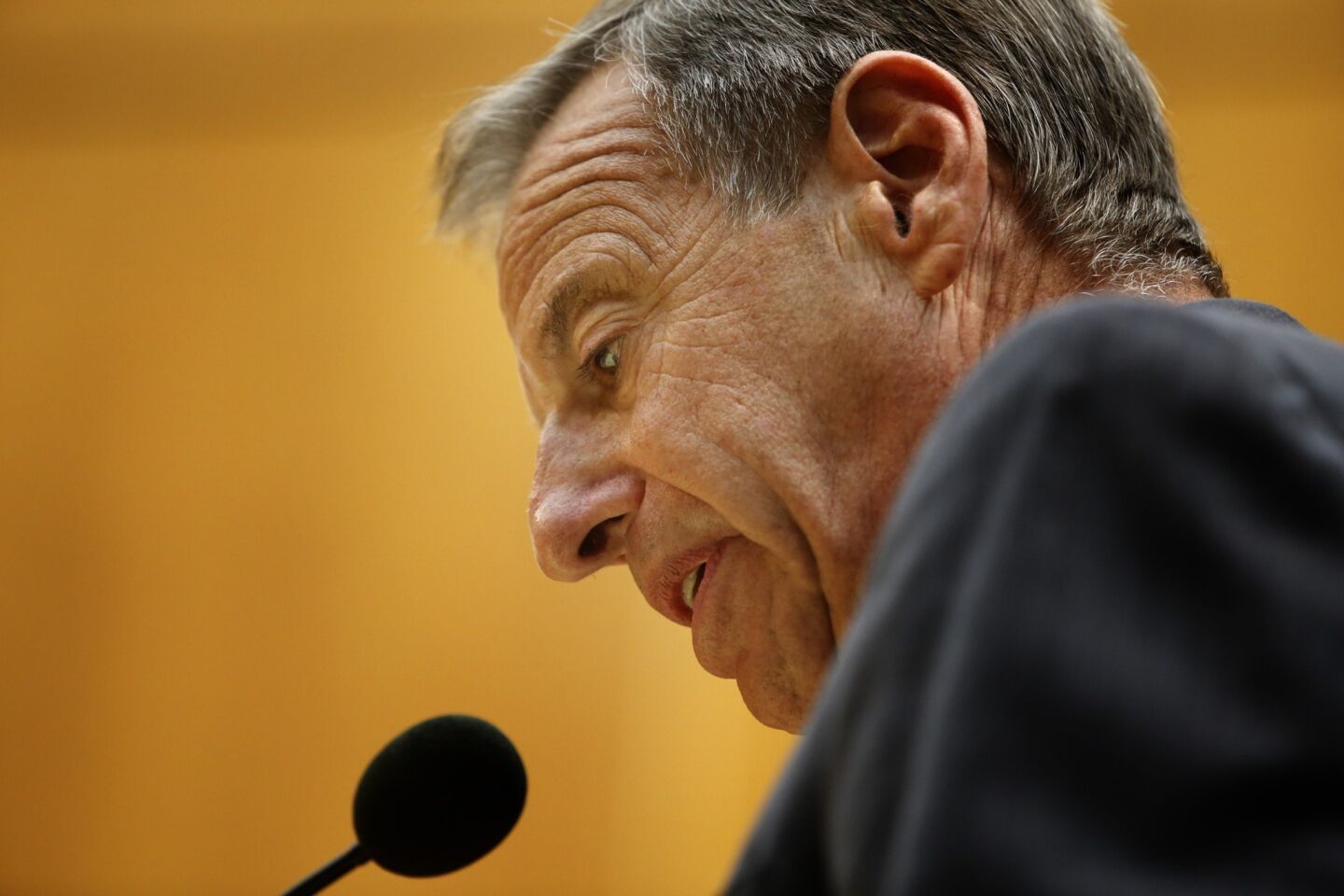 In the San Diego City Council chambers Bob Filner announces he is resigning as mayor.
(Don Bartletti / Los Angeles Times)
As Bob Filner addresses the City Council, the official San Diego city statement is projected on a screen.
(Don Bartletti / Los Angeles Times)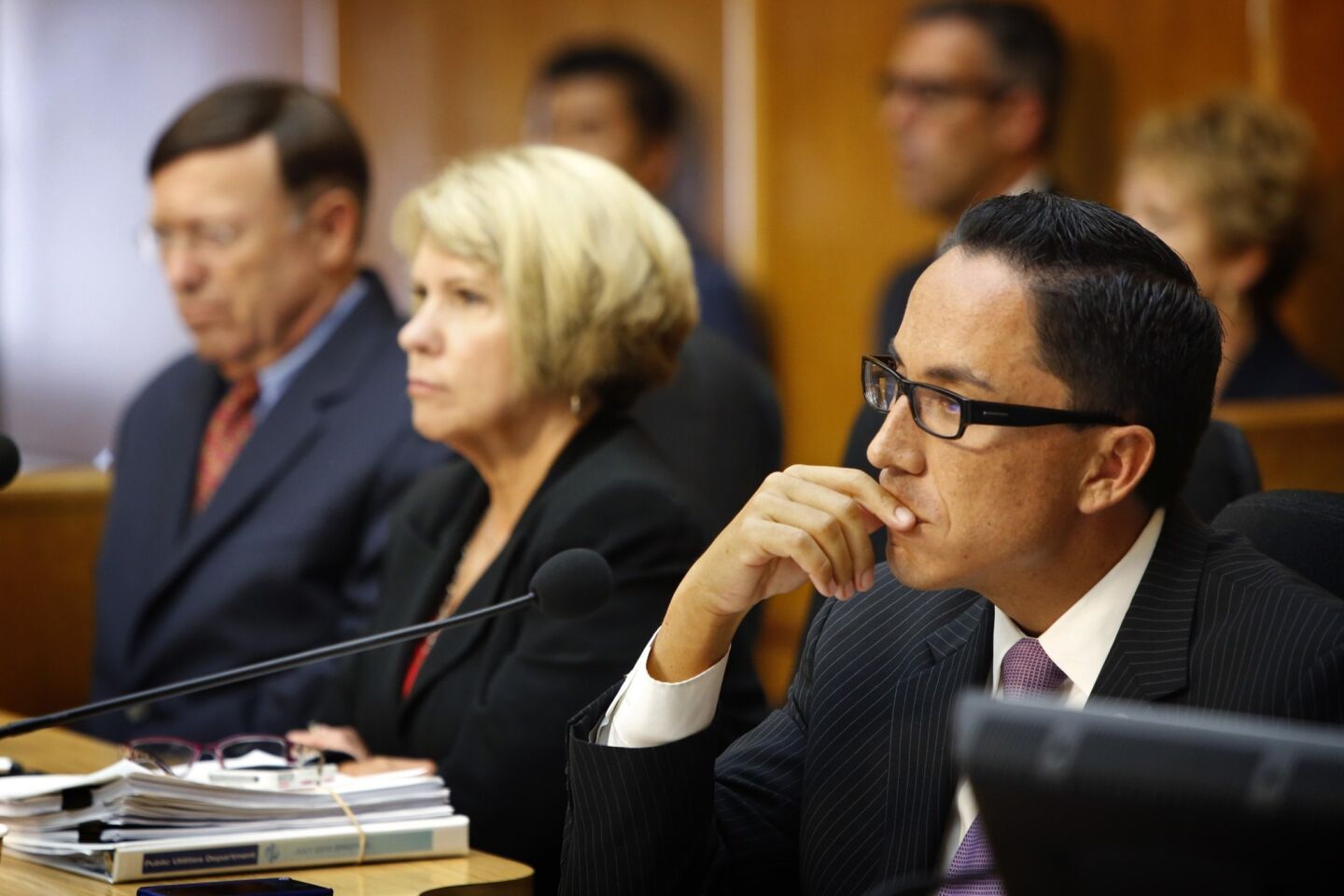 San Diego City Council President Todd Gloria, right, listens to public comment about Mayor Bob Filner during a special meeting in the council chambers. Later in the afternoon, Filner appeared and announced his resignation, with Gloria appointed interim mayor.
(Don Bartletti / Los Angeles Times)
SAN DIEGO -- A woman has filed a lawsuit against former Mayor Bob Filner, alleging that he sexually harassed her at a public event at an elementary school while his police bodyguards watched.
In the lawsuit, filed this week in San Diego County Superior Court, Marilyn McGaughy alleges that she was "kissed, massaged, (and) groped" by the then-mayor, who made "repeated sexual advances and sexual comments."
Filner's police bodyguards "were present and witnessed Filner's wrongful conduct, however, they failed to stop Filner or protect McGaughy," according to the lawsuit filed by attorney Daniel Gilleon.
The suit alleges that Filner committed sexual battery, gender violence and sexual harassment. McGaughy is seeking unspecified damages.
Filner, 71, a 10-term member of Congress, was elected mayor in November 2012, the city's first Democratic mayor in two decades.
McGaughy, an advocate against domestic violence, was at Johnson Elementary School in May 2013 when Filner attended an event where he "interacted with students and teachers and brought city 'swag' to hand out and to promote city activities."
McGaughy will continue to suffer "physical and emotional distress, embarrassment and mental anguish," the lawsuit asserts.
The lawsuit was filed after the city rejected a claim on McGaughy's behalf seeking $250,000.
Filner resigned in August amid accusations from more than 20 women that he sexually harassed them. In October, he pleaded guilty to one felony count of false imprisonment and two counts of misdemeanor battery involving mistreatment of women.
He served a 90-day sentence of home confinement and is now on three years probation.
In February, the City Council voted to pay $250,000 to settle a sexual harassment lawsuit filed against Filner by his former communications director, Irene McCormack Jackson. She had alleged that Filner harassed her for months, including saying she and other women should work without panties.
Also in February, the council voted to settle a harassment claim by city employee Peggy Shannon by issuing an apology and declaring a day in her honor. Shannon was a part-time employee at the senior citizens desk in the lobby of City Hall when she was repeatedly harassed by Filner, according to her claim.
As part of his resignation agreement, the council voted to pay his share of any settlement in the Jackson lawsuit.
Besides the McGaughy lawsuit, two other sexual harassment lawsuits are pending against Filner and the city.
tony.perry@latimes.com
Twitter: @LATsandiego
The stories shaping California
Get up to speed with our Essential California newsletter, sent six days a week.
You may occasionally receive promotional content from the Los Angeles Times.