Court delays arraignment of 3 L.A. County sheriff's officials in jail handcuffing case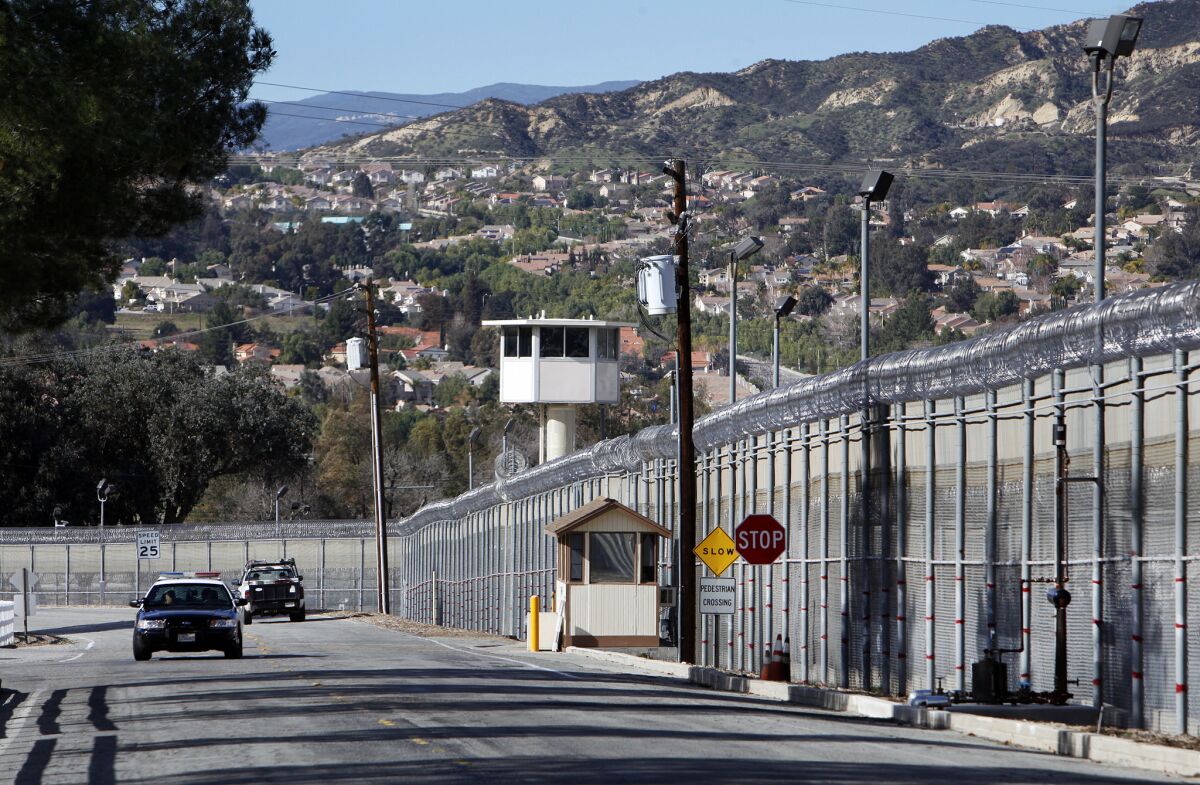 The arraignment of three Los Angeles County sheriff's officials accused of handcuffing a jail inmate to a wall for hours has been delayed until February.
Deputy James Hawkins, Sgt. David Moser and retired Sgt. Rex Taylor were scheduled to be arraigned Friday in Santa Clarita, but Moser's attorney filed a motion challenging the charges against his client.
Attorneys for Hawkins and Taylor plan to join the motion, which, if granted, would result in the dismissal of the case.
The arraignment has been rescheduled for Feb. 18.
Hawkins, Moser and Taylor are charged with cruel and unusual punishment -- a misdemeanor -- in the Sept. 5, 2014, incident. Hawkins also is charged with misdemeanor assault.
Through his attorney, Hawkins has argued that he was merely following a written policy instructing deputies at North County Correctional Facility, a maximum security jail in Castaic, on how to handle inmates suspected of harboring contraband in their bodies.
The inmate, Omar Estrada, was suspected of having a "kite," or unauthorized note to another inmate, in his rectum.
Contraband watch, known informally as "potty watch," is a fact of life at jails and prisons across the country, as inmates conceal drugs, weapons and other forbidden items in their body cavities. Potty watches often become tests of patience, stretching for hours during the wait for the inmate to use the toilet.
Join the conversation on Facebook >>
Inmates must be prevented from secretly disposing of contraband, but there are ways to restrain them short of handcuffing them to a wall, such as securing their hands to a waist chain and keeping them under constant surveillance, corrections experts say.
Estrada was placed in a holding cell for "an extended period of time" after his return from a court appearance, according to a spokeswoman for the district attorney's office.
He was "in various stages of undress" while restrained, suffering injuries to his wrists and midsection, the spokeswoman said. The spokeswoman would not say how long he was restrained.
Hawkins' attorney, Vicki Podberesky, said she has viewed a video of the incident. In the recording, Estrada can be seen sitting on a stainless-steel bench with his hands cuffed to the wall, Podberesky said.
Podberesky did not know how long Estrada was handcuffed. She said it was not as long as the total detention, which she believed was 11 to 13 hours.
The sole evidence for the misdemeanor assault charge was an allegation from Estrada that was not backed up by video or physical evidence, Podberesky said.
Hawkins and Moser have been relieved of duty without pay. Taylor has already retired.
The North County Correctional Facility contraband watch policy had been in place since April 2014 and applied only to that facility, not the other county jails. It stated that deputies "shall" handcuff inmates to wall brackets in a seated position and that inmates' feet "may" also be shackled to the floor.
The department policy at the time gave little guidance on how to perform contraband watches, directing each facility to develop its own rules.
When top Sheriff's Department officials found out about the North County facility's policy in February, they replaced it with a new department-wide policy specifying that inmates' hands should be cuffed to their waists but not to any fixed object.
Fourteen North County Correctional Facility employees, including the head of the facility, Capt. Anselmo Gonzalez, were reassigned to positions in which they had no contact with inmates.
Twenty-four cases were sent to the district attorney's office for possible prosecution.
So far, the Estrada case is the only one to result in charges. Sixteen handcuffing cases have been rejected by prosecutors, including one contraband watch that lasted 11 hours, and a case in which the inmate sustained injuries to his wrists after being handcuffed for eight or nine hours. The inmates were typically handcuffed while half naked or even fully naked, sometimes with their feet shackled to the floor.
Advocates for the deputies argue that it's unfair to blame low-level officials who were simply following department policy.
The new policy, which instructs deputies to create a "dry cell" with the inmate fully clothed and restrained only by waist cuffs, resembles the one used by the California state prison system.
The toilet is taped shut to prevent the inmate from flushing any contraband, and a deputy must always be present to help with food, water and bathroom needs.
Twitter: @cindychangLA
ALSO
West Hollywood to offer free buses to Metro subway
Killer laughed after decapitating Army veteran, court is told
How high will it go? Powerball jackpot balloons to $800 million
---
The stories shaping California
Get up to speed with our Essential California newsletter, sent six days a week.
You may occasionally receive promotional content from the Los Angeles Times.