Powerball fever sweeps California as the jackpot climbs to $800 million
The Powerball jackpot has topped $1.3 billion.
At the end of a nearly 30-person line at the Bluebird liquor store in Hawthorne, Mark Willis clutched his blue lottery ticket holder. The lettering on the thin plastic booklet, which he calls his "book of dreams," was faded.
Inside the holder's pockets, atop his lottery tickets, he had photos and crinkled newspaper clippings of his dream purchases: a Bentley, Rolex, Gulfstream IV jet (he'd name it "Angel"), beach-side mansion and glamorously dressed model to represent Gladys Knight concert tickets.
"That's a lot of money," the Leimert Park video producer said of the $800-million Powerball jackpot. "You could have your whole life changed."
See the most-read stories this hour >>
Record jackpots often lead to dreams of mansions, fancy cars, quitting jobs — and in Willis' case, giving to charity and paying off student loans.
But with Saturday's jackpot set to be the largest of any draw game in the United States, the excitement — and the fantasies — are kicking into overdrive.
The pot has been rising since November and shot up to the record-setting amount Wednesday night after there was no winner for the 18th consecutive draw.
So far, more than $1 billion in Powerball tickets have been sold nationwide, lottery officials said.
"Sales are going crazy right now," said California State Lottery spokesman Russ Lopez. "We're not surprised. Any time the jackpot gets to this point, Californians especially get very excited about it."
On Tuesday, there were about $6 million in ticket sales in California, Lopez said. On Wednesday, $20 million. On Thursday, $13 million. As of Friday afternoon, it was $17 million and growing.
Yet even with brisk ticket sales, just 64% of all possible six-digit combinations have been selected, officials said.
If no one wins Saturday, the prize will probably exceed $1 billion. The game is played in 44 states and three U.S. territories
To win, a participant must match five numbers between 1 and 69 and a sixth number between 1 and 26 drawn separately. The odds of this happening are 1 in 292.2 million. (If someone did hit the right combination for the $800-million jackpot, they would have the option of taking a lump sum payment of $496 million before taxes.)
"People get caught up in, 'Are you kidding me? It's that much? What's two bucks?'" Lopez said — though he emphasized that people should play responsibly.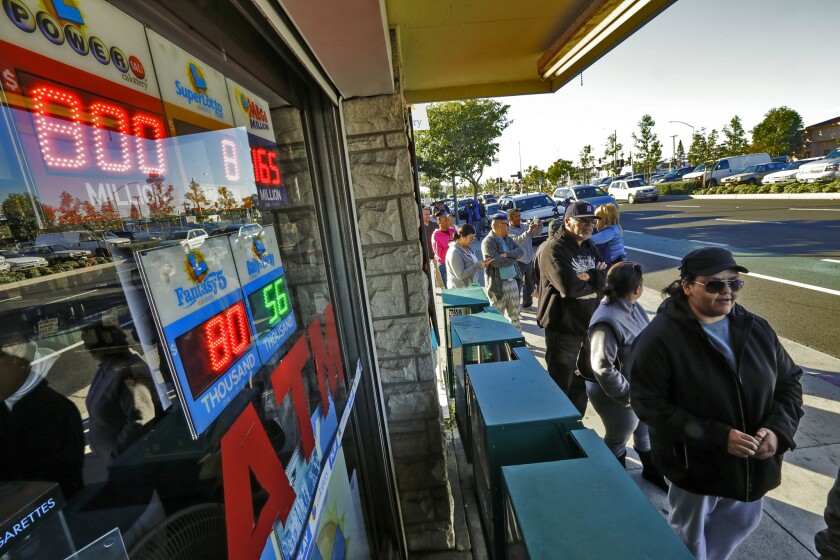 Some critics say big lottery games encourage people with little money to gamble even though the odds are small. A much-cited Duke University study found that low-income households spend more of their income on lottery games than higher-income households.
Lottery officials are quick to note that for each $2 Powerball ticket purchased in California, about 80 cents goes toward education funding.
Many underestimate just how small the probability of winning is because 292.2 million is so large that it's "almost impossible" for people to wrap their heads around, said Ron Wasserstein, executive director of the American Statistical Assn.
Lottery officials probably expected bigger jackpots and, in turn, bigger sales when they implemented new game rules last year that changed the odds from 1 in 175 million, he said.
"The larger the jackpot, the more people play," Wasserstein said. "When the jackpot gets bigger, your chances of winning stays the same, but the chances that somebody wins increases. That is because the more people who play, the more likely it is that one of those people will match the winning numbers."
See more of our top stories on Facebook >>
But that didn't deter the thousands lined up at Bluebird Liquor, which has sold at least four winning tickets of $1 million or more since the lottery's inception. Owner James Kim estimated about 5,000 people came in Thursday and 3,000 Wednesday despite the rain.
The store's ceiling is papered with winners' names and prize amounts, and a sign outside proclaims: "Millionaires made here. Are you next?" Players have a tradition of rubbing small blue bird figurines for good luck.
"You saw it on the news yesterday, huh? Did you see it?" a woman said to another walking out of the store with a grin and an orange and white Powerball ticket in her hand.
"Saw it in a dream," Athens resident Tracy Paris said, laughing with her.
"C'mon baby, c'mon baby!" the woman said as Paris walked past. "Hey! What's the number?"
"Uh-uh, uh-uh," Paris said, shaking her head in jest.
Though Paris has dreamed about winning the lottery, she's not a regular player, she said.
She doesn't play the lottery often, but her husband persuaded her to buy Powerball tickets this time when the jackpot reached record levels.
"I truly believe in doing it this way: When you feel it, play it," she said. "We didn't wipe out our savings. We just took out a couple of dollars and said 'OK, let's go play.'"
A dream also summoned Jon Bautista, 34, and two of his colleagues to visit another historically lucky store, the 7-Eleven at 2512 S. Figueroa St. The three stopped by on a break from work at Felix Chevrolet down the street.
On Thursday, Bautista told three customers who'd just bought cars that if he won, he'd finance all of their purchases.
"You get to the age that ... you're still young, but you don't want to work, you just want to enjoy life," Bautista said, taking swigs of Red Bull. "So that's what we're going to do, become millionaires."
Silver Glen Liquor in Silver Lake, also historically lucky, saw a slow trickle of customers Friday morning. Leo Mejia, 54, came in to buy a small gift for his wife's birthday on Monday: three Powerball tickets.
"Five numbers is good enough for me. I just need a little bit to retire," Mejia said, referring to one of the smaller possible jackpots. But then again, he said, "Everyone has a hope to hit the big one, you know?"
taylor.goldenstein@latimes.com
Times staff writer Joseph Serna contributed to this report.
ALSO
Killer laughed after decapitating Army veteran, court is told
Cliven Bundy still owes the U.S. $1 million. What are the feds doing to collect it?
NFL wants a team or two in L.A., and owners head to Houston for a vote
---
The stories shaping California
Get up to speed with our Essential California newsletter, sent six days a week.
You may occasionally receive promotional content from the Los Angeles Times.