Former NBA, UCLA player Tyler Honeycutt dead after exchanging gunfire with police in Sherman Oaks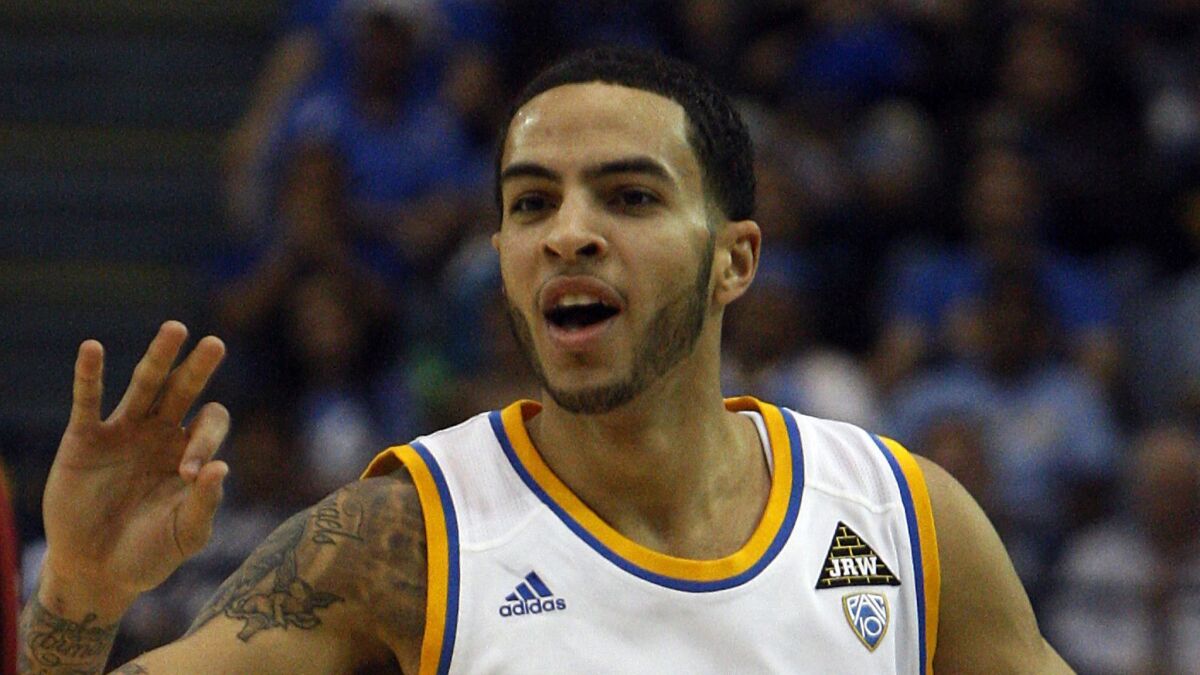 Tyler Honeycutt, a former UCLA basketball star who also played for the Sacramento Kings and Houston Rockets, was found dead early Saturday after barricading himself in a Sherman Oaks home and exchanging gunfire with Los Angeles police, according to a friend of the family.
Bort Escoto, who coached Honeycutt for four years at Sylmar High School, said he had been in contact with Honeycutt and his mother.
"He was a fantastic kid," Escoto said. "He was a great kid to be around. But he was having some problems. … From what I know, he shot himself."
The incident began when SWAT officers responded to a call of a "man with a gun" about 5:10 p.m. Friday in the 4700 block of Tyrone Avenue near Riverside Drive, Officer Tony Im, an LAPD spokesman, said.
While officers were communicating with the person in the house, he fired a gun from inside the residence, Im said. The officers returned fire, and the man barricaded himself inside the home.
For several hours, officers believed the man was alive, according to the LAPD's Twitter account.
"It's unknown if the suspect was struck," read one tweet at 10:30 p.m. Friday. "This is still an ongoing barricaded situation."
Hours later, SWAT entered the home and found the man unresponsive, police said. He was pronounced dead at the scene.
Escoto said that he last spoke to Honeycutt about 4 p.m. Friday and that it "seemed like he was burdened with something." He said Honeycutt's mother called him later and told him her son was acting erratically and he advised her to call 911.
Escoto said he continued to text Honeycutt after he was barricaded in the Sherman Oaks home to ask whether he was OK, and he would respond simply with the letter "K." He said he later learned about reports that Honeycutt shot at officers between 7 and 7:30 p.m.
Escoto said he spoke to police around 10 p.m. Friday and was told the situation remained the same. Then at 4:45 a.m. Saturday, he said Honeycutt's mother called him and told him that her son taken his own life.
"I felt he's not built to go to jail," Escoto said. "But I don't see him ending his life either."
He said he had spoken to Honeycutt in recent days and "thought everything was fine." He said Honeycutt was playing basketball in Russia in the Eastern European Professional Basketball League and was having a hard time adjusting to life in a foreign country.
"It's hard for an L.A. kid to go to Russia, not know the language or surroundings," he said. "He was basically having a hard time with the adjustment. I just kept telling him he needed to get out and meet people."
He said Honeycutt was supposed to sign a new contract on Saturday with either Russia or Israel.
---
UPDATES:
12:45 p.m.: This article was updated with comments from Honeycutt's high school coach, Bort Escoto.
This article was originally posted at 10:40 a.m.
---
Life is stressful. Our weekly mental wellness newsletter can help.
You may occasionally receive promotional content from the Los Angeles Times.