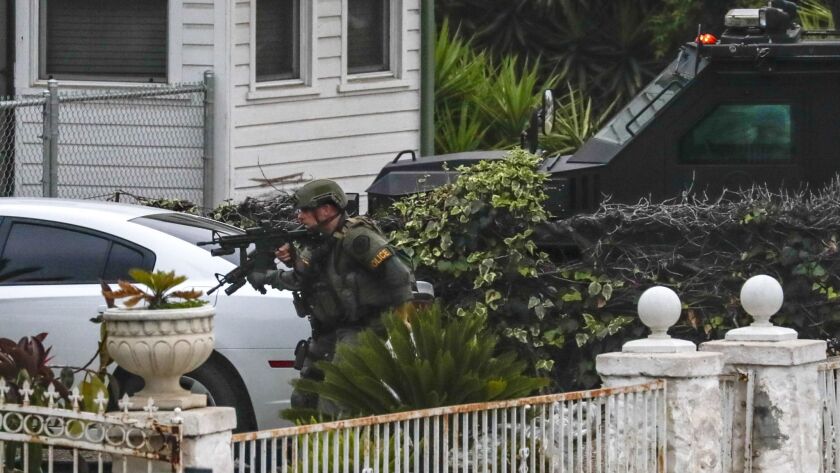 A Pomona police SWAT team exchanged gunfire with occupants of a house Thursday morning while serving a search warrant on a suspected gang member during a multiagency sweep in Azusa on Thursday morning, authorities said.
Residents in the 5500 block of Lark Ellen Avenue were awakened by gunshots and a huge police presence, and a portion of the neighborhood was evacuated.
No officers were injured in the standoff, and it appeared there were no injuries to anyone in the house, said Pomona Police Chief Michael Olivieri.
Situation in Azusa has been resolved. Suspects in custody, thankfully nobody was injured- especially my officers.

— Chief Michael Olivieri (@olivieri_ppd) May 24, 2018
Officers from numerous agencies were simultaneously serving search warrants on suspected members of the Azusa 13 gang at eight locations on Thursday after a series of gang-related shootings, Olivieri said. Pomona officers were serving the warrant at the house on Lark Ellen Avenue when the shooting occurred.
As officers approached the house, they were met with gunfire from inside, Olivieri said. They returned shots and surrounded the residence.
Four people emerged from the house, including the suspected gang member, Olivieri said. It was unclear who shot at the officers.
Gen Rivera, who lives next door, said she woke up at about 4 a.m. to gunshots.
"I looked out the window, and there were police officers outside," she said. Rivera said she heard "more than 20 shots, like an automatic gun and then just a bunch of regular shots."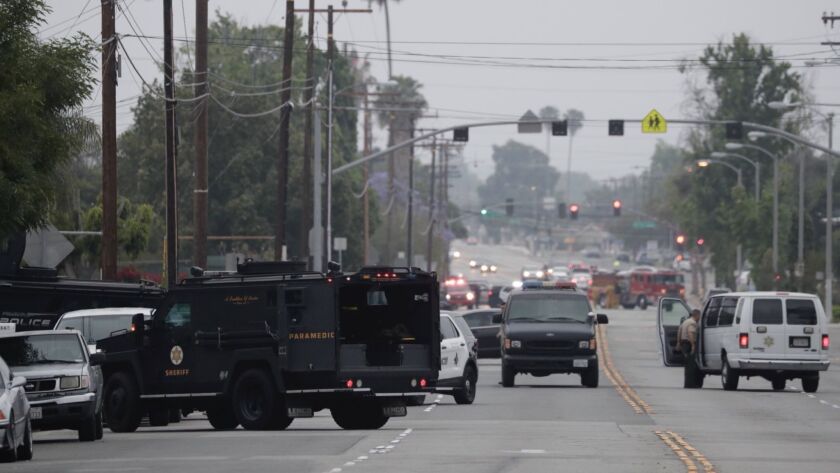 Twitter: @latfoto
Twitter: @haileybranson
---