L.A. City Council backs 'fix and release' sidewalk repair plan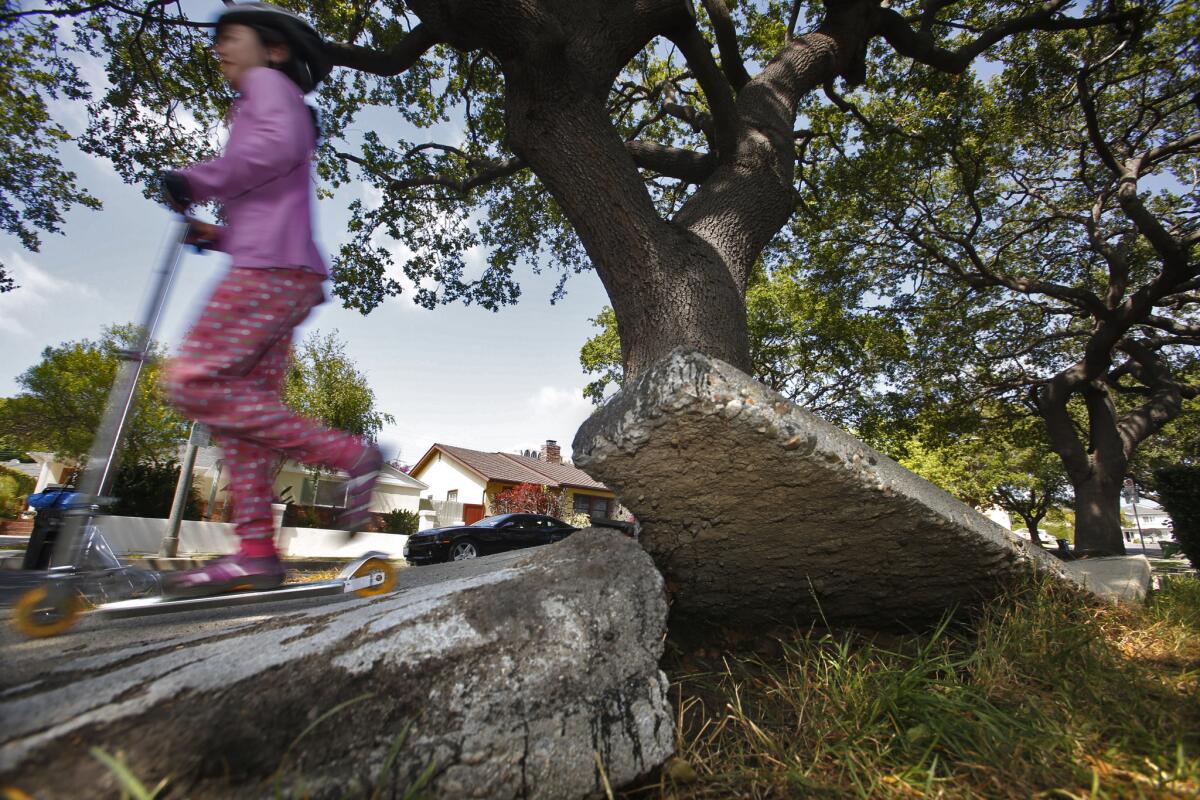 The Los Angeles City Council threw its support Tuesday behind a plan to fix broken and buckled sidewalks across the city, then gradually hand off responsibility for future repairs to property owners -- a idea known as "fix and release."
City attorneys are now supposed to draft a new ordinance that would put the plan in motion, including rolling back a decades-old rule that put the city on the hook for sidewalks ruptured by street trees.
Los Angeles leaders have blamed that long-standing rule for its broken walkways. State law says that the adjacent property owner is responsible for sidewalk repairs, but L.A. took on responsibility for those damaged by street trees decades ago -- then failed to keep up with the needed repairs.
"This is a problem that has been 40 years in the making," City Councilman Paul Krekorian said Tuesday, complaining that city lawmakers in the past had made "a very shortsighted decision" to snag some federal funding that quickly evaporated.
Councilman Joe Buscaino called the busted sidewalks "an embarrassment" and said he was tired of the city paying out millions of dollars annually for "trip-and-fall" lawsuits.
Those crumbling sidewalks also spurred a major lawsuit by advocates for the disabled, who argued that impassable walkways violated their rights to access in the city under federal law. To settle that case, Los Angeles has pledged to spend more than $1.3 billion over the next three decades to smooth its sidewalks.
Buscaino said that the Tuesday decision by the City Council, which approves a comprehensive plan for fixing sidewalks for years to come, sends a message that "help is on the way."
City lawmakers say the new program will begin in the next budget year, which begins in July. Under the new policy, L.A. will first pay to repair sidewalks next to commercial, industrial and residential properties, whether or not the damage was caused by a street tree.
After those initial repairs are made, the city will offer a warranty period during which it will guarantee one more repair, meant to prevent homeowners and businesses from facing immediate problems. The warranty will not apply to damage caused by the negligence of anyone other than the city.
That warranty period will last two decades for residential properties and five years for commercial and industrial property. Beyond that point, the property owner will be on the hook for future fixes.
City officials also plan to establish a cap on the amount that L.A. would spend on sidewalk repairs at each site to prevent the city money from being consumed by a few especially expensive or vast projects.
And to encourage people to fix their sidewalks quicker and stretch city funds, L.A. also plans to offer property owners a rebate if they choose to repair their buckled sidewalks before the city does, reimbursing them for roughly half of the average cost per square foot of repairs if they make fixes during the first three years of the new program. L.A. will also waive permit fees for such work.
The "fix and release" plan had drawn concern from the Alliance of Californians for Community Empowerment, a community organizing group worried about financially strapped homeowners bearing the costs of future repairs. Some pedestrian and transportation advocates have also argued against the idea, saying that the city should fund its sidewalks the same way that it pays for roads.
But city lawmakers praised the plan as a sustainable way to ensure that sidewalks did not fall back into disrepair in years to come.
Krekorian stressed that it would be years before property owners had to foot the bill for broken sidewalks. "This fear that seems to be out there that suddenly people are going to have a burden dumped upon them – that just isn't the case," the councilman said.
Branimir Kvartuc, a spokesman for City Councilman Joe Buscaino, said that recent fixes performed by the city had cost an average of $15 per square foot. However, Krekorian stressed that future repair costs borne by homeowners could vary depending on sidewalk conditions.
The repair plan passed unanimously, 14 to 0, with Councilman Jose Huizar absent. The final wording of the new ordinance will return to city lawmakers for another vote before it becomes law.
Follow @latimesemily for what's happening at Los Angeles City Hall
ALSO
UC schools harm local students by admitting so many from out of state, audit finds
Patty Duke dies at 69; former child star and Academy Award winner
FBI investigating reports of Middle Eastern men firing hundreds of shots in Apple Valley
Sign up for Essential California for news, features and recommendations from the L.A. Times and beyond in your inbox six days a week.
You may occasionally receive promotional content from the Los Angeles Times.