Santa Monica school district's conflict of interest investigation leaves questions unanswered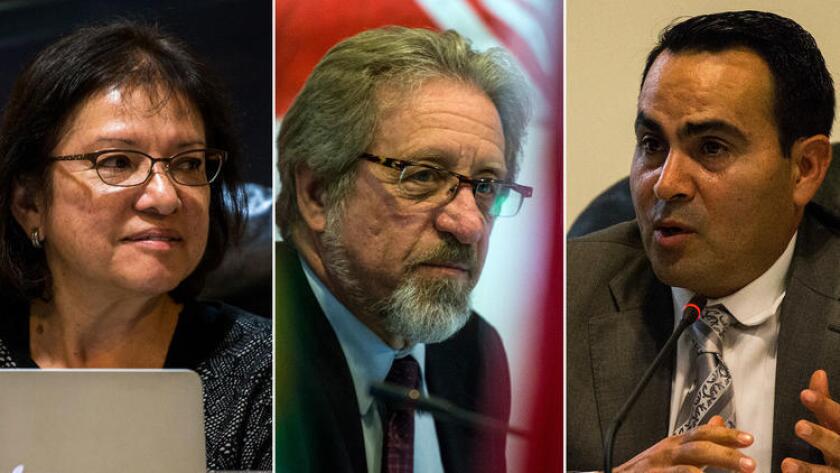 An investigation by the Santa Monica-Malibu Unified School District found that a school board member voted to approve contracts with her husband's consulting clients on at least nine separate occasions, according to a summary of the probe released Thursday night.
The investigation also found that the board member, Maria Leon-Vazquez, did not report her husband's income in nearly a decade's worth of state-required financial disclosure filings. It also found that she voted to approve district purchase orders with an architect — who later joined the board — "shortly after" the architect finished a remodeling job at her home, according to an attorney who presented the findings to the board.
A Times article in November detailing the financial ties between two district contractors and Leon-Vazquez's husband, Tony Vazquez, who is also a city councilman, triggered the school district's inquiry. The district attorney's public integrity unit also opened a review.
The Times found that Tony Vazquez was being paid to pitch services from two companies — Keygent LLC and TELACU Construction Management — to school districts by using his relationships with district leaders. In at least one case Vazquez arranged a meeting between the Santa Monica school district's former superintendent and TELACU executives. Meanwhile, Leon-Vazquez cast votes to approve hundreds of thousands of dollars in work for those contractors.
While the school district probe largely confirmed The Times' reporting, it stopped short of drawing conclusions on whether Leon-Vazquez violated state conflict of interest laws. That determination would have to come from law enforcement authorities, school district leaders said at Thursday's board meeting.
The probe also left other questions unanswered. The summary said it was given "no information" on whether Vazquez's consulting firm had financial connections to the district contracts.
It also didn't conclude whether Leon-Vazquez and her husband received a discount from the architect on their home remodel, saying only that "there is no information to suggest there was any discount." Under state law, a substantial discount is potentially an illegal gift and could also make her votes for the architect's purchase orders illegal.
The architect — board member Ralph Mechur — had at first agreed to provide The Times with business records related to the home remodel, which was valued at $200,000 on building permits filed with City Hall, and the price he charged for his service. He later refused to provide the records but still insisted that he charged the market rate. The district began investigating Mechur's business relationship with Leon-Vazquez after The Times raised questions about the work.
Questions were also raised during the investigation about board member Oscar De La Torre, who worked for a nonprofit organization that hired Mechur as an architect in 2001. But the probe found that the work was done before either member was on the board.
Board member Craig Foster said that school district leaders needed to take action to protect the school district's reputation and that he hoped the district attorney's office and state Fair Political Practices Commission investigate the issue. He also suggested that Leon-Vazquez, a board member for nearly 20 years, resign.
"With the pattern of facts we have I would suggest to Maria … that this would be a good time to retire," Foster said.
Leon-Vazquez remained silent during the discussion.
Board member Laurie Lieberman dismissed some of Foster's remarks as "hyperbole" and took issue with a characterization that she said sounded like Foster had compared Leon-Vazquez to President Trump. She said it was easy to understand how Leon-Vazquez's votes for the contractors could have been oversights. The contracts were included in lists of routine actions known as consent calendars.
"There is no indication that anyone did anything intentional," Lieberman said.
Superintendent Ben Drati said he had "no doubt" that some would challenge the results of the investigation, but encouraged those with information to go to the district attorney's office or the political practices commission. "That's our checks and balances," he said.
The report recommended that district staff and board members do a better job spotting potential conflicts of interest, and said training on the issue could be worthwhile.
---
For reporting and exclusive analysis from bureau chief John Myers, get our California Politics newsletter.
You may occasionally receive promotional content from the Los Angeles Times.