Jefferson High has smooth start after last year's chaos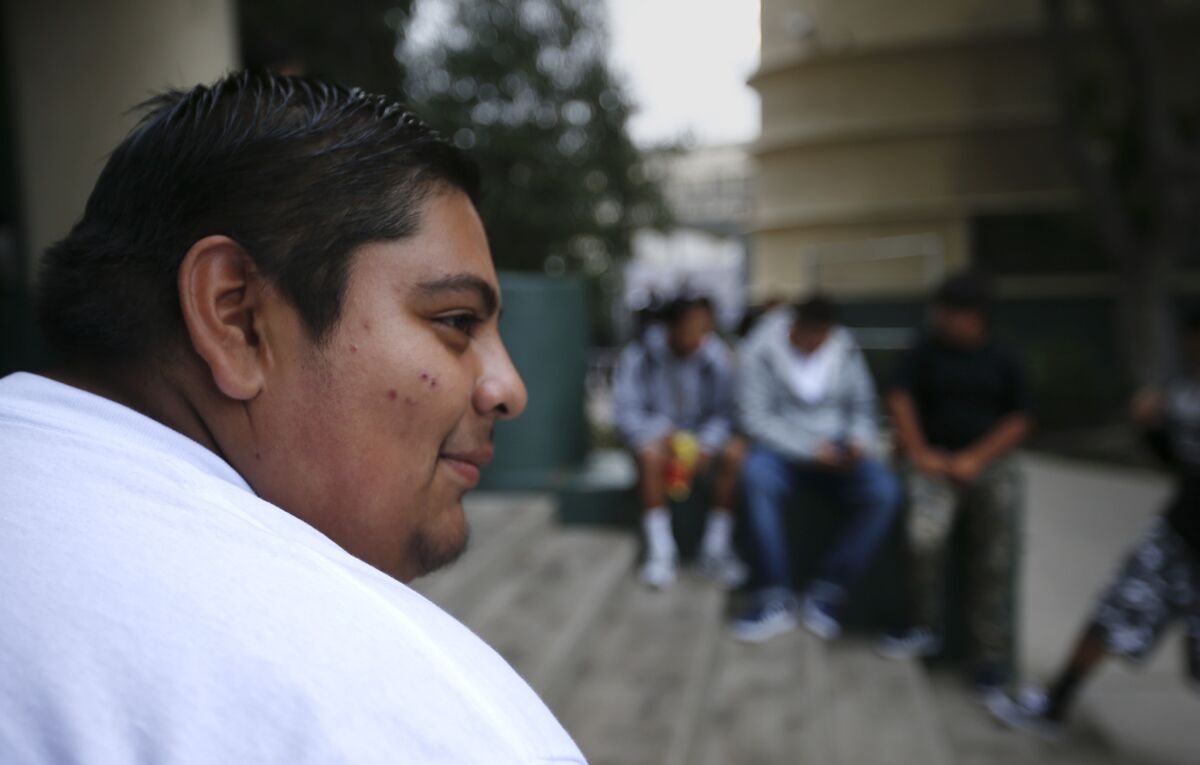 Jose Lopez lost about 2 1/2 weeks of instruction last year because his Jefferson High School class schedule was filled with the wrong classes. He was among thousands with that problem across the Los Angeles Unified School District. The cause was a new but faulty student records system.
On Tuesday, the first day of school, he sat on the steps of the auditorium with friends before the start of class -- relaxed but wary.
"It's pretty early to know what's going on with the schedules," he said.
Jose then disappeared into the venerable but stylish campus south of downtown. If his experience was like most of his classmates, things were largely fine.
At district headquarters, Diane H. Pappas, who heads the effort to improve the records system, said her office had logged 24 calls for help across the mammoth school system between 7 a.m. and about 8:30 a.m.
Interested in the stories shaping California? Sign up for the free Essential California newsletter >>
"That's nothing," Pappas said, with obvious relief. "And the issues were minor, like problems with passwords."
Last year's technical debacle dominated news of the opening of school. Students had incorrect schedules or no schedules at all and the system, when it provided printouts, generated inaccurate transcripts and miscalculated credits and grade-point averages. Teachers had incorrect rosters and couldn't file attendance reports. Staff members who logged onto the system, called My Integrated Student Information System, or MISIS, often found themselves with a frozen screen.
Then-Supt. John Deasy dismissed the seriousness of the issue, but the problems contributed to his resignation less than three months later. MISIS was touted as a "free" system obtained from another school district. By the end of last year, officials said the cost had grown to about $133 million. Officials set aside $80 million more this year.
A lawsuit was filed -- with Jefferson students as plaintiffs -- seeking access to the classes they needed to graduate and apply to college.
Jefferson may have been the worst situation. There, the MISIS shortcomings were exacerbated by administrative turnover. Principal Jack Foote was unable to arrive until the second week last year.
For Tuesday, he had back-up plans ready, including printouts of rosters and attendance sheets if, for example, the city of Los Angeles suffered a major power outage.
Justin Fernandez, an 11th grader, said the focus on Jefferson has benefited the school.
"They've put kids in the right places," he said. "I haven't seen no one with mistakes in their schedule. And the school is getting lots of attention."
There were some glitches. Eleventh-grader Miguel Figueroa said he need a more advanced Spanish class than the one he'd received. Another student said he wanted ROTC as an elective but it wasn't on his schedule.
History teacher Susan Ferguson had four students in limbo because they had changed their first-period class from her regular history course to Advanced Placement history. As the school is now organized, those students should have landed in the homeroom or "advisory" class of the other first-period AP history teacher. But she agreed to keep them because the homeroom for the AP class would have been too crowded otherwise.
Jefferson used an unusual schedule Tuesday, sending all students to an initial 90-minute homeroom, in part to straighten out schedules as needed.
Ferguson also explained that the homerooms were the place for students to get help all yearlong.
"I'm going to get on you if you're not here, if your grades are not doing well," she told them. "This is going to be a room where we're going to try to help each other. This is a class where we're going to be discussing any issues you have."
In all the homerooms, students were filling out surveys on what they liked and disliked about school, career goals and their families. Ferguson asked students to describe two things that were true about their summer and one thing that wasn't.
Her students immediately and correctly guessed that her fib was that she'd cleaned out her garage. She didn't strike them as a teacher who would spend time doing that, they told her.
Yesenia Garza, 17, attended summer school and went to Bakersfield. But she did not play soccer, she confessed.
Later, as students wrote a brief essay, Ferguson took a breath and logged in to file attendance.
"MISIS is working right now," she said. "It wasn't working before, but I think it was my fault. I had bookmarked what I thought was the log in."
Teacher and union representative Katherine Harrison said the story at Jefferson was that there was not much of a story this year.
"We're OK at Jefferson," Harrison said. "What happened last year was very unfortunate, but we're back on our feet and doing OK."
Twitter: @howardblume
MORE ON BACK TO SCHOOL:
L.A. Unified looks for smoother tech operations this school year
These LAUSD students are not heading back to school
What parents want L.A.'s school board to work on: students' lunch
---
The stories shaping California
Get up to speed with our Essential California newsletter, sent six days a week.
You may occasionally receive promotional content from the Los Angeles Times.