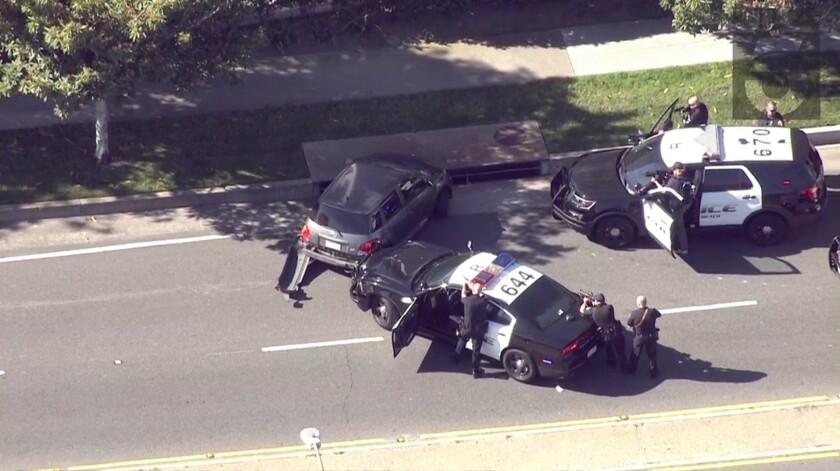 A suspected carjacker led police and sheriff's deputies on a slow-speed pursuit across West Los Angeles on Wednesday morning before a standoff ended in Redondo Beach.
The carjacking was reported about 7:40 a.m. at 68th Street and Central Avenue, said Sgt. Angela Ingham of the Los Angeles County sheriff's Century station.
It became a pursuit about 8 a.m. when South Gate police officers spotted the gray van and the driver refused to stop, South Gate police Capt. Darren Arakawa said.
The man drove through Inglewood, Century City, Hermosa Beach and Manhattan Beach during the pursuit, authorities said, at moderate speeds. When the vehicle left South Gate, sheriff's deputies took over the chase, Arakawa said.
"This guy's just been all over the place," sheriff's Deputy Ryan Rouzan said.
Deputies tried unsuccessfully to use spike strips on the vehicle several times. About 9:30 a.m., as the driver moved through Redondo Beach, the pursuit slowed as the van's tires appeared to deflate, according to images broadcast on KTLA.
Authorities said it wasn't known whether the driver was armed. Multiple attempts to perform a precision immobilization technique, or PIT maneuver, in which a police vehicle clips a fleeing car's rear fender to force the driver to lose control, also failed.
At one point, the van was driving rapidly in reverse after a second failed PIT maneuver left the rear bumper hanging from the vehicle. The car spun around and continued speeding away from police.
The driver was cornered about 9:40 a.m. in Redondo Beach after another PIT maneuver succeeded, according to KTLA footage. He was taken into custody by 11:30 a.m., authorities said.
For breaking California news, follow @JosephSerna on Twitter.
ALSO
Video of men reeling in shark at Huntington Beach Pier sparks state investigation
Uber CEO apologizes after video shows him berating driver: 'I need leadership help'
Man beaten to death over $1.14 at Oakland park, police say
---
UPDATES:
11:30 a.m.: This article was updated with the suspect being taken into custody.
This article was originally published at 9:35 a.m.
---