Speed limits are going up in L.A. so that police can write more tickets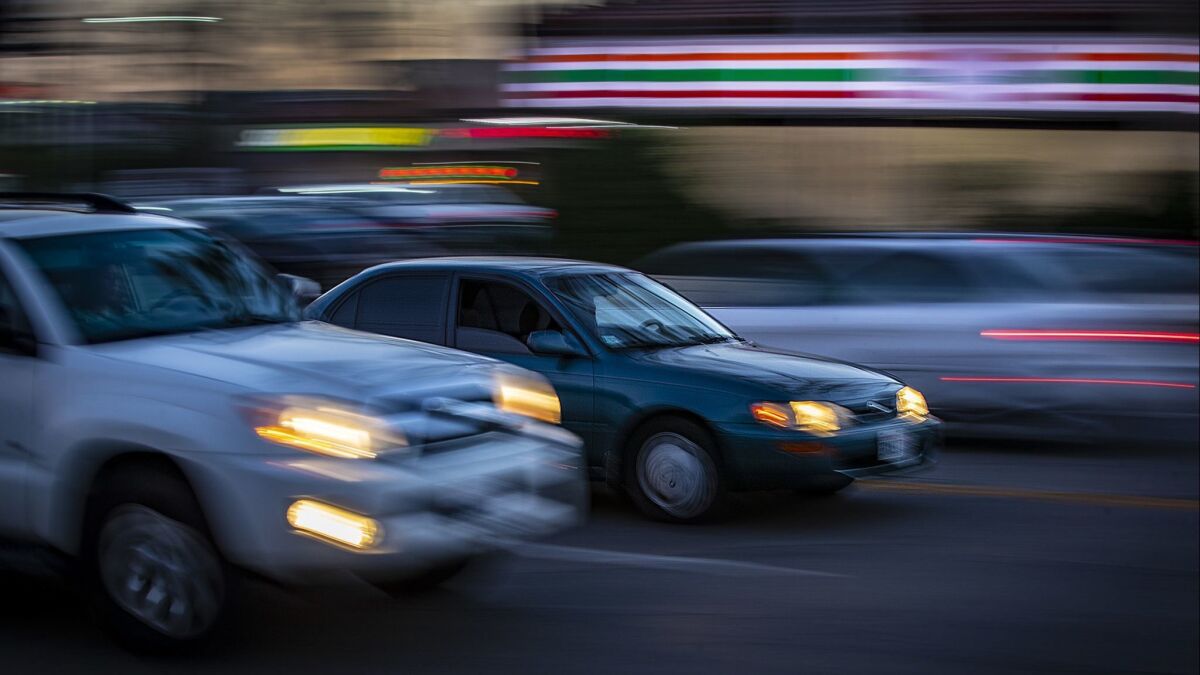 Los Angeles officials on Tuesday raised speed limits on more than 100 miles of streets, saying the increases are the best way to quickly resolve a years-long problem that has prevented police officers from ticketing speeding drivers across the city.
Despite concerns from neighborhood groups, the City Council voted unanimously to raise the speed limit on well-known thoroughfares, including portions of Mulholland Drive, San Vicente Boulevard and Reseda Boulevard. Most of the increases were of 5 miles per hour.
Raising speed limits is a bitter pill, particularly as the city struggles to reduce deaths in traffic collisions, city officials said. But a California law designed to protect drivers from speed traps leaves the city with no good options, they said.
"We are stuck with not enforcing speed limits, or raising them," said Westside City Councilman Mike Bonin at a recent committee meeting. "Most people hate that choice."
The wave of speed limit increases Tuesday drew scant feedback from neighborhood groups, in part because the changes happened relatively quickly.
Some residents said they reluctantly supported the increases, provided that the Los Angeles Police Department began working to keep speeds down by ticketing the worst offenders. Others said they were concerned that limits would rise, but that speed enforcement would not.
The dilemma stems from a decades-old law that requires cities to post speed limits that reflect the natural flow of traffic. If a speed limit is too slow, or if it is more than seven years old, the police can't use electronic devices to catch speeders.
During the Great Recession, Los Angeles fell far behind on updating speed limits. As limits expired, the number of speeding tickets written by the Los Angeles Police Department plummeted 77% from 2010 to 2017.
As recently as this summer, dozens of miles of Los Angeles streets, including corridors that are among the deadliest for pedestrians and bicyclists, had expired limits and very little speed enforcement.
The city's multiyear effort to renew speed limits has included two waves of increases over the last year, covering nearly 200 miles of city streets. Most have been in the San Fernando Valley, where drivers often speed on wide, flat streets with little to no enforcement.
Tuesday's vote will boost the share of city streets where police officers can write speeding tickets to about 97.5%, officials said.
The increases come as Los Angeles struggles to meet the goals laid out in Vision Zero, Mayor Eric Garcetti's directive to eliminate traffic deaths on city streets by 2025. A driver's speed is often a factor in whether a traffic collision is fatal.
The City Council also lowered speed limits on 11.5 miles of streets where the flow of traffic has slowed, including on a stretch of Alvarado Street between Hoover Street and the 101 Freeway, and Figueroa Street between USC and downtown.
The neighborhood council for Woodland Hills-Warner Center declined to support changes to five streets until the city gave residents more time for input and considered other options for protecting pedestrians, cyclists and drivers at intersections where speed limits had increased.
"If we're going to have to look at the speed, we should also look at the ability to protect people," said Sheppard Kaufman, the neighborhood council's vice president. "The goal is to try to keep people alive."
You know the scales have tipped when there's such a concern about safety that people are asking for officers to write more speeding tickets.
— Sheppard Kaufman, Woodland Hills-Warner Center neighborhood council vice president
The group was also concerned that streets with new 40-mph speed limits — including Corbin Avenue, Shoup Avenue and Oxnard Street — would not see the speed enforcement that was promised.
"You know the scales have tipped when there's such a concern about safety that people are asking for officers to write more speeding tickets," Kaufman said.
Last December, the City Council raised the speed limit along a 2.1-mile stretch of Chandler Boulevard in Valley Village to 40 mph. The 35-mph speed limit along Chandler expired in 2004, city records show, meaning traffic officers had faced severe limitations on writing speeding tickets for more than 13 years.
Residents wanted to see more speeding enforcement, but were concerned that faster speeds would endanger elderly residents, churchgoers and transit riders who walk in the area, said Tony Braswell, president of the Valley Village neighborhood council.
"We were told that this had to happen, and that in exchange, there would be more enforcement," Braswell said. "The whole effort brought with it a lot of promises. But we haven't seen the enforcement."
Ticketing, he said, would be "the best deterrent of all" for speeding drivers, encouraging them to slow down or take another route.
Typically, raising the speed limit does not encourage more people to speed, police officers say, because most drivers follow the flow of traffic instead of looking at speed limit signs.
There is some dispute over that view, including from the National Transportation Safety Board, a nonpartisan federal agency. The organization last year urged states to move away from setting speed limits based on driver speeds, saying it can lead to "unintended consequences," including more speeding.
Driver advocacy groups typically support speed limit increases, because it prevents the police from having the option of ticketing the vast majority of drivers.
On Devonshire Street in the Valley, for example, keeping the speed limit at 35 mph rather than raising it to 40 mph would mean 87% of drivers would be eligible for a speeding ticket, city records show.
The new speed limits won't take effect for at least a month. Then, the Transportation Department will begin replacing more than 450 speed limit signs, which will take two to three months, spokeswoman Patricia Restrepo said.
For more transportation news, follow @laura_nelson on Twitter.
The stories shaping California
Get up to speed with our Essential California newsletter, sent six days a week.
You may occasionally receive promotional content from the Los Angeles Times.