When it rains, Los Angeles sends billions of gallons of 'free liquid gold' down the drain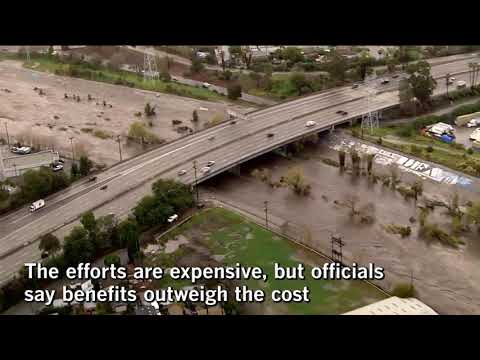 A recent study found that an array of projects could significantly boost stormwater collection in the Los Angeles Basin
During one of this winter's frequent storms, sheets of rainwater spilled from roofs, washed across sidewalks and down gutters into a sprawling network of underground storm drains that empty into the Los Angeles River channel.
Normally a thin flow of treated sewage, the river swelled with mocha-colored runoff. For a time it poured into the Pacific Ocean at a rate of nearly 29 million gallons a minute.
You can't take out the streets. So what do you do? You build stormwater capture projects that get water back into the ground.
— David Pettijohn, director of water resources at L.A. Department of Water and Power
"It kills me when I see all the water running off," said Deborah Weinstein Bloome, senior policy director at the environmental group TreePeople.
Bloome is not alone in lamenting the loss of what she calls "free liquid gold."
As the Los Angeles region strives to cut its historic dependence on increasingly irregular imported water supplies, local officials have developed a new appreciation for stormwater.
Instead of flushing it to the sea — as the L.A. Basin has done with studied efficiency ever since the catastrophic floods of the 1930s — cities are trying to figure out how to capture and use runoff to replenish local groundwater supplies.
As matters now stand, hundreds of square miles of concrete and asphalt roads, freeways, parking lots and storm drains turn the basin into a massive funnel whenever it rains.
No single project can change that.
But a multitude of small efforts could add sieve-like qualities to parts of the hardscape.
"You can't take out the streets," said David Pettijohn, water resources director for the Los Angeles Department of Water and Power. "So what do you do? You build stormwater capture projects that get water back into the ground."
A 2012 Los Angeles ordinance requires most new developments to collect the runoff from three-quarters of an inch of rainfall – and reuse it on site or let it percolate into the ground.
The Wilshire Grand skyscraper downtown will have a 50,000-gallon cistern to collect stormwater and condensate from the building's cooling system.
USC's new residential and retail complex, USC Village, is installing dry wells that will catch and filter nearly 200,000 gallons of runoff in a big storm, allowing the rainfall to soak into the earth instead of draining to the L.A. River and out to sea.
At the Tujunga Spreading Grounds in the San Fernando Valley, a giant excavator is scooping up piles of sandy dirt this winter to enlarge shallow basins that hold runoff released from upstream dams in the San Gabriel Mountains. The stormwater seeps through the porous soil of the spreading grounds into the valley aquifer that provides about 12% of L.A.'s water supply.
Still, such projects amount to mere sips of the runoff that rushes into gutters during major winter storms.
The L.A. County Department of Public Works estimates that from Jan. 18-31, roughly 25 billion gallons of stormwater — or about 77,000 acre-feet — drained into the ocean from the Los Angeles River watershed. (The entire city of L.A. uses about 550,000 acre-feet of water a year).
During that same period, the L.A. Department of Water and Power estimates the city retained about 4 billion gallons of runoff — or roughly 12,000 acre-feet. The largest portion of that simply soaked into unpaved land, such as parks. Less than half was actively captured behind upstream dams, in spreading grounds or by small collection projects.
"We haven't made the progress we should have," said Mark Gold, associate vice chancellor for environment and sustainability at UCLA. "The money is not there. That's been the big issue."
Capture projects are not cheap. It is costing $28 million to double — to 16,000 acre-feet — the typical recharge capacity of the Tujunga Spreading Grounds.
The price tag for a green street project on Laurel Canyon Boulevard in Pacoima is $3 million, two-thirds of which is funded through a state water bond. The project, now under construction, will collect stormwater from streets, sidewalks and a nearby public school campus and let it percolate into the San Fernando Valley aquifer. The expected recharge is 40 acre-feet a year.
Officials argue that such numbers don't tell the whole story.
We haven't made the progress we should have.
— Mark Gold, associate vice chancellor for environment and sustainability at UCLA
Capture programs don't just boost groundwater supplies. They divert runoff from flood-prone streets, filtering out contaminants as the stormwater seeps through the ground. That helps the region meet water quality mandates to clean up urban runoff that fouls coastal waters — requirements that are expected to cost L.A. County $24 billion over the next couple of decades.
"It's not just doing groundwater recharge," said Adel Hagekhalil, assistant director of the Los Angeles sanitation bureau. "You are addressing water quality. You are greening communities. You're addressing flooding."
Four years ago, Los Angeles County supervisors scrapped a proposal for a parcel fee that would have raised an estimated $290 million a year for regional programs to capture and clean up stormwater. The fee, which would have been levied on property owners in the county flood control district, encountered stiff opposition from residents, businesses and school districts.
But as California emerges from a brutal drought, the board's new liberal supermajority is expected to draft another funding proposal this spring.
"We need a good $300 million to $500 million a year" to build and manage stormwater projects, Gold said. "That's probably the ballpark range that could really transform the Los Angeles region."
A 2016 study prepared by county and federal agencies concluded that an array of projects — such as building new spreading grounds and installing infiltration swales on parkway medians – could significantly boost stormwater collection.
Mark Pestrella, director of the county public works department, said an additional 300,000 acre-feet could probably be captured in the L.A. Basin.
That would be in addition to the average 200,000 acre-feet the county flood control district currently collects every year with a network of dams and reservoirs strung along some 40 miles of the front range of the San Gabriels.
Most of that runoff — which is conveyed to more than two dozen spreading grounds that recharge local aquifers — comes from the San Gabriel River watershed. That means the greatest potential for more runoff capture lies in the Los Angeles River watershed, which includes much of the city of Los Angeles and southeast L.A. County towns.
"We've always tried to move water out as quickly as possible," said Kelly Sanders, an assistant professor of civil and environmental engineering at USC. "Now we're in a situation where we can't really take that water for granted."
Staff writer Matt Stevens contributed to this report.
Twitter: @boxall
ALSO
Coastal Commission will consider plan to refurbish the last of 46 beach cottages at Crystal Cove State Park
Struggling San Bernardino wrote to Trump for help but ended up only raising local suspicions
Bill in Congress aims to take shark fins off the menu throughout the United States
Sign up for Essential California for news, features and recommendations from the L.A. Times and beyond in your inbox six days a week.
You may occasionally receive promotional content from the Los Angeles Times.