New details emerge of moments before street racing crash that killed young brothers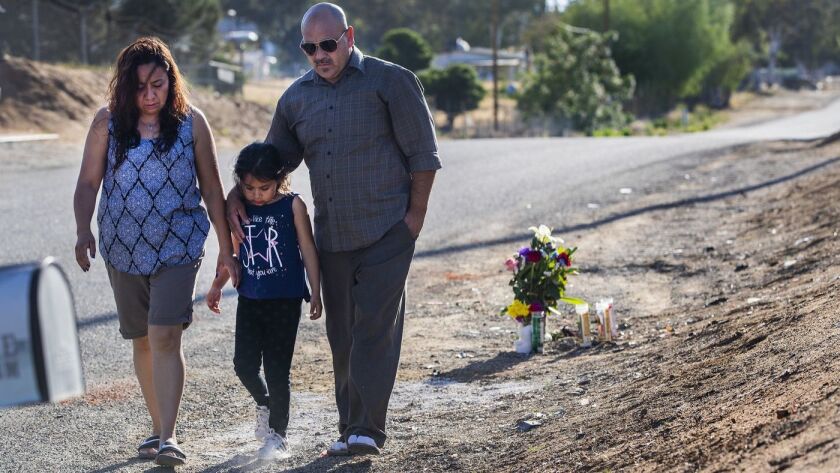 Ricardo Zuniga pulled up next to his cousin at an intersection in Perris to tell him to meet up at his home to hang out. But Josue Leyva-Gallegos looked back at him, he told authorities, and asked, "You ready?" before counting to three.
Zuniga knew what this meant: His cousin wanted to race.
Moments later, the pair hit the gas. Each took off at a high rate of speed, authorities said, with Zuniga driving on the wrong side of the road.
Soon, Zuniga was facing an oncoming car and was unable to swerve out of the way. His Honda Accord collided head-on with a Nissan Versa carrying three brothers on their way to pick up their sisters from school.
The younger two brothers — Dominick and Antonio "Tony" Gonzalez, 6 and 8 — were killed in the crash. Their older brother, who had just picked them up from an after-school program, was hospitalized.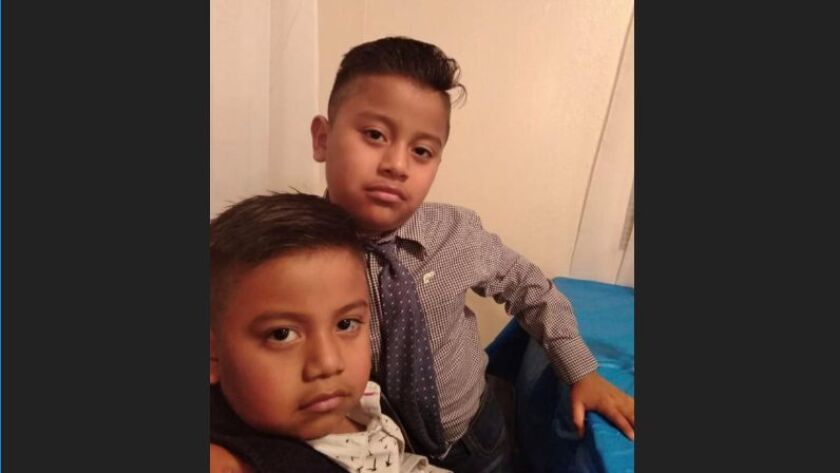 "They are a great family. They were great kids," said Pastor Israel Carlos of the Fountain of Life Apostolic Church Moreno Valley, where the Gonzalez family worshiped. "It's a very tragic situation, what happened, it's devastating for the mother."
After the crash, Zuniga, 26, told authorities that his cousin approached him and asked if he was OK, according to an investigator's declaration filed in Riverside County Superior Court. Then, Leyva-Gallegos vanished.
The deadly May 15 crash spurred a 10-day investigation that involved several law enforcement agencies searching for Leyva-Gallegos. The U.S. Marshals Service found the 30-year-old Friday at a DMV office more than a thousand miles away in Kent, Wash.
Leyva-Gallegos, who previously lived in Washington and was deported by Immigration and Customs Enforcement in 2012, was trying to register a vehicle there.
Now, he is awaiting extradition to California on two counts of vehicular manslaughter with gross negligence, charges that carry a sentencing enhancement for fleeing the scene of a crime, according to Riverside County court records. His bail was set at $10 million.
Authorities said they have not found the Nissan Altima that Leyva-Gallegos was believed to have been driving.
Zuniga, meanwhile, was charged with two counts of murder, along with one count each of driving without a license and failing to carry proof of insurance, records show. He is being held on $2-million bail and has pleaded not guilty.
Police say street racing incidents are on the rise, driven by popular culture and the use of social media to put on what racers call "takeovers," where people use their cars to block off streets or intersections to stage races.
At least 179 people have died in Los Angeles County alone since 2000 in accidents where street racing was suspected, according to a Los Angeles Times analysis of coroner's records, police reports and media accounts from 2000 to 2017.
"It was extreme negligence for them to be racing in a residential area at the time they were racing," said Carlos, the pastor.
Carlos provided The Times copies of two letters Lola Gonzalez wrote about her younger brothers and read at their funeral. She remembered Tony as a curious boy who asked questions about everything, loved dinosaurs and documentaries, and never went to church without a tie on. He wanted to be a vlogger.
"Even as he was getting older he loved ties," she wrote. "Whenever we would go to church, he would ask to wear his tie all the time, he would never want to leave without it."
Tony was a vegetarian for a week, she wrote, because he hated that people killed animals. But then he went to El Pollo Loco and "gave up that vegetarian life cause pollo was too good," Lola wrote.
Dominick, the sister wrote, wanted to be a cop so he could help people. He looked up to Tony — whenever they went to the store together, Dominick would say, "Let's get something for Tony!" The 6-year-old loved pizza, tacos and his mom's tamales.
"Almost every weekend he would ask my mom when she was gonna make her tamales," Lola wrote.
Carlos said the Gonzalez family has been attending church services for about five years, and the boys, who attended Manuel L. Real Elementary School, were active in Vacation Bible School.
"They participated a lot, they really liked to worship," Carlos said. "They actually, more than regular kids, they had a lot of faith in God. They liked to follow the rules."
alene.tchekmedyian@latimes.com
Twitter: @AleneTchek
---
UPDATES:
10:45 p.m.: This article was updated with quotes from letters written by the boys' sister.
May 30, 9:50 p.m.: This article was updated with more details from court records about the moments before the crash.
This article was originally published May 29 at 10:40 p.m.
---
For reporting and exclusive analysis from bureau chief John Myers, get our California Politics newsletter.
You may occasionally receive promotional content from the Los Angeles Times.