Pavement preservation: L.A. fixes mediocre streets while the worst fall into further disrepair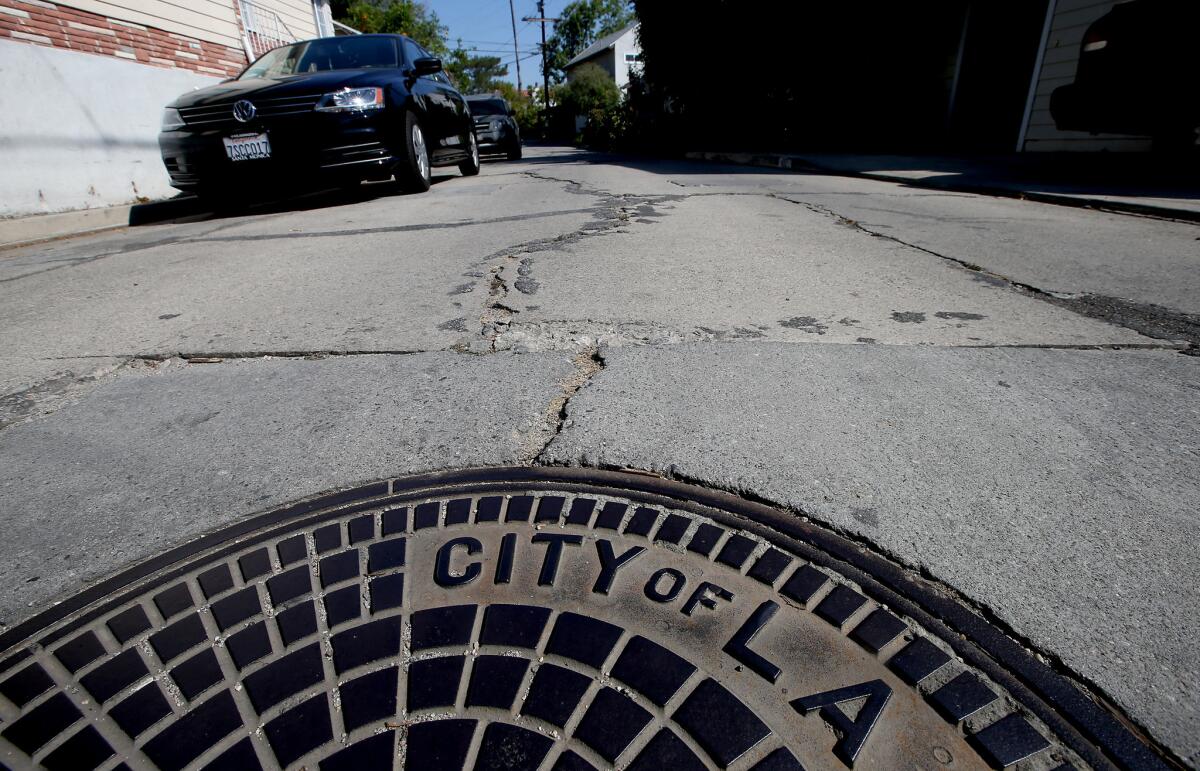 Even as Mayor Eric Garcetti touts improving streets in Los Angeles, some areas rife with crumbling roads have seen them fall further into disrepair, a Times analysis shows.
City streets have gotten better over the past three years, as the overall pavement quality grade has increased to a C-plus. Those gains are especially striking in the San Fernando Valley, where the improvement rate was double that found in the rest of the city.
But neighborhoods such as Mount Washington and Silver Lake, which ranked among the shoddiest in a Times analysis three years ago, have gotten worse.
The inequity is the result of a strategy akin to reverse triage: Unable to pay to fix all its broken streets, L.A. has chosen to spend its money to preserve so-so roadways — and largely ignore the very worst.
City leaders say they have little choice. Tackling the most battered streets would chew up so much cash that the city would be unable to prevent salvageable ones from sliding into disrepair, according to public works officials. Unless the city gets a lot more money, they say, the worst roads will remain the worst.
In Mount Washington, many uneven concrete streets are scarred by utility work. Longtime resident Christopher Howard said some spots are so bad he has to remind friends to look down to avoid twisting an ankle.
"There's really no sign of the city improving things," Howard said. "It feels kind of unfair. We're definitely paying property taxes."
L.A. is spending more to fix streets than it used to: With a larger budget in the aftermath of the economic downturn, the street services bureau has stepped up road-repair efforts, repaving and slurry sealing nearly 7,000 lane miles of streets since mid-2013.
More than 70% of streets that had gotten a C grade were maintained or improved since 2013, compared with less than half of failing streets.
For example, in the Los Feliz Estates subdivision, most streets repaved by work crews had been graded C or above. Meanwhile, almost 80% of the failing streets in the rest of the neighborhood deteriorated.
MAP: See your street's grade »
Areas with concrete streets also were neglected: About 5% of city roadways are made of concrete, and nearly all have worsened in recent years, falling deeper into disrepair while asphalt roads have collectively improved, The Times review shows. Many of those concrete roads are in older, hillside neighborhoods, mostly on the east side and the Hollywood Hills.
"We all know that our street needs to be repaired — and we don't have any expectation that it's going to happen in our lifetime," said Mark Kenyon, vice president of land use for the Mount Washington Homeowners Alliance.
Meanwhile, the San Fernando Valley neighborhoods of Sunland, Porter Ranch, Chatsworth, Valley Glen, Panorama City and Arleta all saw their scores improve by double digits. Those areas have few concrete streets. Overall, San Fernando Valley residents benefited the most as road-quality scores there climbed 8.6%, compared with 3.6% in other parts of the city.
The city also prioritizes fixing larger streets with heavier usage, which means that narrow, residential streets are less likely to be repaired. The analysis found that major thoroughfares were improved at five times the rate of residential streets.
For instance, Hancock Park saw its overall grade jump to a C from a near-failing grade a few years ago. Anger over its shoddy concrete streets became a key issue in the tony central city neighborhood last year as political candidates competed to replace longtime City Councilman Tom LaBonge.
David Ryu, who defeated a LaBonge aide for the council seat, recently launched a pilot program to begin repairing concrete streets in the area. But the boost in street quality there appears to be the result of big thoroughfares such as Highland Avenue and Beverly Boulevard being repaved with asphalt in recent years — not fixing the narrower concrete streets lined with gracious homes.
City officials had hoped to smooth over geographic differences in street quality: Three years ago, street officials said their goal was to bring the overall grade of roads in each city council district to the same level.
However, the gap between the best and the worst council districts remains. The highest score — just shy of a B — goes to the council district represented by Councilman Joe Buscaino, which includes Watts and San Pedro. The lowest is a C-minus found in Ryu's district, which spans Sherman Oaks, the Hollywood Hills and Miracle Mile.
For residents whose neighborhoods have heavy concentrations of failing and concrete streets, Kevin James, president of the Board of Public Works, was frank: "It's just, without additional funding, going to take a very long time."
Improving L.A.'s street network is a tall order. It's the largest municipal system in the country, with 28,000 lane miles of paved roadway.
The city began using a computerized pavement-management system in the late 1990s to help plan street maintenance. Driving around the city in a van equipped with cameras and lasers, workers have created a road-quality database.
The city scores each street segment on a 100-point scale called the pavement condition index, and those scores are converted to letter grades, with 40 and below considered an F.
The city uses that data to prioritize fixes. About one-third of the streets are graded D or F, but James said it's more cost effective for the city's Bureau of Street Services to maintain roads graded C or higher than to let them fall below that level.
Fixing a broken concrete street can cost up to 36 times as much as repairing a C street, according to the public works department.
The trade-off is nonetheless a frustration to both residents and politicians.
"Our strategy for maintaining streets is akin to a doctor amputating a leg that's infected with gangrene in order to save the patient," Buscaino said at a transportation committee hearing in May. "This is not a viable long-term strategy for a world-class city like Los Angeles."
Laura Lake, a board member of Fix the City, said she is appalled by the number of potholes and pockmarked roads she sees, despite the overall road-network improvements.
"I know that more and more, I feel like I'm driving through a Third World city," Lake said. "A city that can't deliver basic services is not a world-class city; it's a delusional city."
In June, Los Angeles County transportation officials announced they would put a measure on the November ballot for a half-cent sales tax increase to fund rail expansion and road improvements. A motion by Buscaino and Councilman Mitchell Englander would set aside at least two-thirds of the estimated $55 million in "local return" money generated annually by the ballot measure for the repair of D- and F-rated streets.
James said that without a budget infusion, the current pavement-preservation strategy will produce diminishing returns — the failing streets will never get fixed, and the mediocre streets will stay at the same level.
"We are going to hit a wall at some point," James said. "I would like to improve the [pavement quality] at the same rate, but I don't know how much longer we can do it."
Twitter: @bposton
Twitter: @LATimesemily
ALSO
Plaschke: Hope Solo's remarks show the Olympics don't always bring out the best
To be young, rich and Chinese in America: Amid all that flashy spending, a sense of loss
Trump spokeswoman says (incorrectly) that it was Obama who 'went into Afghanistan'
Sign up for Essential California for news, features and recommendations from the L.A. Times and beyond in your inbox six days a week.
You may occasionally receive promotional content from the Los Angeles Times.