Marion 'Suge' Knight hospitalized again as he awaits trial in murder and robbery cases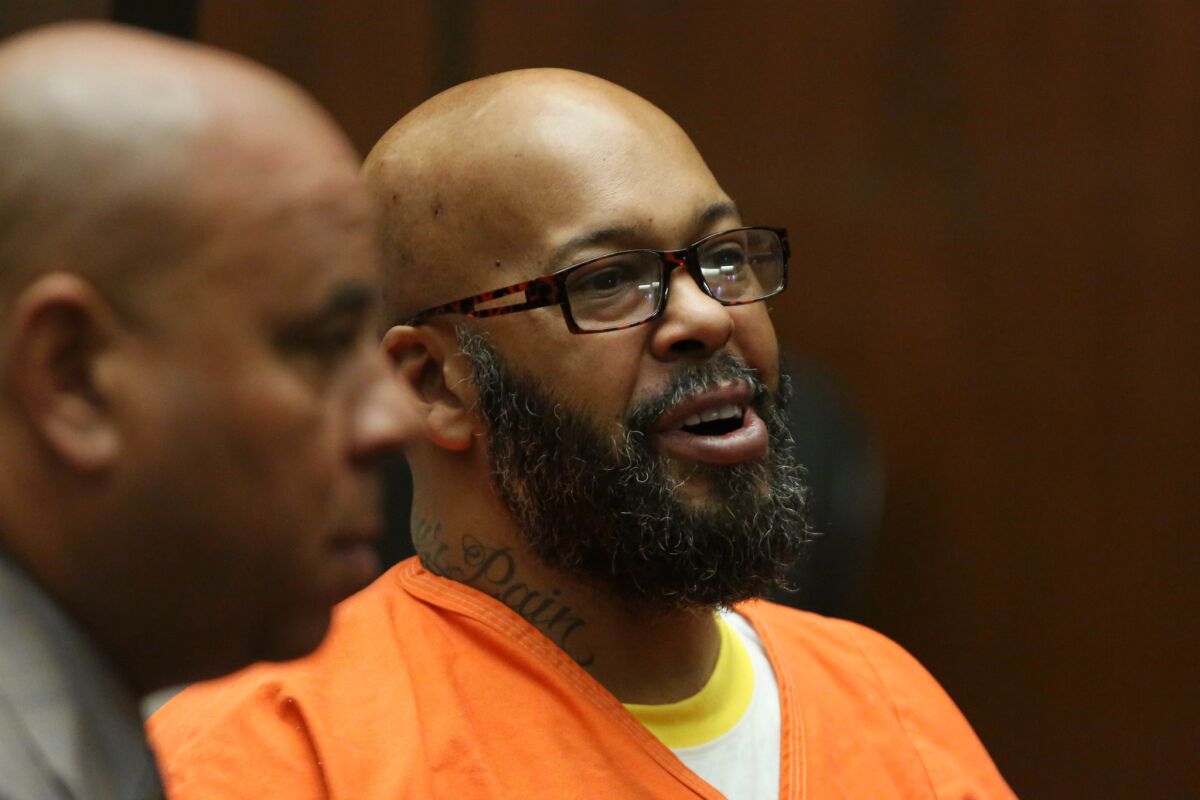 Marion "Suge" Knight has been hospitalized for an undisclosed medical condition as he awaits trial in two robbery and murder cases, authorities said Thursday.
The 51-year-old former rap mogul, who has been jailed since January 2015, was taken Tuesday to an area hospital, where he remained in stable condition, said Nicole Nishida, a spokeswoman for the Los Angeles County Sheriff's Department.

For the record:
12:17 a.m. Dec. 7, 2022An earlier version of this article quoted Deputy Dist. Atty. Cynthia J. Barnes as saying that Marion "Suge" Knight "did it for the cameras," in reference to Knight's health issues. She said Knight "did it in front of the cameras."
Nishida declined to disclose details about Knight's health condition because of medical privacy laws. According to the Sheriff's Department's jail records, Knight is receiving care at Los Angeles County-USC Medical Center.
His fiancée, Toi-Lin Kelly, told the New York Daily News he is suffering from life-threatening blood clots. Kelly told the newspaper she is afraid Knight isn't receiving proper medical treatment at the jail.
Knight's ailments have landed him in and out of hospitals since his arrest in 2015.
He is being held in lieu of $10-million bail on charges of murder and attempted murder. Authorities say he ran over two men with a truck on Jan. 29, 2015, at Tam's Burgers in Compton. Terry Carter died, and Cle "Bone" Sloan was seriously injured.
Before Knight was charged with murder, he and comedian Micah "Katt" Williams were accused of stealing a photographer's camera on Sept. 5, 2014, outside a Beverly Hills film and TV studio. They were charged with robbery and ordered to stand trial.
During the course of Knight's legal predicaments, he has changed his legal team more than half a dozen times and has been hospitalized several times, sometimes immediately after court hearings.
He collapsed and was hospitalized twice during two court appearances in February 2015. He was taken to the hospital for stomach-related medical issues and an unspecified emergency.
Knight has complained repeatedly of stomach issues and an ongoing medical complication, which resulted from being shot multiple times in 2014 at a West Hollywood nightclub.
When Knight appeared in court in March 2015, he was taken to a jail hospital after saying that he couldn't "really comprehend" what was happening.
"I can't really see," he said in court, while wearing eyeglasses. "I can't really comprehend what's going on."
He also complained about how much weight he'd lost in jail, saying he has shed about 30 pounds.
Later that month, he collapsed again in court after his bail in the murder case was set at $25 million. During that hearing, Knight appeared to tense up, and his left shoulder was twitching. He was briefly unconscious and received treatment at a jail hospital.
At the time, Deputy Dist. Atty. Cynthia J. Barnes said she believed Knight "did it in front of the cameras."
Then at an April 8, 2015, hearing, he was wheeled into the courtroom on a stretcher-type chair.
A week later, Knight was taken to a hospital for another "medical emergency" after he was ordered to stand trial.
Then in May 2015, he claimed he was sick and refused to exit his jail cell for a scheduled court hearing in the robbery case.
A month later, a Los Angeles County Superior Court judge denied a request made by Knight's attorney for private medical treatment.
A hearing in Knight's murder case is scheduled Monday in downtown L.A., according to Los Angeles Superior Court records.
Twitter: VeronicaRochaLA
ALSO
Freed inmate hijacks car in jail parking lot, authorities say
San Fernando pastor seriously injured in attack
UC is moving forward with Mexican initiative, regardless of Trump actions
---
The stories shaping California
Get up to speed with our Essential California newsletter, sent six days a week.
You may occasionally receive promotional content from the Los Angeles Times.