Twists and turns in murder case of Marion 'Suge' Knight add up to drama — even before the trial begins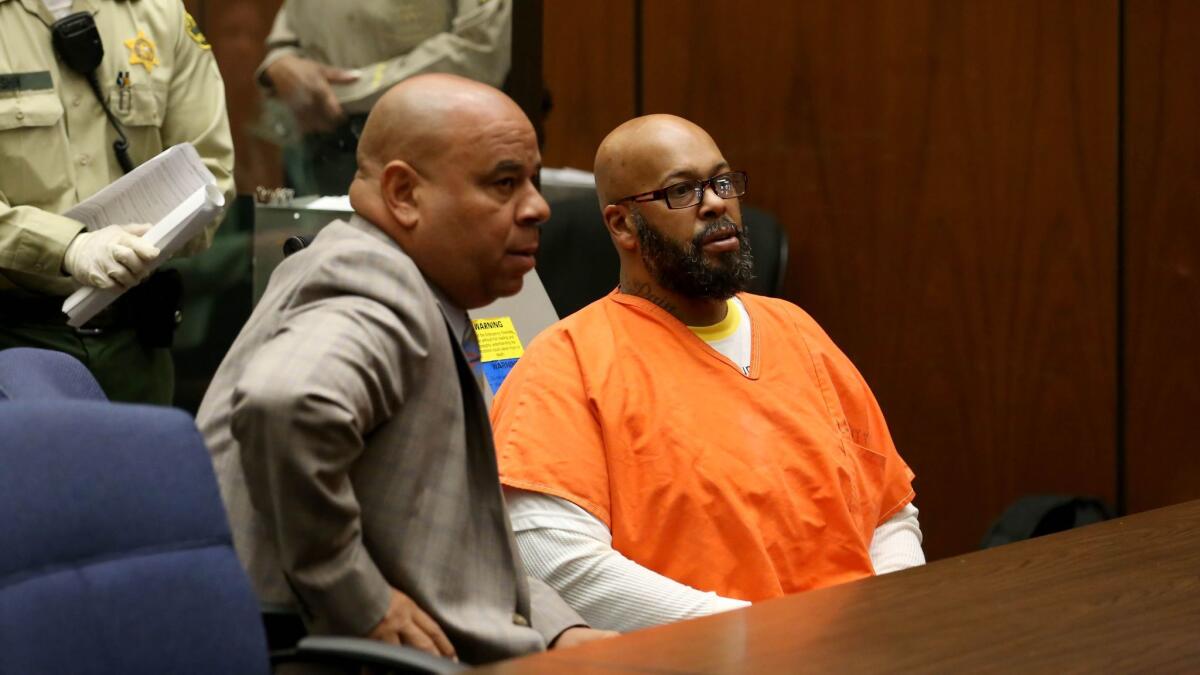 In a courthouse in Los Angeles, a city accustomed to legal matters both bizarre and star-studded, the years-long drama centered on former rap mogul Marion "Suge" Knight is shaping up to be a standout.
While awaiting a murder trial, Knight has become the star of a legal circus complete with a revolving door of attorneys, the defendant collapsing in court and, in true L.A. fashion, the leaking of sealed evidence to the celebrity news website TMZ.
This week, the sideshow that already ensnared Knight's fiancee and business partner expanded as authorities on Thursday arrested two of the rap impresario's former attorneys, accusing them of acting as "accessories after the fact."
Matthew Fletcher and Thaddeus Culpepper had been held in lieu of $1-million bail. But in an unexpected turn, both were released late Friday, sheriff's officials said in a statement.
"The case is very complex in nature, requiring further review by the Los Angeles County district attorney's office," the statement said. "Mr. Culpepper and Mr. Fletcher were released from custody today, pending an evaluation into the complexities of the case."
It is unclear exactly what charges the attorneys might face. Prosecutors alleged in court papers filed last year that they and others tampered with witnesses and discussed bribes connected to Knight's murder case. But the district attorney's office did not file chargesFriday, and investigators would not comment further.
It was the latest twist in an already memorable case, one that experts say points to concerns prosecutors may have over Knight's ability to dissuade or intimidate witnesses who could testify against him.
"It is unusually more aggressive than any other case that we've seen in many years," Lou Shapiro, a Los Angeles criminal defense attorney, said of the arrests. "And that's because there's an actual and realistic fear that a witness, or more than one witness, will actually disappear."
The Compton-born Knight, 52, is the co-founder of Death Row Records, a record label that helped push gangsta rap into the mainstream with stars including Tupac Shakur, Dr. Dre and Snoop Dogg.
He is expected to stand trial soon on charges that he barreled his truck into Terry Carter and Cle "Bone" Sloan in the parking lot of a Compton burger stand in January 2015, after a dispute on the set of the movie "Straight Outta Compton."
Carter, 55, died of his injuries. Sloan was seriously injured.
Footage from a security camera — the video that was later leaked to TMZ — shows Knight plowing his truck into the men. Knight, who fled the scene but later returned, pleaded not guilty and says he acted in self-defense.
Just three months earlier, Knight was charged with robbery after prosecutors alleged he and comedian Micah "Katt" Williams chased a woman and stole her camera in Beverly Hills.
Knight's court appearances were dramatic from the start. He was hospitalized after pleading not guilty to the murder and attempted murder charges, and was rushed to the hospital again before another hearing connected to the robbery case. When a judge set his bail for $25 million, Knight collapsed in the courtroom.
Meanwhile, investigators were digging in.
Prosecutors later alleged in court documents that just two weeks after the deadly hit-and-run, Knight's fiancee, Toi-Lin Kelly, and business partner, Mark Blankenship, began arranging the sale of the video to TMZ for $55,000.
The grainy footage, taken from a security camera at Tam's Burgers, shows Knight's red Ford F-150 Raptor pickup ramming into Carter and Sloan.
"I can't wait to get this video to you," Kelly texted a TMZ correspondent in February 2015, according to court records.
Prosecutors alleged Kelly and Blankenship knew the video was under a protective court order. They were charged with conspiring to violate that court order, obstruct justice and commit grand theft.
Last fall, Kelly pleaded no contest to violating the court order. Under the deal, the other two charges were dropped.
In February 2017, a grand jury indicted Knight in a third case, in which he was accused of threatening F. Gary Gray, the director of the N.W.A biopic "Straight Outta Compton." Knight was furious about his depiction in the film and the fact that he had not been paid, according to court records.
He repeatedly called and sent the director text messages laced with expletives, gang terminology and a racial slur, the court records said.
"I will see u in person … u have kids just like me so let's play hardball," Knight wrote.
In another message, he bragged about being from "Bomton," using Bloods slang. Knight then allegedly told Gray that he would "make sure" the director and others received "hugs" — slang for physical violence, detectives told the grand jury.
The messages left Gray so shaken that he spent nearly two days dodging questions about the incident during the grand jury hearing, according to transcripts that were later made public. During the hearing, he repeatedly said he could not remember anything about the messages — claims that one prosecutor said underscored his fear of Knight.
"He's so afraid he came in here and lied under oath," Deputy Dist. Atty. Cynthia Barnes told the grand jury. "He's perjuring himself because he's that afraid."
Another bombshell came late last summer, when prosecutors alleged in a 22-page court filing that Knight and Fletcher had discussed bribing witnesses to fabricate testimony in Knight's murder trial. Prosecutors pointed to a series of recorded phone calls made in early 2015, in which Kelly and Blankenship were also on the line.
During those calls, prosecutors allege, the group talked about paying witnesses to say they saw either the victims or others at the burger stand with a gun — a move that would bolster Knight's claims of self-defense.
By that time, Fletcher was no longer representing Knight in the murder case. But prosecutors asked the court to conduct its own inquiry into whether Fletcher had a conflict of interest in representing Knight in the threat case, in part because investigators had "gathered evidence of possible witness tampering, bribery, conspiracy to violate a court order and obstruction of justice on the part of attorney Fletcher."
When the filing was unsealed last August, Fletcher denied wrongdoing, telling The Times that prosecutors had taken his words out of context. Any talk of money, he said, was about attempts to obtain cellphone video of the hit-and-run.
In the filing, prosecutors also said Culpepper agreed to pay an informant for "his sworn testimony that he was present at the time of the crime and [witnessed] evidence favorable to the defense."
Though calls between Fletcher and Knight normally would have been protected by attorney-client privilege, a judge allowed investigators to listen to recordings if Knight called someone who then put Fletcher on the line, thus breaking the privilege.
The move drew mixed reviews from attorneys not affiliated with Knight's case. Shapiro said he worried it would have a chilling effect between lawyers and clients who are already in custody. But Eric Schweitzer, treasurer of the California Attorneys for Criminal Justice, said attorney-client privilege is broken if a non-attorney, or a person not employed by an attorney, is on the call.
"You're my client, and I say to you, 'OK, meet me at the Denny's,' and we sit down at the counter and we start yakety-yaking about the case, and ... the waitress overhears me saying, 'You know, you shouldn't have ditched the gun in the storm drain in front of Pico and La Brea,'" he said. "There's no privilege there. We haven't communicated in a way that we would have any reasonable, subjective expectation of privacy."
Fletcher slammed the move at the time, telling The Times it was "fairly reprehensible."
Culpepper also chastised the district attorney's office.
"The facts in this case are extremely compelling and overwhelmingly prove Mr. Knight's innocence," Culpepper wrote in an email to The Times in August. "No amount of prosecutorial spin or mudslinging will change that!"
Neither attorney could be reached for comment after their arrests Thursday.
For more breaking crime and cops news in Southern California, follow me on Twitter: @JamesQueallyLAT
Sign up for Essential California for news, features and recommendations from the L.A. Times and beyond in your inbox six days a week.
You may occasionally receive promotional content from the Los Angeles Times.