Threatening messages from Suge Knight left 'Straight Outta Compton' director terrified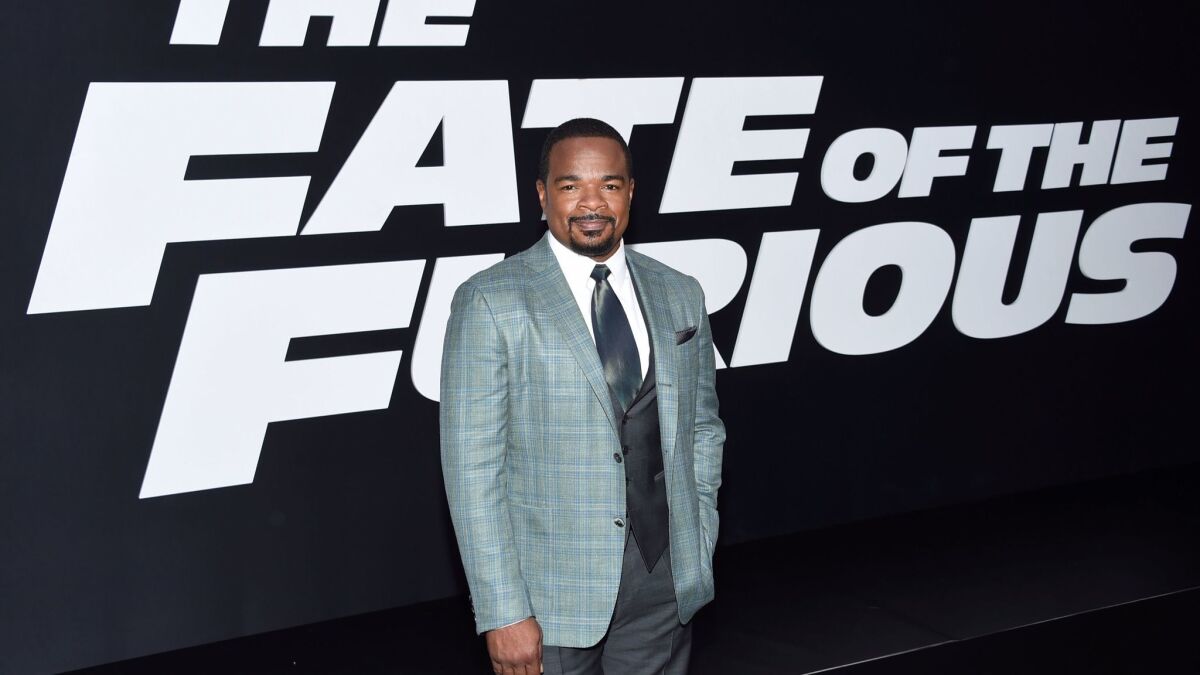 F. Gary Gray was standing on a South L.A. street, filming a scene for the N.W.A biopic "Straight Outta Compton," when the acclaimed director received a phone call from one of the men depicted in the movie.
Marion "Suge" Knight was on the other end of the line, and he was angry, according to testimony by detectives this year. Knight, the Compton-born former rap mogul who founded Death Row Records, was furious about his depiction in the film and the fact that he had not received any compensation, court records show.
Eventually, Gray hung up. At least two more phone calls came, but Gray ignored them. A text message soon followed.
"I will see u in person … u have kids just like me so let's play hardball," Knight, 52, wrote, ending the message with a pair of expletives and a racial slur, according to court records.
The messages left Gray so shaken that he spent nearly two days dodging questions about the incident during a grand jury hearing this year, according to transcripts made public for the first time Friday afternoon.
During the hearing, Gray repeatedly said he could not remember anything about the messages, according to a copy of the transcripts reviewed by The Times. At one point, Gray seemed to have difficulty even recalling details about the film he'd directed, which was nominated for an Academy Award and received numerous other tributes.
The director's testimony — or lack of it — illustrated the level of fear Knight had instilled in Gray, Deputy Dist. Atty. Cynthia Barnes told the grand jury.
"He's so afraid he came in here and lied under oath," Barnes said. "He's perjuring himself because he's that afraid."
The February hearing resulted in grand jurors indicting Knight on a charge of threatening Gray with death or great bodily injury, one of several turns in a now years-long legal saga for Knight, who is also awaiting trial in separate homicide and robbery cases in Los Angeles County.
Dominique Banos, a defense attorney who is representing Knight in the criminal threats case and is also part of the defense team in his pending homicide trial, said she does not believe the phone from which the text messages were sent actually belongs to her client.
The gang references in the texts sound "like law enforcement language," said Banos, who also pointed to Gray's testimony as a sign her client should not be indicted.
"It was basically just feeding the grand jury what it needed to be fed in order to get an indictment," she said of the testimony of police officers contained in the transcripts.
Banos also said she believes the threats case was filed in order to bolster the prosecution's hopes of winning a conviction in the homicide case.
Prosecutors say Knight's frustration with the N.W.A film boiled over in January 2015, when he rammed his Ford F-150 Raptor pickup truck into two men outside Tam's Burgers in Compton after a dispute on the set. Terry Carter, 55, died of his injuries. Another man, Cle "Bone" Sloan, was seriously injured but survived.
Knight surrendered a short time later and said he was acting in self-defense. In a court filing made public this month, Knight contended his former business partner and N.W.A member Dr. Dre paid $20,000 to have him killed, arguing that a hit man was present at Tam's on the day of the killing.
An attorney for Dre, whose real name is Andre Young, said the accusation was "absurd."
Knight has also been charged with stealing a camera from a photographer in Beverly Hills in September 2014. He has pleaded not guilty in each case.
In the text messages sent to Gray on Aug. 8, 2014, Knight used gang terminology and made reference to other N.W.A members, according to the transcripts.
"I'm from Bomton," Knight wrote, using well-known Bloods slang. "I'm a Blood criminal street gang member from the city of Compton … Time has arrived Faith in God keep ppl safe. The Devil's Money can't save No 1."
Knight is a member of the Mob Piru set of the Bloods gang, according to detectives. He also wrote that he would "make sure" Gray, Young and Ice Cube — another N.W.A member and actor whose real name is O'Shea Jackson — would receive "hugs," slang for physical violence, according to testimony given by detectives.
You seem to have a black hole memory when it comes to this individual incident.
— Prosecutor Cynthia Barnes, while questioning director F. Gary Gray
When police arrived at the film set, Gray "seemed extremely agitated as well as extremely frightened," according to the testimony of Los Angeles Police Det. Jason Cook, who responded to the scene that day.
Gray told detectives Knight had threatened his family and members of the film crew and that he was angry over his portrayal, according to Cook's testimony.
In the movie, Knight — played by actor R. Marcos Taylor — is a powerful and often-menacing figure. During a scene inside a recording studio, Knight threatens another N.W.A founder, Eazy-E, and then watches as two men beat him up. In another scene, Knight repeatedly pistol-whips a man for taking his parking spot.
In the grand jury hearing, Gray was evasive when asked by a prosecutor whether Knight was depicted as violent in the film, only acknowledging that the character took part in a "fight scene." The director repeatedly said he could not remember anything about the phone calls, text messages or any communication he had that day with Knight.
"I can't say I remember being threatened by him specifically," Gray said, according to the transcript.
On several occasions, prosecutors scolded Gray for dodging questions. Gray was ordered into two separate hearings about his refusal to answer questions, but transcripts of those proceedings were not available Friday.
As the hearing continued, prosecutors expressed their frustration.
Deputy Dist. Atty. Valerie Aenlle-Rocha asked Gray to detail the films he had directed, which include the most recent installment of "The Fast and the Furious" series and the South L.A.-based "Friday." She asked him to name the actors involved in each film, then questioned how he could remember all of that but draw a blank when it came to the incident with Knight.
At another point, Aenlle-Rocha asked him if he had been using drugs that might have affected his memory on the date he received the calls and texts. The director said no.
Gray did not want to be involved with the case in any way, according to testimony from Los Angeles County Sheriff's Sgt. Richard Biddle, the lead investigator in Knight's homicide case. Biddle said he had trouble serving Gray with a subpoena to appear at the grand jury hearing, ultimately tracking him to Los Angeles International Airport as the director was about to board a flight out of the country.
Gray asked the homicide investigator to escort him in and out of a downtown courthouse during the grand jury proceedings to protect him from reporters and "Knight's gang members," according to Biddle's testimony.
"You're a bright guy. You're smart," Barnes told Gray during the grand jury hearing. "You remember a lot, and you seem to have a black-hole memory when it comes to this individual incident."
For more crime and courts news in Southern California, follow us on Twitter: @JamesQueallyLAT and @marisagerber
ALSO
HBO's 'The Defiant Ones' a fascinating look at music's odd couple
'Suge' Knight hires new attorney to represent him in criminal threats case
A&E documentary 'Biggie: The Life of Notorious B.I.G.' takes a fascinating — and authorized — look at the rapper's too-short story
---
UPDATES:
5:40 p.m.: This article was updated with comments from Knight's attorney.
This article was originally posted at 7:45 a.m.
The stories shaping California
Get up to speed with our Essential California newsletter, sent six days a week.
You may occasionally receive promotional content from the Los Angeles Times.