Over 5,000 swimmers rescued from rough water at L.A., O.C. beaches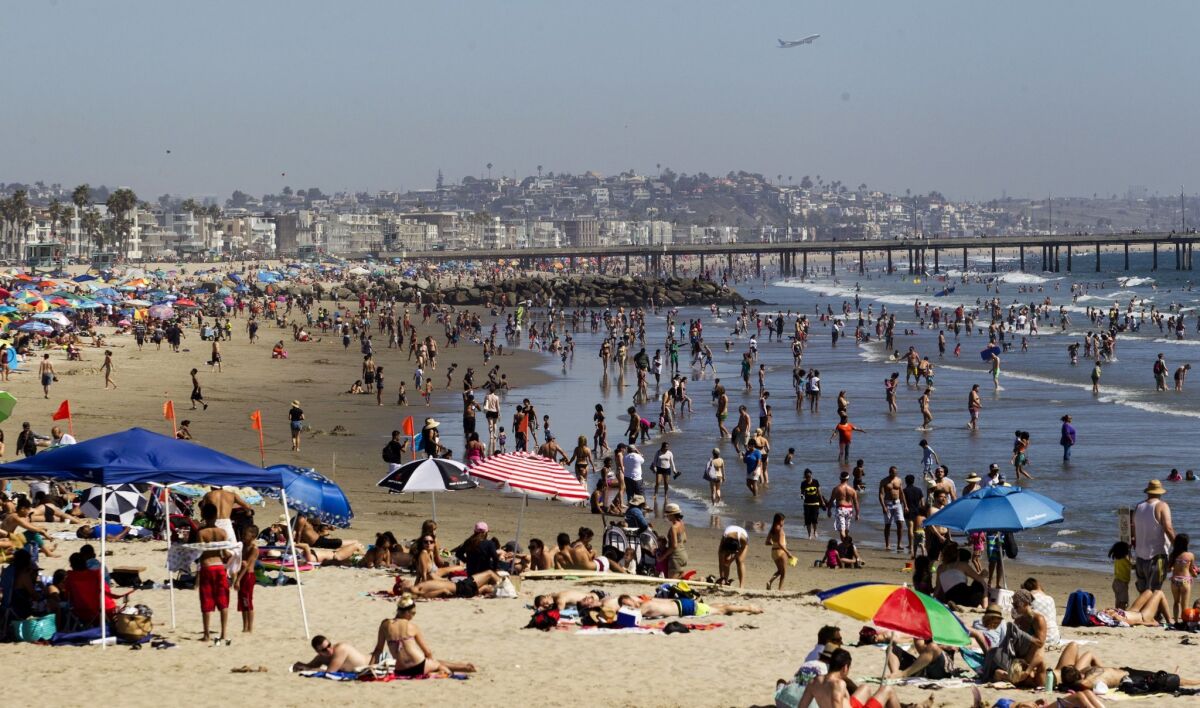 Lifeguards rescued more than 5,000 people overcome by high surf and dangerous rip currents at beaches in Los Angeles and Orange counties over the Labor Day weekend.
In Los Angeles County, the hot temperatures and warm water brought more than 3.2 million visitors to area beaches. Although the sand was toasty, the ocean was less inviting.
High surf with waves reaching 7 feet and strong currents proved to be too much for 2,036 swimmers, who had to be rescued from the ocean. That's up from 1,207 from last year's Labor Day weekend, said John Greger, spokesman for the Los Angeles County Fire Department's Lifeguard Division.
Lifeguards warned or stopped 101,635 people from entering the water in L.A. County as dangerous rip currents formed.
Rip currents were blamed for the death of a swimmer who struggled Thursday to stay afloat in water near Avenue 19 in Venice.
The man and two other friends were 200 yards from shore as the currents swept them farther out to sea. Lifeguards were able to rescue the man's friends, but he disappeared under the waves and was pulled from the water an hour later.
Strong rip currents and surf forced the closure of Sacred Cove on the Palos Verdes Peninsula during the weekend.
In Orange County, lifeguards rescued more than 3,600 swimmers, the Orange County Register reported.
Lifeguards pulled 258 people from rough waters near south Laguna Beach and Dana Point, said Orange County Lifeguards Chief Jason Young.
"Most of them were scary rescues," he said.
At least one swimmer pulled from the water was unconscious and was airlifted to an area hospital.
Rip currents form at breaks in sand bars and near jetties and piers, according to the National Weather Service. The strong currents have an average speed of 1 to 2 feet per second and flow away from the shore at surf beaches.
Some currents can move as fast as 8 feet per second, which the weather service says is faster than an Olympic swimmer.
Forecasters advise beachgoers to enter the ocean only if lifeguards are present. If you are caught in a rip current, remain calm. Lifeguards and forecasters say it's best to relax and float to conserve energy.
Interested in the stories shaping California? Sign up for the free Essential California newsletter >>
Don't fight the current and do not swim directly toward the shore. Swimmers should paddle parallel to the shoreline to break away from the current's pull. After escaping the current, swim at an angle away from the current then toward the shore.
Strong surf and dangerous rip currents will begin to diminish Tuesday night as temperatures climb into the 100s for Southern California's valleys and deserts, according to the National Weather Service. Ocean temperatures will remain unusually warm.
In Hermosa Beach, ocean temperatures reached 76 degrees by mid-day Tuesday.
For breaking news in California, follow @VeronicaRochaLA.
ALSO:
Massive wildfire in Sierra Nevada grows, triggering more evacuations
Police arrest bicyclist in San Francisco road rage attack
Dead squirrel found in Lake Tahoe had plague
---
The stories shaping California
Get up to speed with our Essential California newsletter, sent six days a week.
You may occasionally receive promotional content from the Los Angeles Times.