Supporters of former Undersheriff Paul Tanaka awarded $800,000 for alleged retaliation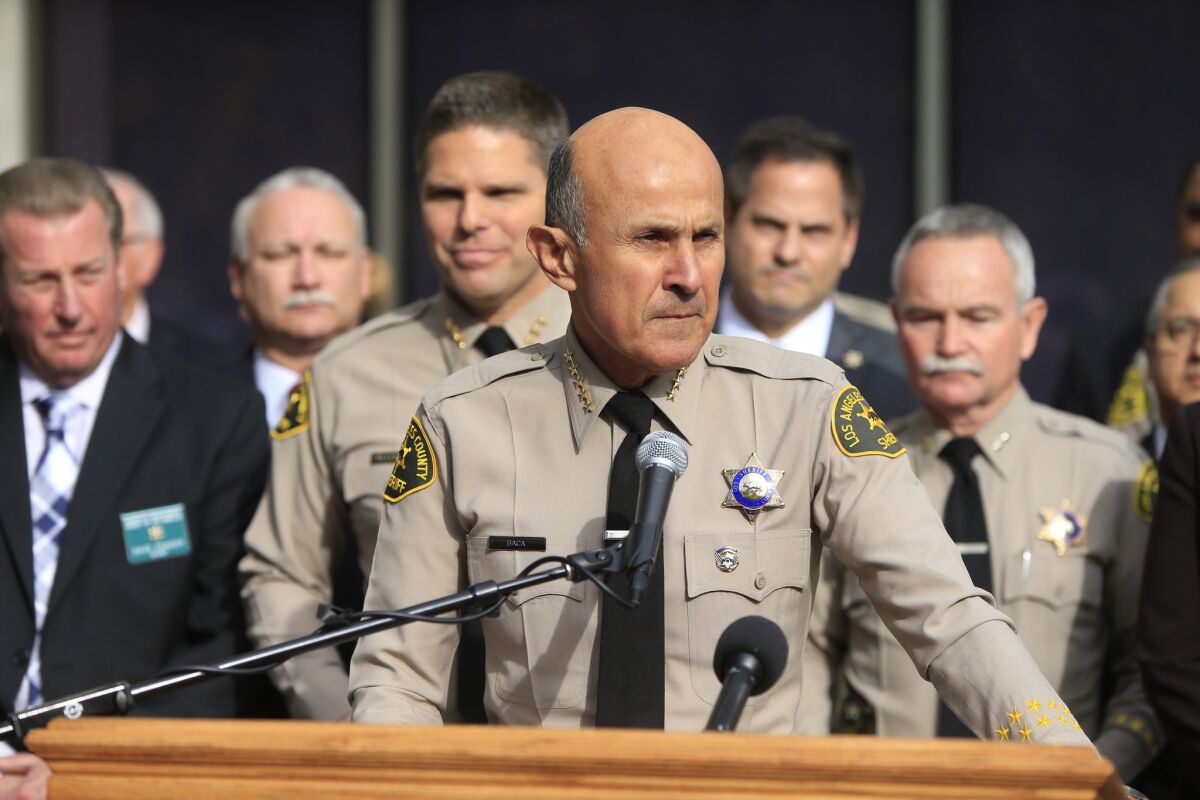 Shortly after going on a fishing trip with then-Undersheriff Paul Tanaka in June 2013, Capt. Chuck Antuna was transferred to a job that increased his daily commute by hundreds of miles.
In the Los Angeles County Sheriff's Department, such a transfer is commonly known as "freeway therapy."
Antuna sued the county and then-Sheriff Lee Baca, alleging that Baca transferred him because of his support for Tanaka, who planned to run for sheriff against Baca.
See more of our top stories on Facebook >>
On Tuesday, Antuna was among eight sheriff's officials awarded a total of $800,000 by a federal jury that agreed they were targeted with retaliation for supporting Tanaka.
Some of that money -- $45,000 per plaintiff – will come out of Baca's own pocket as punitive damages, according to Brad Gage, an attorney for the plaintiffs.
The rest of the judgment consisted of emotional distress awards to each plaintiff. No economic damages were awarded.
"This is a case about power – about a man who wanted to keep his power as sheriff of Los Angeles County," Gage said in closing arguments. "Absolute power can corrupt."
Reached by phone after the verdict, Baca said he did not retaliate against the plaintiffs and that there were other reasons for the transfers.
"That's the professional way to do things," he said. "All the professional standards of the department were met."
The trial provided a look back at the Baca-Tanaka era, where loyalty was prized and Tanaka bonded with his inner circle by smoking cigars on a private patio. Current and former top officials, including Baca, Tanaka and Interim Sheriff John Scott, testified in court or in recorded statements.
One plaintiff, Capt. Robert Tubbs, was allegedly the target of an internal investigation for smoking a cigar on duty.
Such an investigation would be "a little childish," Baca said in videotaped testimony.
Among the plaintiffs were three former Aero Bureau officials who were transferred after a controversy involving spare helicopter parts obtained from the federal government.
After the new sheriff, Jim McDonnell, took office, Antuna was transferred back downtown and now works at Men's Central Jail. Another plaintiff, Kevin Hebert, was recently promoted from captain to commander.
Tanaka was forced into early retirement by Baca, who himself stepped down abruptly in January 2014. Tanaka then ran against McDonnell for sheriff, losing by a wide margin.
In May, Tanaka was hit with criminal charges in a case that has resulted in convictions of eight sheriff's officials for allegedly obstructing a federal investigation into allegations of abuse and corruption by deputies in the county jails. He is scheduled to stand trial in March.
For more news on the Los Angeles County Sheriff's Department follow @cindychangLA on Twitter. She can also be reached at cindy.chang@latimes.com.
ALSO
Metrolink train cars that derailed in Oxnard had flawed parts, confidential report finds
L.A. County probation agency chief steps down amid allegations of a romantic relationship with aide
Ex-Border Patrol supervisor gets prison time for recording female co-workers in bathroom
---
The stories shaping California
Get up to speed with our Essential California newsletter, sent six days a week.
You may occasionally receive promotional content from the Los Angeles Times.