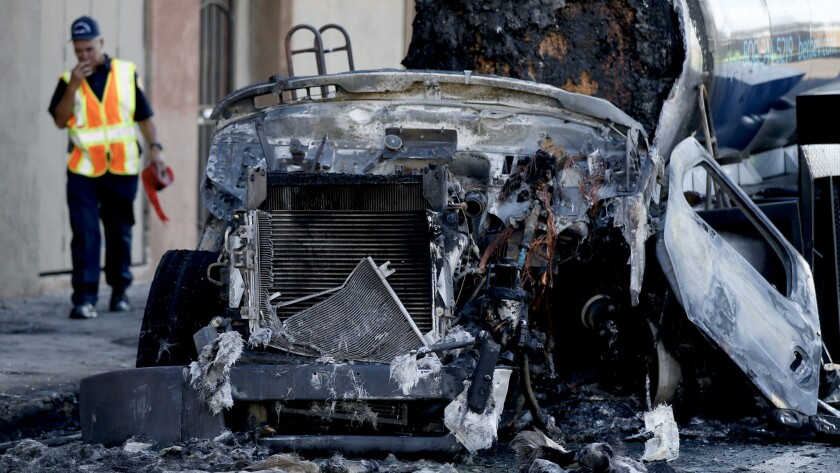 A head-on collision between a car and a tanker truck hauling carbon dioxide triggered a huge explosion that damaged a nearby building and shut down a downtown intersection early Monday, according to local media reports.
The crash occurred about 3:30 a.m. in the 1500 block of South Central Avenue, near where the street meets the 10 Freeway, and closed down the intersection with East 16th Street, KTLA reported.
See the most-read stories this hour >>
The tanker burst into flames after the crash but its 61-year-old driver managed to escape and was taken to a hospital, where he was listed in fair condition, KTLA reported. The driver of the car that hit the truck was taken to the hospital and was listed in critical condition, according to KABC.
The fire damaged the exterior of a nearby building but didn't cause interior damage, KABC reported.
Authorities said the car that collided with the truck was driving in the wrong direction on 16th Street, KABC reported.
ALSO
Police identify suspect in fatal stabbing and kidnapping in Santa Ana
Across L.A. County, law enforcement looks for resources to deal with the mentally ill
Donald Trump splits with campaign manager
For breaking California news, follow @JosephSerna
---