Eastbound lanes of 105 Freeway in Hawthorne reopened after fiery crash that killed two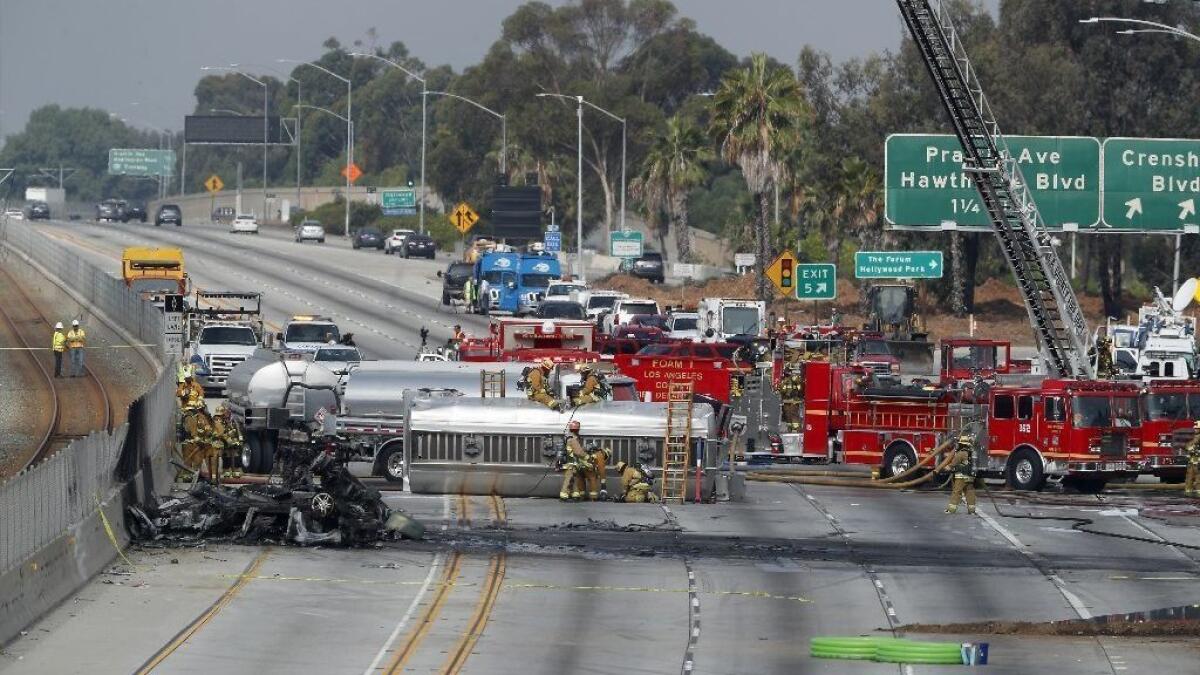 The eastbound lanes of the 105 Freeway in Hawthorne have reopened after a tanker truck collided with another vehicle early Friday, triggering an explosion and fire that shut down the freeway in both directions and closed the Metro Green Line, authorities said.
The crash occurred about 5:15 a.m. when a Range Rover and tanker truck collided near Prairie Avenue, according to the California Highway Patrol. The tanker burst into flames and sent a fireball shooting across the freeway.
Two people were killed, according to the Los Angeles Fire Department.
Sign up for our daily Essential California newsletter »
With lanes closed in both directions, some motorists began turning around and driving in the wrong way as they attempted to find an exit, witnesses said. At 8 a.m., the eastbound lanes of the freeway were reopened, but the westbound lanes remain closed, according to the CHP.
The Metro Green Line shut down service between Hawthorne, Lennon-Vermont and Athens because of the fire, which burned along the center divider and near the train tracks.
Los Angeles County Firefighters and CHP officers at the scene of a deadly accident involving a tanker truck and a Range Rover on the westbound 105 Freeway near Prairie Ave. in Hawthorne.
(Mel Melcon / Los Angeles Times)
Members of the California Highway Patrol inspect skid marks on the westbound 105 Freeway near Prairie Ave. following a fatal crash between a Range Rover and a tanker truck.
(Mel Melcon / Los Angeles Times)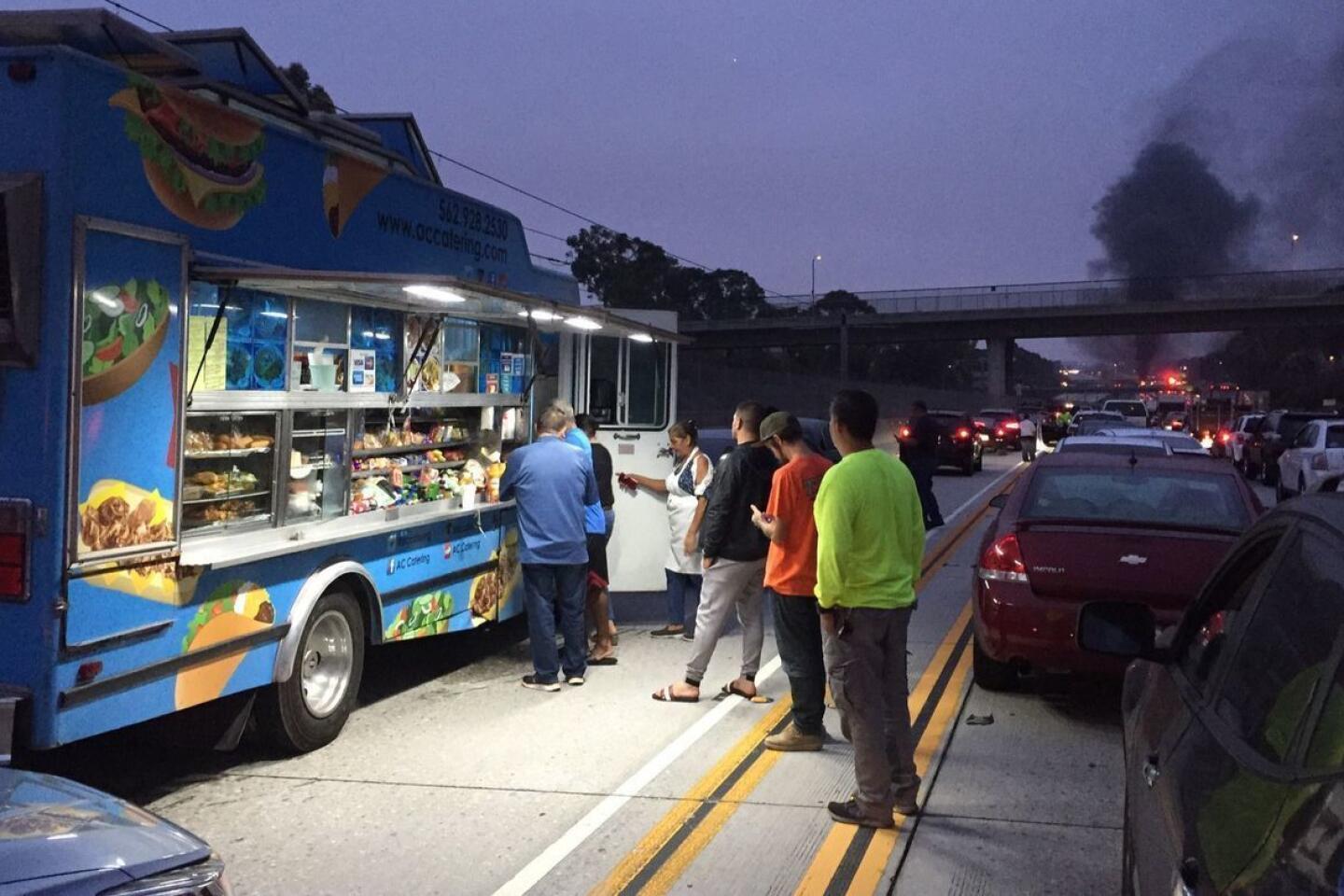 Commuters stuck on the westbound 105 Freeway form a line to buy snacks from a food truck that was among the vehicles caught in the traffic jam.
(Chris Keller / Los Angeles Times)
Motorists are backed up on the 105 Freeway after a fiery predawn crash shut down the freeway in both directions.
(Marc Martin / Los Angeles Times)
Jose Ubaldo, a Los Angeles County Metropolitan Transportation Authority spokesman, said a bus was dispatched to pick up Green Line passengers at the Hawthorne/Lennox, Crenshaw and Vermont/Athens stations. Major traffic on surface streets, however, slowed the process, he said.
"They're going to experience delays, but we're trying to accommodate people as much as possible," he said.
Ubaldo said it appears from video of the scene that there might be some damage to the Metro rail system, though it is unclear how extensive it might be. The tanker truck was smoldering next to a wall that divides the roadway from the rail system.
The crash shut the freeway down on both sides at Prairie Avenue. With nothing to do but wait, commuters began exiting their cars and meandering on the freeway. Others grabbed their luggage, hopped fences and walked down to city streets.
Among the stranded commuters was Chris Ayala from Ontario. Ayala inspects fire extinguishers and sprinklers and was on his way to Los Angeles International Airport to inspect systems in one of its parking structures when traffic came to a standstill. He was 10 minutes from the airport.
"[If] I didn't stop to get gas this morning I would have missed it," Ayala lamented.
The backup on the freeway stretched for miles. The CHP also temporarily closed the 110 Freeway carpool lane transition to the westbound 105 Freeway and 405 Freeway northbound to the eastbound 105, logs show.
There were no immediate details on what caused the crash.
Times staff writers Chris Keller and Hannah Fry contributed to this article.
For breaking California news, follow @JosephSerna on Twitter.
Times reporter Hannah Fry contributed to this article.
---
UPDATES:
11:10 a.m.: This article was updated with an interview with the food truck owner.
8:10 a.m.: This article was updated with additional reports of from CHP and Metro officials.
7:15 a.m.: This article was updated with the confirmation of two fatalities.
6:45 a.m.: This article was updated with additional closure details and reactions from commuters.
This article was originally published at 5:55 a.m.
Sign up for Essential California for news, features and recommendations from the L.A. Times and beyond in your inbox six days a week.
You may occasionally receive promotional content from the Los Angeles Times.