2 teens presumed dead after they're swept to sea off San Francisco beach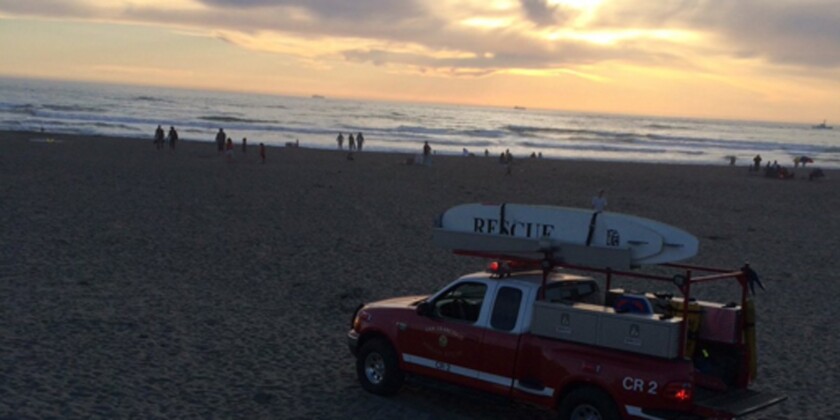 Two teens who were pulled into the surf and swept out to sea this weekend at San Francisco's Ocean Beach were presumed drowned after an hours-long search, authorities said.
The boys, both 17 and from Vallejo, had waded into the water with three friends about 4:20 p.m. Saturday, and the five — most of whom could not swim well — had linked arms as they walked into the ocean, San Francisco Fire Department spokesman Jonathan Baxter said.
The boys were about waist-deep when a strong wave or strong undertow knocked them off their footing and dragged them farther into the water. Four of the teens managed to swim to safety, but they realized their friend was still struggling in the water, so another boy went back into the ocean and tried to rescue him, Baxter said.
The two boys were probably carried as far as 15 miles from the scenic coast, where no lifeguards are on duty because the surf is considered too dangerous for swimmers.
Rescue crews from the U.S. Coast Guard and the Fire Department responded to the section of the beach, near Lincoln Way just south of Golden Gate Park, and used boats and a helicopter to scan a 9-square-mile area, Baxter said.
After a nearly five-hour search effort, law enforcement met with the boys' families and discussed the likely outcome: that the boys had drowned. About 9 p.m., the search was suspended and fire officials announced that the search would not resume Sunday. The names of the boys were not released.
The three friends who safely made it to shore were not injured but suffered from shock and were taken to a hospital as a precaution, Baxter said.
The Coast Guard predicted that since the boys each weighed about 130 to 140 pounds and were not wearing a personal flotation device like a life jacket, they could have drifted 6 to 15 miles out, possibly underwater.
The bodies are likely to drift ashore after seven days, but their families were informed that there's a "high possibility that the bodies won't" be recovered, Baxter said.
On Sunday, the Fire Department kept a "higher presence" at the beaches, with boats and rescue crews standing by in case of an emergency.
The warm weather has drawn more beachgoers than usual, who may risk the dangerous surf to cool off in the water. But Baxter cautioned against taking a dip.
"We have signs posted on stairwells to access the beaches: 'People swimming and wading have drowned here,'" he said.
For breaking news in California, follow @MattHjourno.
ALSO
Are you an independent voter? Not if you checked the American Independent box
Manson follower Leslie Van Houten, who has been recommended for parole, faces a fight from her victim's family
Much like her husband, Kobe, Vanessa Bryant has been a contradictory and at times polarizing public figure
---
For reporting and exclusive analysis from bureau chief John Myers, get our California Politics newsletter.
You may occasionally receive promotional content from the Los Angeles Times.