5 men died in a fire at a home for disabled adults. Their families ask: Why didn't they get out?
Miguel Ferreyra was, from what his sisters remember, a baby in the body of a young man. He couldn't talk. When he wanted something, he pointed and grunted. But physically, they say, he was always strong.
Jared Prudhomme had been diagnosed with autism at age 3. He also couldn't talk, and he needed help with most of the tasks required for daily living. But like Ferreyra, he was physically able, his former caretaker recalled.
In late August, Ferreyra and Prudhomme were found dead inside the burned remains of a state-licensed and funded home for severely disabled adults in Temecula Valley wine country. The home's administrator and two other men were also found dead.
Deputies with the Riverside County Sheriff's Department soon said they were investigating the deaths as homicides but have said little since. Coroner's officials say they have yet to determine a cause of death, though autopsies were completed and the bodies were released to the families.
Ferreyra's family and Prudhomme's former caretaker say they're desperate for information.
"Four people lost their lives. They were disabled. They were vulnerable and they were not able to help themselves," said Roslyn Ferreyra, Miguel Ferreyra's sister. "Why am I not able to get any information at all?"
The Renee Jennex small family home had been licensed since 2003 and served some of the most severely disabled individuals in the state — those with "deficits in self-help skills, and/or severe impairment in physical coordination and mobility, and/or severely disruptive or self-injurious behavior," according to state records.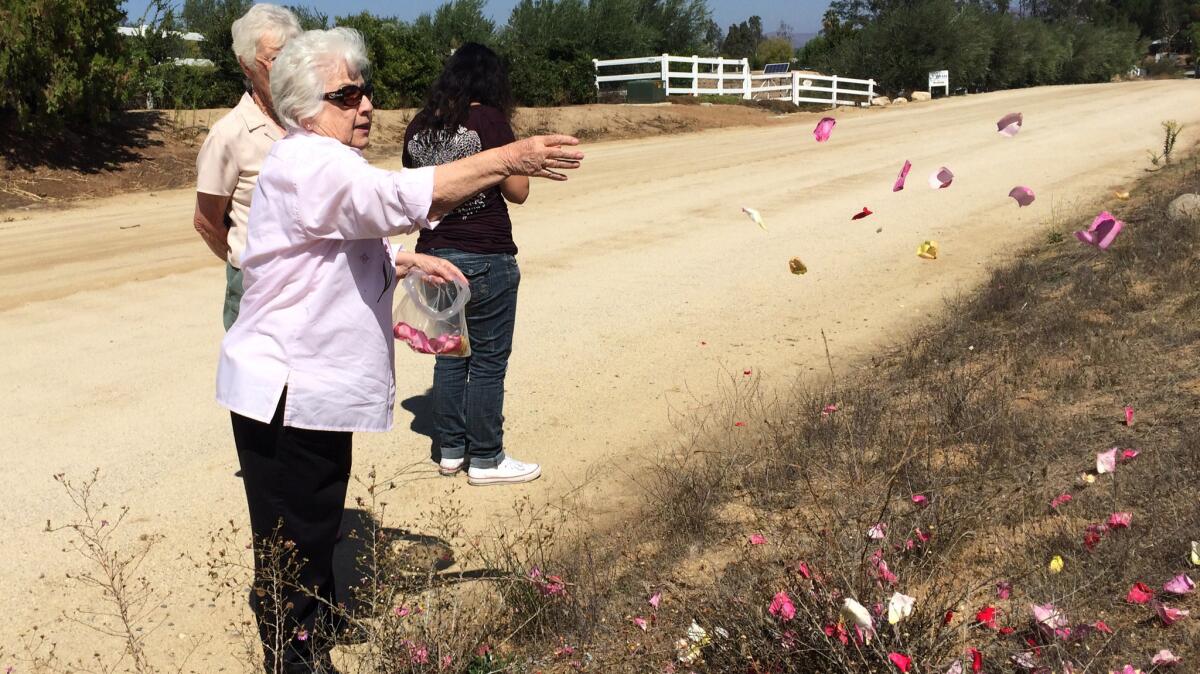 Clients lived in a small, three-bedroom house that sat next to a larger, two-story home on an extensive horse property surrounded by barbed wire on rolling hills dotted with vineyards and orchards.
In interviews after the fire, a number of neighbors said they had no idea such a facility was in the area and that they only ever saw the owner or his wife outside.
Since 2011, the home has received nearly $900,000 through Inland Regional Center, a nonprofit agency that is reimbursed by the state for providing services to the developmentally disabled, said Nancy Lungren, a spokeswoman for the California Department of Developmental Services.
CJ Cook, a program manager for the regional center, declined to answer questions about its oversight of the victims or the home, citing the investigation and privacy laws and saying the agency would need the facility's permission to release its records.
Renee Jennex, who operated the home along with James Jennex, did not return calls for comment. James Jennex, 50, was among those found dead in the fire.
The facility had, as part of the licensing process, been inspected by the Department of Social Services over the years. Those inspections have been made public by that department and show that for the most part, inspectors found things in order at the facility, though it had been cited in 2011, 2006 and 2005 for a hot water temperature that exceeded 120 degrees, and in 2007 for not having a lid on a trash can.
At the most recent visit in November, state inspectors found no violations. The smoke detectors worked, the home was kept at a comfortable temperature, there was hot water, food and hygiene supplies. No firearms or ammunition were kept in the home.
This week, the Sheriff's Department issued a statement asking for the public's help to piece together what happened.
The investigation, which has involved obtaining and researching volumes of documents, "has been tedious since the initial five-day search for evidence through the debris and ash of the fire," the statement said.
Prudhomme's former caretaker and Ferreyra's family say they are struggling to understand why the men weren't able to escape.
Milford Battison, 37 and Richard Driskill, 37, also died at the home. The Times was unable to reach their families.
We want to know what went wrong or, if they don't have an answer, what do you know so far?
— Marcela Hurtado
"I want to know how five people died and not one person got out," said Marcela Hurtado, who cared for Prudhomme in her Corona home for disabled adults for over a decade."We want to know what went wrong or, if they don't have an answer, what do you know so far?"
Prudomme, 26, had lived with Hurtado for so long he was like part of her family, she said. He went on vacations to Mexico with them. He had even gone hang-gliding and horseback riding with them, she said.
But he had begun waking up at night, and her home did not have night staff to watch him.
Hurtado said she struggled with the decision to move Prudhomme to the Jennex facility. But she believed that Prudhomme needed to be in a place where staff was up at night in case he awoke and that the Jennex home had that staff.
Prudhomme moved to Temecula on Aug. 19, Hurtado said. The fire happened in the early morning hours of Aug. 29.
Prudhomme knew to get out if a fire alarm rang, she said. They had rehearsed it over and over again over the years and she had taught him to expect a snack once he was out. He would eagerly run out at any hint of an alarm, she said.
When she heard that he had died, she said, "I couldn't wrap my brain around him not hearing a fire alarm and him not going out. He was very fast, very agile."
Ferreyra, 31, was separated from his sisters when he was a teenager, after social workers found the siblings living with their mother in a motel and took custody of them, his sisters Darlene and Regina Clay and Roslyn Ferreyra recalled.
After she turned 18, Roslyn Ferreyra said, she tried unsuccessfully for years to find her brother.
"It was always in my head to find him, because it was so traumatic," she said. "Someone who is disabled who is taken from their family, they don't understand what's going on. He didn't know. That was always something that stuck with me."
Earlier this month, Regina Clay received a phone call from the coroner's office, informing her that their brother had died.
Ferreyra's family said they were devastated and now have a long list of questions they want answered.
"I just for the life of me can't understand why they weren't able to get out. It doesn't make any sense", Regina Clay said. "He was a strong and fast kid. We used to joke about putting him in Special Olympics."
Since learning about the deaths, Ferreyra's cousin Michelle Glenn and her mother, Clara Trevino, who live in Temecula, have gone multiple times to the neighborhood where the men died, to ask neighbors whether they know anything about what happened.
The neighbors they spoke to told them what a number of residents have told reporters, that they didn't know the facility was there until it burned, they said.
During a recent visit, the family examined the charred remains of the home closely, looking for any hints as to what might have happened.
"I just think about how they felt trying to get out, and nobody was there to help them," Trevino said.
They worried the case would go unsolved because the victims had few resources and few connections to the larger community.
Before she left, Trevino opened a plastic bag filled with pink rose petals and scattered them in front of the property.
"For Jared, Richard, Milford and Miguel," she said.
Twitter: @palomaesquivel
ALSO
Long Beach police believe man caught on video shot and killed mother and 4-year-old daughter
Father found not guilty in death of his teenage son after struggle with gun
L.A. County sheriff's sergeant is killed in Lancaster shooting; suspect is in custody
Sign up for Essential California for news, features and recommendations from the L.A. Times and beyond in your inbox six days a week.
You may occasionally receive promotional content from the Los Angeles Times.