Smoked squid, silky gowns and social media: Tet Festival blends the old and new
In melodic Vietnamese, a bubbly YouTube star in jeans and a conical hat greeted her elders through the din of the crowd. "Con xin chao bac," she said, before politely wishing them a healthy new year.
Then, shrieks interrupted them. Two Vietnamese American tweens spotted her, and turned to one another: "Isn't that, you know, Kayla?!"
They rushed toward a wiggling Kayla Nguyen, the sensation behind the bilingual Vietglish channel, a song and dance variety show. She flashed her novelty sunglasses and leaned into the 10-year-olds from San Diego for a pose.
"Cool," she oozed, switching to English and hugging her fans, sporting traditional ao dai dresses with Converse high-tops. "Thanks for coming by, hope you like exploring out there."
Half a world away in Vietnam, the country is celebrating the Lunar New Year — the year of the pig — with ancient customs passed from generation to generation. But here at the Orange County Fairgrounds, California Tet borrows from the old and the new.
In the nearly 45 years since the Vietnamese influx to the region, the holiday has become a mix of tradition, county fair and beach party.
"This isn't much like your great-grandmother's Tet gathering," said Harry Le, 56, a software analyst who has gone to 15 festivals in the last 24 years and now experiences sticker shock for small $5 sugar cane drinks and sees "youngsters with spiky hair and earrings in different places on their bodies."
The Fullerton resident said "the Vietnamese have lived in the U.S. long enough to make changes and as much as I appreciate the community's growth, I wonder how this evolution will continue."
Le strolled past social media influencers like Nguyen, 26, who graced a "Meet and Greet" booth at the Tet Festival, the nation's largest Lunar New Year celebration, which opened Friday and runs through Sunday in Costa Mesa. Row by row, kids in colorful costumes stood flanked by beaming parents who snapped hundreds of photos and streamed their images on Facebook.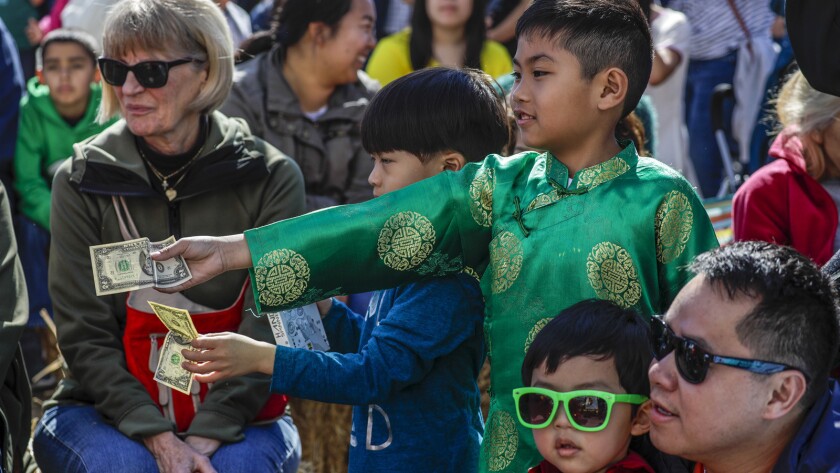 Across the way, inside the Cultural Village decked with volunteers dressed as royal guards, scholars and generals, an eager group of players gathered for Vietnamese history Jeopardy, hosted by leaders of Orange County's Vietnamese language schools. Students are slotted by age and after listening to the famous game show's theme song, hit a buzzer to answer questions ranging in categories from animals to legends to traditions.
After addressing "Thay" and "Co," referring to their male and female teachers, their responses must be in full sentences and in Vietnamese.
"What is the meat used in pho tai?" the emcee asked the competitors in the age nine-and-under cluster.
Nervous parents whispered the answer to each other in Vietnamese: eef. But siblings yelled out: "Come on, come on. Go!"
Outside the village, Dit Thi Bui watched the multicultural crowd — which included Middle Easterners, Latinos, African Americans and whites — while munching on crispy pork skewers, reminiscing.
In the old days, she said, family reunions and praying for ancestors took top priority, with children paying respects to the older generation to receive "lucky" money in red envelopes and sitting down for meals before leaving the roost to socialize with friends.
At 69, she is observing her second Tet in America while staying with her Santa Ana relatives before returning to South Vietnam.
Here, "it is about freedom. It's nicer that they have freedom, yet people have to drive so far to get to anywhere" to celebrate, Bui said.
The way the Vietnamese and Vietnamese American worlds connect — or collide — at the annual festival, first held in 1982 in Garden Grove, is a symbol of the adaptation of a community that brought its practices to the U.S. and then customized them to attract emerging generations and the mainstream, participants said.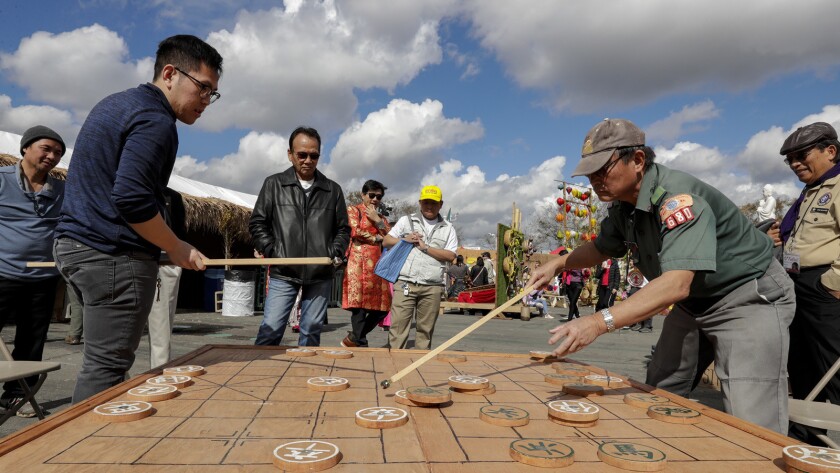 They pointed to the volunteers offering lessons in calligraphy along with digital photography, the beauty pageant now drawing more contestants from STEM fields, the folk music played side by side with the Goo Goo Dolls, and a bevy of legislators in silk gowns sharing lunar wishes to attract voters.
Near the entrance, a welcome and announcements about the more than $1.5 million dollars that UVSA, the Union of Vietnamese Student Associations of Southern California operating the festival, has awarded in program grants are broadcast in English, Vietnamese, Spanish and Mandarin.
There is much about the festival that is familiar to the older generation and recent arrivals from Vietnam.
The smell of smoked squid — muc kho — filled the air. Stands sold Vietnamese iced coffee, broken rice and waffles scented with pandan leaves. Thousands of fairgoers wandered the grounds in silky gowns. Boys and girls whizzed through the sky on carnival rides, their shiny polyester ao dais fluttering in the air.
The South Vietnamese flag was everywhere.
But the heart of Orange County's Tet Festival is change.
For an older generation of Americans, Tet has been associated with the 1968 communist offensive that shook the country out of its optimism toward the war in Vietnam. Photos of U.S. soldiers huddled in destroyed cities became some of the enduring images of the conflict.
On Friday night and Saturday morning, tanned recruiters from the U.S. Army and the Marines brought their pull-up bars to challenge festival-goers to flex their muscles for prizes.
Students from the USC School of Pharmacy gave free flu shots, while businesses — from a mortuary and hospitals to insurance agents and construction firms — plied people with swag and brochures and games. Smiling supporters talked to potential donors for the Disabled Veterans and Widows Relief Association and the Museum of the Armed Forces of the Republic of Vietnam.
Danny Hoang, owner of Cafe 949, hawked the festival's priciest meal, garlic noodles accompanied by a whole grilled lobster for $30 a plate. He started promoting his dish with his wife's secret sauce at summer night-markets and sold out, prompting him to set up at the area's premier festival. "You must evolve to stay successful," he said.
Benny Huynh, 35, owner of Charade Dance Academy in Garden Grove, said the lobster's amusement-park price tag didn't faze him. "I waited in that long, long line and thought: It's the new year — time to try new things and that should bring us good luck."
Perhaps the biggest change in California Tet is that it's no longer wholly Vietnamese.
Two years ago, festival attendance surpassed 60,000, according to Thinh Nguyen, the event's marketing director. "To be able to grow, we believe the Tet Festival has to be inclusive. It can't be exclusively for the Vietnamese community any more."
Up and down the packed food court, there was a decided Korean flavor and plenty of Korean spoken among the tables, with customers flocking to Korean BBQ bulgogi quesadillas, along with stuffing themselves with Nashville hot chicken and baos bursting with deep-fried paprika soft shell crab.
Lisa Kim, a Korean American, packed her Beauty Folie display table with products including a red ginseng tonic for energy and to protect the immune system. "I've never been to this festival. But everyone said it was big, meaning really big," she said, adding that the Vietnamese have found a way "to continue tradition, mixing in the new with the old. You lose your culture in America" unless you learn how to do that, she added.
The presence of Wells Fargo, the title sponsor who paid $35,000 for top billing, loomed large. "For us, celebrating diversity is most important and this is the biggest local event that gives us a chance to do that," said Linda Nguyen, assistant vice president overseeing community relations in Orange County and Greater L.A. "We really want generations to be connected to one another and at the festival, that's happening naturally."
Dan Thu Pham, 22, an interpreter for the Orange County Department of Education at the festivities, said organizers "really stepped up their marketing this year. The fusion focused on one theme — community building."
Nguyen, the YouTuber who's also a comedian and film producer, said it didn't surprise her to get an invite to the festival. She tours across the country and loves to teach people how to name fruits in Vietnamese or how to act at a Vietnamese party — and she often witnesses non-Vietnamese joining her audience.
"More and more, people not Vietnamese are joining VSAs," she said, citing the rise of chapters of the Vietnamese Student Association on college campuses.
"Culture is relevant in so many areas of our lives and for young people, it's not strange or foreign. We can blend in while having our own style."
Twitter: @newsterrier
---
The stories shaping California
Get up to speed with our Essential California newsletter, sent six days a week.
You may occasionally receive promotional content from the Los Angeles Times.