Thousands attend first day of L.A. Times Festival of Books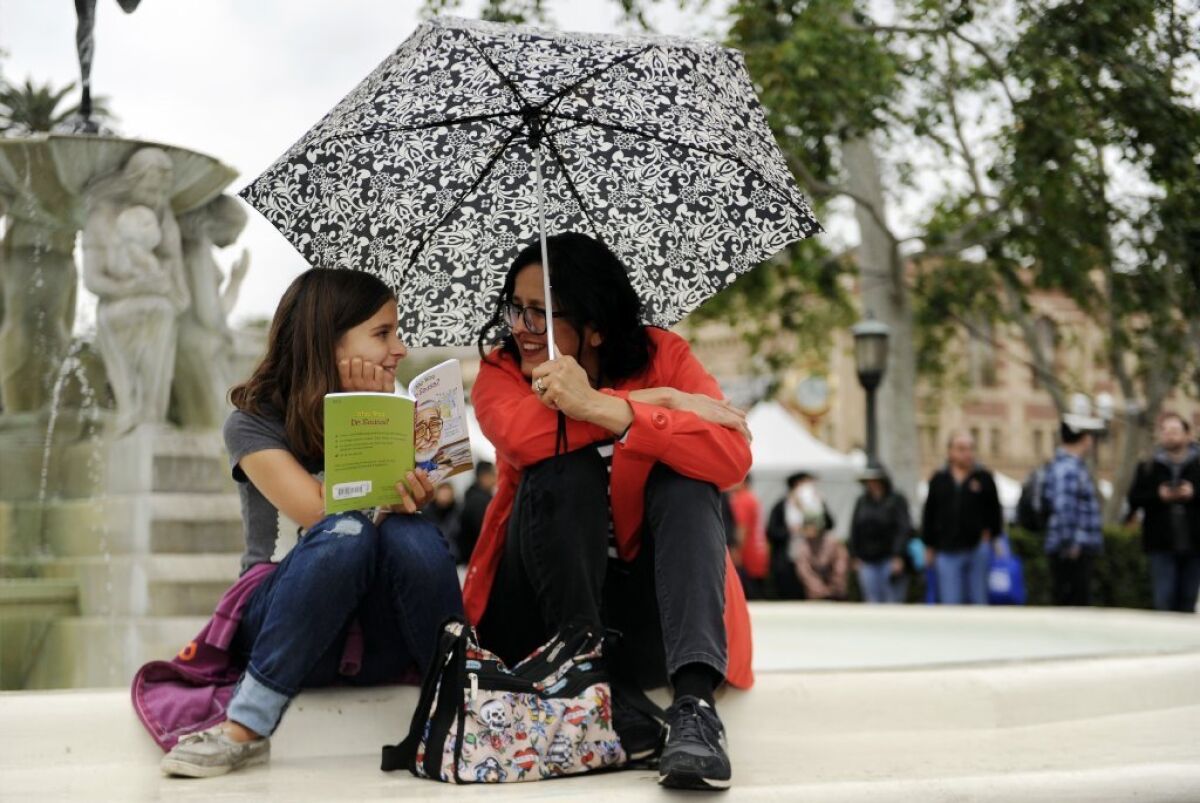 Cassandra Clare, the wildly popular author of fantasy fiction for young adults, was reaching back to her own Southern California youth, trying to recall one of those moments when she fell in love with books.
She couldn't remember the name of the bookstore, but it was set in "a sketchy and more dangerous time in Venice," and the salespeople grouped titles into their own idiosyncratic categories. Something like "books about vampires," "books with a lot of food, and "English cozy mysteries."
But what was the name of the store?
"Small World Books!" someone shouted from the audience that filled a packed auditorium.
Despite dreary weather, thousands of book lovers gathered on the USC campus to commune over the printed word at the Los Angeles Times Festival of Books, where more than 600 authors, celebrities, musicians, artists and chefs were set to share their work.
"I have been at the festival for every hour, every year since it started in 1996," said Don Cannon, a 69-year-old mechanical engineer from North Hollywood. "I come here because you can have an interesting conversation with every person you meet, and that's because people who read books are different."
Nearby, an Inglewood family made their way through the food trucks on the way from seeing great-grandmother Barbara Johnson's favorite Property Brothers, Jonathan and Drew Scott, to the tent bookstores where 9-year-old Jade hoped to find the latest installment in the "Captain Underpants" series.
"I have some new renovation plans from the Property Brothers that my husband doesn't know about yet," Johnson said with a sly smile.
Johnson's granddaughter, Monique Owens, a 29-year-old retail sales clerk and visual artist, said she was glad to see painters and other artists creating work in front of onlookers at sites throughout the festival.
"I'm really glad they are incorporating more art in the festival, and it's just nice to see this huge group of people that is different from any other you might see in Los Angeles," Owens said.
At a morning panel, the prolific author Joyce Carol Oates said one of the binding principles among writers and artists is the ability to make sense of the world's chaos.
"The poet, through his beautiful language, puts it into a structure and yields a meaning," she said.
For Oates, after the 2008 death of her first husband, she said that increasingly means finding a way to continue after extraordinary loss.
The characters she has drawn recently are grappling with "how do they make their way then? That actually to me is a thrilling challenge because we all do make our way … or we would all be washed up by the tide and get picked up and thrown down."
For O.J. Simpson prosecutor Marcia Clark, another author who experienced dramatic reinvention as a successful murder mystery novelist after her courtroom loss, that means sitting down each workday at 7 a.m. to plumb her past for material and design intricate crime scenarios.
"More truth can be written in fiction than can ever be written in nonfiction," she said.
Yet it was the recent FX television series "The People vs. O.J. Simpson" that helped to draw an overflow crowd, and Clark said she worried that questions about her thoughts on the series would "hijack" the talk away from her fellow crime writers on the panel.
But panelist Lee Goldberg said, "Oh, we're curious too."
"I think its an amazing miniseries," Clark replied. "Did they get everything right? No."
After working to create scripted television dramas herself, Clark said she has developed a strong preference for novels.
"I can do it by myself ... and that's a much more empowering experience," she said.
ALSO
April showers expected to linger through the weekend
Man arrested in rock-climbing marriage proposal says he did it for love
When working for a union gets you a sub-minimum wage
---
The stories shaping California
Get up to speed with our Essential California newsletter, sent six days a week.
You may occasionally receive promotional content from the Los Angeles Times.