Reporting from San Diego —
It's a rare convenience along an international boundary better known for maddening and unpredictable bottlenecks: A pedestrian bridge that soars over one of the most heavily fortified spots on the border and delivers travelers into the main terminal of Tijuana International Airport.
The enclosed, 390-foot Cross Border Xpress opened Wednesday, signaling a new era in cross-border travel and easing the way for more Southern Californians to use the airport as a gateway to destinations across Mexico.
Backers of the privately funded venture see it as another key piece of border infrastructure geared toward boosting tourism and commerce after years of economic decline.
The Cross Border Xpress pedestrian bridge links the Tijuana International Airport and San Diego over the U.S.-Mexico border.
The $120-million bridge becomes a third border crossing in San Diego, located roughly between the heavily trafficked San Ysidro and Otay Mesa ports of entry. Ticketed passengers, who can park on the U.S. side or get dropped off, pay $18 to walk to and from the airport terminal.
The airport funnels more than 2 million Southern Californians annually to more than 30 destinations across Mexico. Upon their return to California, travelers typically have to wait as long as two hours to clear customs at the Otay Mesa or San Ysidro ports of entry.
The bridge, staffed 24 hours a day by U.S. Customs and Border Protection agents, reduces wait times to minutes.
The convenience is one of the biggest draws for Jared Gomez, a plastics salesman who drove from Carson on Wednesday morning to take a flight to Culiacan. "This is a big deal," he said. "When I come back I won't have to get in that pedestrian line. I'll just cross here, get in my car and go."
The Tijuana airport is already popular with people such as Gomez who seek lower airfares or access to regional destinations that aren't easily reached from U.S. airports. Among the destinations are Guadalajara, Tepic and Leon. There are also three weekly flights to Shanghai. Tijuana airport officials estimate that 60% of the 4.5 million travelers who use the airport annually come from Southern California.
The bridge has the look and feel of a modern airport terminal, with soaring ceilings, polished concrete floors and spacious corridors. Among the few signs tipping off the bridge's unique status is a metal plaque midway down the span that marks the boundary between the U.S. and Mexico.
"So far, so good," said Veronica Obregon, who had just gotten off a flight from Mexico City with her husband. The couple liked the convenience, but fretted at the bridge's $18 cost each way, which would climb if they had traveled with their children.
"It's a great idea. It saves a lot of time, but it's a bit expensive," she said.
Pricing for children and seniors is 20% cheaper than adult tickets. Children younger than 2 cross for free.
The project was built by Otay Tijuana Venture, whose Mexican and U.S. investors include Chicago real estate mogul Sam Zell. It took years to develop and had to overcome a series of local and federal regulatory hurdles.
The bridge represents a scaled-back vision of a more ambitious effort, first floated by San Diego officials in the 1990s, to create a binational airport with runways on both sides of the border.
Building a bridge in the area would have been difficult decades ago when the area was a chaotic no-man's land used by migrants making illegal dashes into California. The area now bristles with fortifications. The bridge takes travelers up and over a double-fenced border enforcement zone crisscrossed by U.S. Border Patrol vehicles.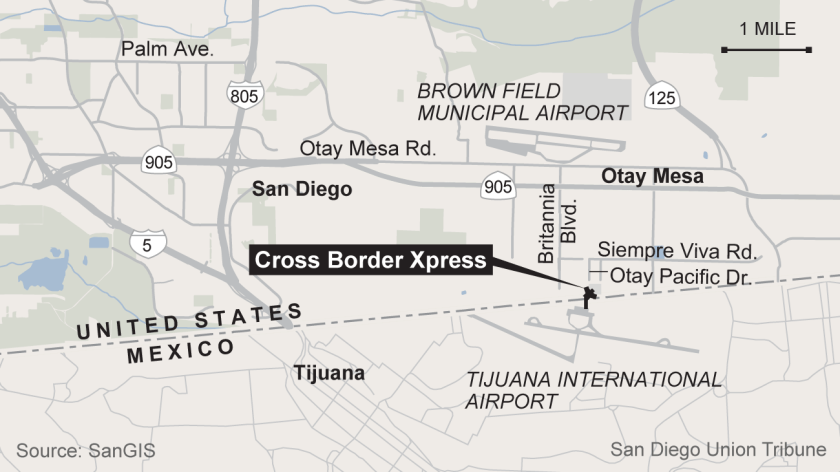 For security reasons, travelers cannot see the border panorama from the bridge. The windows are frosted glass. Although there are other pedestrian toll bridges spanning the Texas-Mexico border, this is the first connected to an airport. Otay Tijuana Venture agreed to fund the operations of customs and border protection inside the facility.
Officials on both sides of the border hope the bridge works as another piece in their plan to integrate the region's economies. Another recent project expanded the number of entry lanes at the San Ysidro port of entry, and a new pedestrian crossing is planned to open next year.
Officials expect the bridge to give the region an advantage in the competition for more tourism and investment in Tijuana's maquiladora sector, which draws business travelers from across the U.S. and Asia.
"This will be a great new option for travel between the U.S. and Mexico," said Jerry Sanders, president of the San Diego Regional Chamber of Commerce. "It is unique in the world, and we expect [the bridge] will be a catalyst for economic growth in our region on both sides of the border."
Twitter: @ricardin24
ALSO
Buena Park Sikh leaders call for investigation after temple vandalized
San Bernardino County mosque to host 'Muslims for Life' blood drive
Up to 50 Chapman University students sickened in norovirus outbreak, school says
---